Winery of Year: Davis Family Vineyards
Guy Davis, the proprietor and winemaker at Davis Family Vineyards, and I share a friendship that goes back twelve years. I have tasted every Pinot Noir he has crafted over the past twelve vintages and he has shown me the consistent ability to capture the complex aromas and flavors and captivating textures of Russian River Valley Pinot Noir. Guy's son, Cole, has become increasingly involved in the winery's winemaking as cellar master, and Guy's other son, Cooper, who helped farm the family's estate vineyard beginning at an early age, is pursuing a wine marketing degree at Sonoma State University, and active in the family winery and tasting room as well. Guy's spouse, Judy, an RN, has shared Guy's passion for wine, and along with Guy, planted their Russian River Valley vineyard. She assists with hospitality at the winery and represents Davis Family Vineyards at sales events across throughout the United States. The word "Family" in Davis Family Vineyards is no misnomer.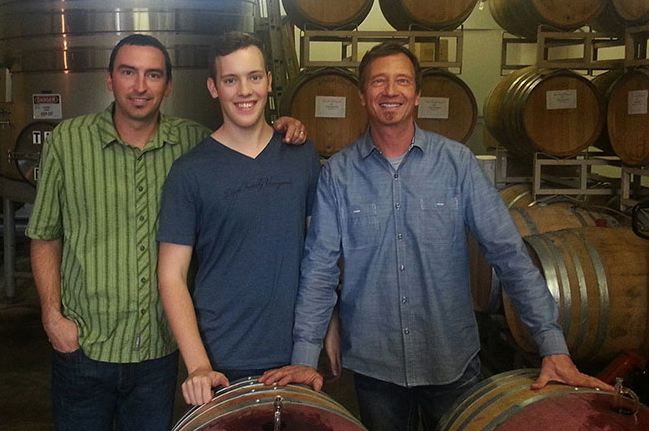 Guy came to wine as a teenager while working his way through college as a cook at a French restaurant. He was able to taste benchmark wines from all the famous regions of France, and became so knowledgeable that he was asked to buy the wine for the restaurant's wine list. Although he was educated in economics and began his working career as a stockbroker, the stock market crash of 1987 made him rethink his career goals. He landed a job as a wine buyer in Sonoma in 1989 and soon was working in the cellars of several boutique wineries in the area. A stint with winemaker Lori Olds at Sky Vineyards on Mt. Veeder persuaded him to pursue a career in winemaking.
While taking classes at Santa Rosa Junior College and University of California at Davis, he began a search for the perfect site to grow Pinot Noir. In 1996, he bought a hillside vineyard on Laguna Road in the Russian River Valley, located on the same ridge as Swan's and Dehlinger's Estate vineyards. The property featured a Zinfandel vineyard dating to 1896 that had been neglected for years. Guy and Judy resurrected 2.8 acres of the original Zinfandel vines, and planted 7 acres of Pinot Noir along with small amounts of Syrah and Chardonnay. The photo below shows the estate Soul Patch Vineyard with Pinot Noir planted in the western uppermost portion of the vineyard. The vineyard is eastern facing with vineyard rows running north to south. This orientation insures that all the fruit receives equal exposure to the sun. The soil is Goldridge series with a high amount of volcanic ash. The Pinot Noir clones planted at the Davis family's Soul Patch Vineyard are Pommard, and Dijon 777, 667 and 115. Farming of the vineyard is dedicated to organic practices.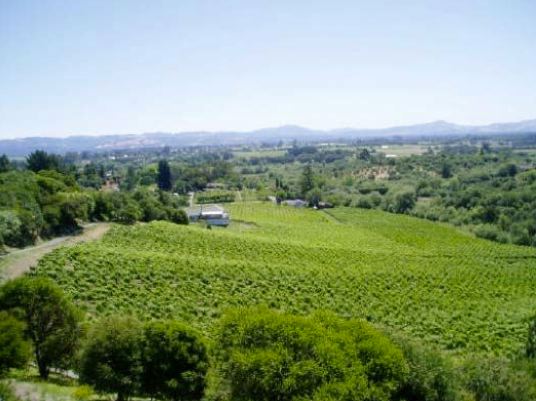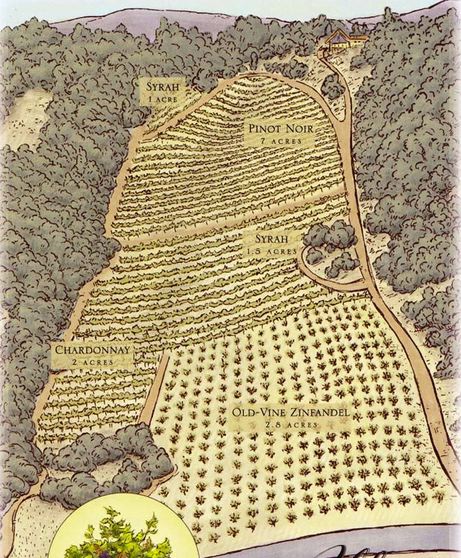 Guy is a cerebral winemaker who clearly understands his quest. His "Top 5 Rules for Crafting Great Pinot Noir" include the following: (1) Only grow on sites destined for greatness; (2) Employ precision viticulture: Guy does not farm 7 acres of Pinot Noir but rather farms 9,274 vines, striving to get 12 to 14 touches for every vine during the growing season from pruning to harvest; (3) Pick on the right day: Guy is fanatical about picking the right day to harvest, striving to find the point at which the flavors are ripe and supple, yet not beyond the fine line that can jeopardize elegance and beauty of the finished wine; (4) Smell, taste and talk to the wines every week; and (5) Be an expert at blending: you have to know what true greatness requires to achieve it. Guy says, "The pursuit of creating the perfect Pinot Noir is like the pursuit of the Holy Grail; only a few of us believe it exists and we wake up at dawn every day to move one step closer in our quest."
The winery's flagship wine is the Russian River Valley Pinot Noir, a blend of all the winery's Pinot Noir grown in this appellation. Beginning in 2006, favorite barrels of estate Pinot Noir were set aside as a special wine receiving additional barrel aging and named the PinnaCole. Starting in 2008, another special bottling, Soul Patch, was crafted using grapes sourced from a unique part of the estate vineyard that has a steep, east-facing slope that basks in the morning sun but avoids the harsh afternoon sun. Vineyard-designated Pinot Noirs have also been part of the portfolio, including Russian River Valley Horseshoe Bend Vineyard located in Occidental Ridge first produced in 2008, Russian River Valley Starr Ridge Vineyard located in Windsor Hills first offered in 2009, Russian River Valley Dutton Ranch located in Green Valley, and most recently, Campbell Ranch Vineyard located in Annapolis on the Sonoma Coast. A Sonoma Coast AVA blend is also offered.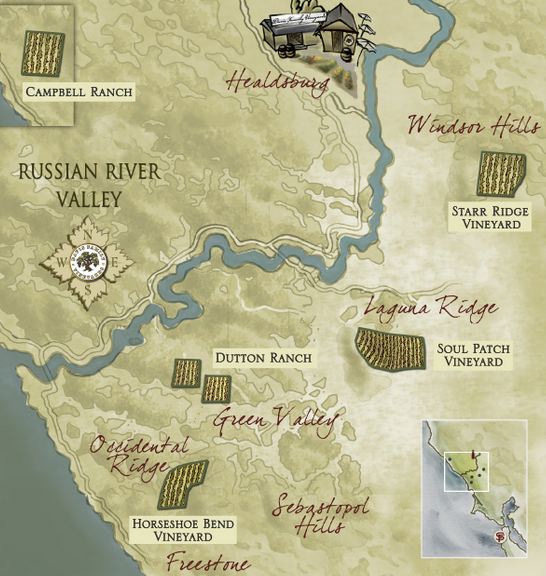 Although the winery's focus is Pinot Noir, Guy is a versatile winemaker and offers a variety of stellar wines including Estate Grown Syrah, a Rhone white blend (Cuvée Luke), a Rhone red blend (Throne), a Bordeauxstyle red blend, Zinfandel, a Sonoma County Cabernet Sauvignon, a Russian River Valley Chardonnay, a late harvest Viognier, and a sparkling wine from Dutton Ranch Pinot Noir fruit. A cold-pressed artisan olive oil is produced from trees planted in 1906 in the Sierra Foothills.
A tasting room is located in the winery at 52 Front St. in Healdsburg. Guy has a soft spot for creative art and displays the work of local artists on his tasting room walls and on the grounds of the winery. During the summer months, well-known local ZaZu restaurant parks its food truck at Davis Family Vineyards and visitors can dine on the many pork-centric dishes of chef Duskie Estes of ZaZu while enjoy Davis Family Vineyards wines in the picnic gardens. The tasting room is open Thursday through Sunday from 11:00 a.m. to 5:00 p.m.. Box lunches may be pre-ordered as well. Many of the Davis Family Vineyards Pinot Noir wines sell out quickly so it is advisable to join the mailing list or wine club. Contact Annie Rambo regarding sales at annie@daviswines.com. The winery's website is www.daviswines.com.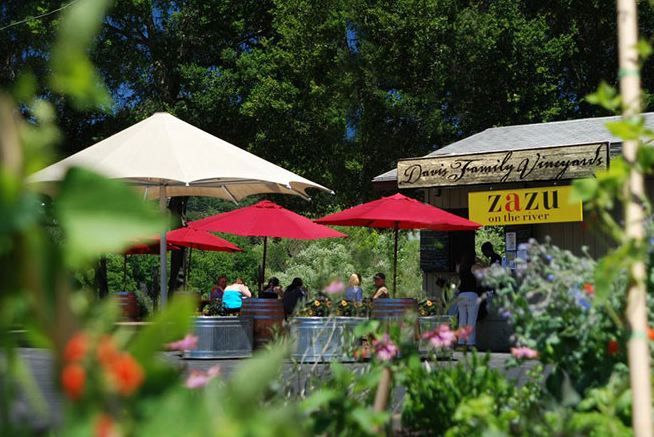 The following wines were sampled at the winery in early October 2015 and in some instances at home as well. The wines are de-stemmed, cold soaked, fermented with native yeast in small, temperature-controlled, open-top fermenters with gentle punch downs over 3 to 4 weeks. Aging is typically 10 months in French oak barrels, 33% new.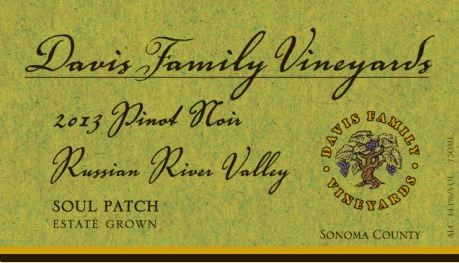 Guy also consults for other wineries including Work Horse Organic Agriculture (WHOA) Farm, started by Wendy Mardigian and Eddie Geisman in 2010 to supply sustainably grown organic food at no cost to people most in need in Sonoma County. 100% of the net proceeds from the sale of WHOA Farm Pinot Noir helps WHOA continue to supply "the best food money can't buy" to thousands of families under the poverty line. Visit www.whoafarm.org for more information or to order the wine.

2013 WHOA Farm Crane Vineyard Sonoma Coast Pinot Noir
14.1% alc., TA 0.64, 630 cases, $35 (10% discount on a case). This 5-acre vineyard was planted in 2005 to Dijon 115, 667 and 777 clones and a rare clone of Italian origin (VCR 18). Harvest Brix 24.8º. Native yeast fermentation. Aged 12 months in French oak barrels, 33% new, 33% 1-year, and 33% 2-year. Aged an additional 12 months before release. Unfined and unfiltered. · Moderate reddish purple color in the glass. Nicely perfumed with fruity aromas of dark red stone and berry fruits. More purple fruits on the palate which is suave and silky. Nicely balanced with a compliment of smoky oak in the background. Score: 91