Sips of Recently Tasted Willamette Valley Pinot Noir
On a recent trip to the Willamette Valley, I had an early introduction to the 2014 vintage Pinot Noirs. The vintage started with a dry winter and early spring. Early bud break, early bloom and ideal conditions led to good fruit set and a higher than normal yield. The rest of the growing season remained warm with reasonably cold nights. Harvest was about 2 weeks ahead of previous vintages. Fruit was generally harvested in good balance with moderate sugars and acids. The wines are more extracted with more tannin, lower acidity and higher alcohol than the previous 2013 vintage. I think the wines from this vintage will be very special.
Big Table Farm, Gaston, OR
I visited Clare and Brian at Big Table Farm in the Yamhill-Carlton District this past rainy week, and tasted through their fall 2013 releases, some 2014 bottled wines, and even a few 2015 barrel samples. As readers know, I am a big fan of Big Table Farm PInot Noir and white wines and intrigued by their active farm located on the same property as their new winery where there are goats, horses, cattle, chickens, and pigs. One day there will be a vineyard as well. Tasting is carried out in the owner's century-old farmhouse so it couldn't be more personal. Big Table Farm wines are sold through a mailing list at www.bigtablefarm.com.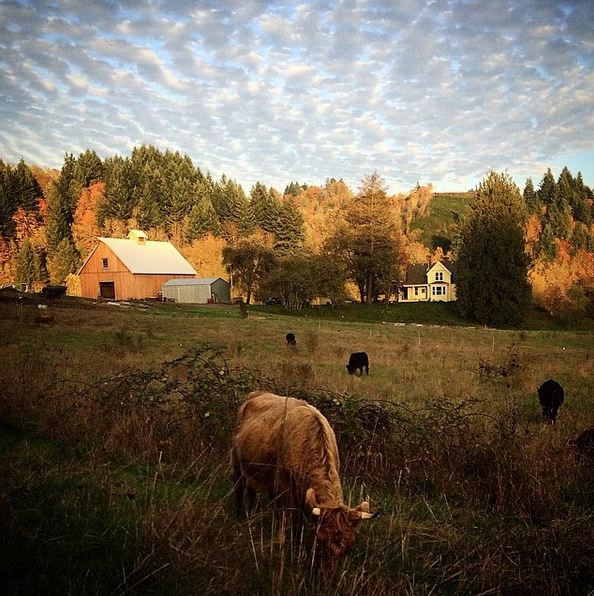 Brian described 2013 as a challenging vintage. He was able to pick most of his grapes before the heavy rains arrived in September and found that the flavors were riper than the low Brix levels would indicate. No chaptalization in 2013. The following 2013 Pinot Noirs were released in the fall of this year. Brian favors heavy toast in his French oak barrels, believing that the barrels impart more flavor but less wood tannins. As a result, some Pinot Noir bottlings show a slightly smoky note (guaiacol) in the background.
The first two 2014 white wines are part of the winery's fall 2015 release. The 2014 Chardonnay and Pinot Noir wines were bottled in September 2015. The 2014 Pinot Gris was bottled in April 2014, but held back before release based on experience with this wine in the 2013 vintage (it was all sold before it reached its best drinking window).
Guillén Family Wines, Dundee Hills, OR
Jesus Guillén crafts wine wines in association with proprietor Greg Sanders at White Rose Estate. Jesus launched his own label in 2013, initially offering 80 cases of Pinot Noir using grapes sourced from Vista Hills Vineyard. By the 2015 vintage, he has acquired more vineyard sources and increased production to 1,000 cases of Pinot Noir. The Guillén Family wines are not identical to White Rose Estate wines, although both are usually 100% whole cluster fermented. Jesus uses native yeast fermentations and strives for more extraction and structure. The following 2014 Pinot Noirs were bottled in August 2015 and were tasted December 7, 2015, so they are quite young and will not be released until the spring of 2016. The 6 wines (a total of 460 cases) are all 100% whole cluster fermented with native yeasts and aged 11 months in neutral French oak barrels except for the Damián (20% new) and Adrián (100% new) bottlings. There is only 1 barrel of each of the single vineyard wines. The wines are sold through a mailing list at www.guillenfamily.com. Jesus over delivers in quality at reasonable prices.
The wines are quite structured now but in an elegant manner. In 2014, stems were generally lignified and provided more structure than in 2013. I have given a range of scores to indicate potential over time.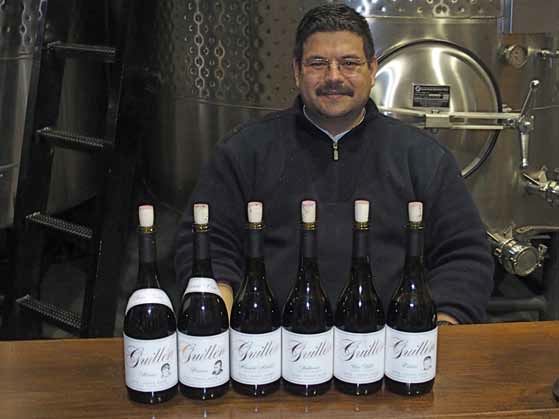 R. Stuart & Co., McMinnville, OR
Rob and Maria Stuart and partners founded this winery in 2002 in an old granary in downtown McMinnville, Oregon, in a neighborhood known as the "Pinot Quarter." Rob, who made wine for other people for more than twenty years before starting his own winery, is the winemaker and sources grapes from more than 20 vineyards within 32 miles of the winery. Maria is the marketing, public relations and hospitality manager who is also the incumbent President of the Board of Directors of the International Pinot Noir Celebration in 2016. She is also the author of "The Life and Times of a Pinot Mom," a blog about life, food, and the wine business at www.pinotmom.com.
Wines are produced under the R. Stuart & Co. (Pinot Noir and Pinot Gris, as well as other assorted varietals including sparkling wine), Big Fire (casual, weeknight dinner wines) and Love, Oregon labels. Visit the website for more information and to buy wines at www.rstuartandco.com. The Stuarts operate the R. Stuart & Co. Wine Bar in downtown McMinnville.
The wines reviewed here from the 2013 vintage are not blockbusters, but rather light in weight with delicately concentrated fruit that is flavorful, juicy and vibrant. All the Pinot Noirs were aged 14 months in neutral French oak, bottled in late November of 2014, and released in November of 2015. Every wine is capped with the glass Vacu-Vin closure.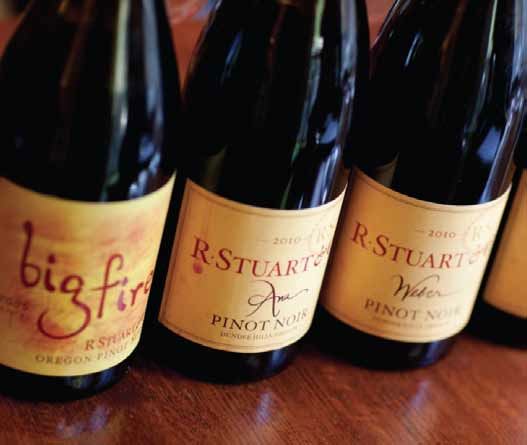 TREOS Wine, Monmouth, OR
Partner, winemaker and winegrower Dave Jepson only produced a limited amount of wine in the cold, rainy 2011 vintage. The 2011 Pinot Noirs were initially out of sorts and needed time to develop so they are just being released now. The wines are not as robust and full-flavored as usual for TREOS, but they are quite bold for the 2011 vintage and I find them very appealing. The remainder of the 2011 Pinot Noir grapes were distilled to use in making a Pinot Noir based, port-styled wine called Ternion ($39). Interestingly, the Ternion has been infused with dry roasted Oregon hazelnuts.
2011 TREOS Estate Elegant Reserve Willamette Valley Pinot Noir
13.4% alc., $48. Dijon Clones. · Moderate reddish purple color in the glass. Fragrant upon opening with aromas of black cherry, sous-bois and complimentary oak. The succulent purple and black fruits fill the mouth with goodness and are quite sappy for this vintage. Very juicy, with harmonious tannins, a welcome touch of toasty oak, and a satisfying finish. Score: 90
2011 TREOS Estate Founder's Choice Willamette Valley Pinot Noir
13.4% alc., $48. Estate grown. A blend of three Dijon clones. · Moderate reddish purple color in the glass. Dark orchard and berry fruit aromas fill the glass. Classy and polished, with a load of delicious purple and black fruits complimented by deft barrel work and enough refined tannins and acidity to age nicely. Like the Elegant Reserve bottling, the fruit concentration is unusually grand for this vintage. Score: 92
White Rose Estate Winery & Vineyard, Dundee Hills, OR
This winery was my 2014 "Pinot Noir Winery of the Year" and this award sums up my enthusiasm for the Pinot Noir produced here. For extensive coverage of the winery visit www.princeofpinot.com/article/1615/. The 2013 vintage examples reviewed below have not diminished my eagerness to enjoy the unique wines produced here. Using generous and often 100% whole cluster ferments, the ultimate objective is to craft wines that are good from day one, yet undergo a metamorphosis over time becoming different but equally enjoyable. The nuances, textures, haunting aromas and flavors associated with whole cluster fermentation create an emotional connection to the wines. The 2013 vintage Pinot Noirs do not have the extraction and sap that the 2012 vintage Pinot Noirs had, but are very charming in their own right, offering more "pinotosity," that almost indescribable lacy, feminine attribute that only Pinot Noir can deliver. The wines are offered on the website at www.whiteroseestate.com. Special bottlings are extended to the Explorer's Club and Neo-Classical Club members first. The tasting room in Dayton, Oregon, is open daily.
Owner Greg Sanders has bought a 40-acre farm near White Rose Estate on Archery Summit Road and planted an initial 5-acre vineyard in 2012 using cuttings from the most desirable vines at White Rose Vineyard. Called Domingo Vineyard, one ton of grapes were harvested in the 2014 vintage. Greg is also building lodging for guests adjacent the winery that will include underground (cave) rooms, a project that will be gradually developed over the next six years or so.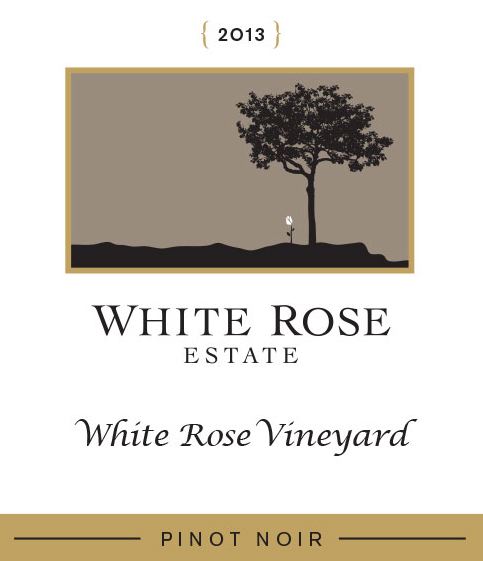 The following wines were tasted at the winery December 7.
More Oregon Pinot Noir