En Garde Winery: A Pinot Noir Gem in Sonoma Valley
En Garde Winery is not your typical California Pinot Noir producer. The proprietor and winemaker is Csaba Szakál, a former computer programmer and a fourth generation winemaker from Hungary, a country with a rich history of wine dating back to at least Roman times, but best known here in the states for Tokaji. Many of the En Garde Winery accolades in the wine press and wine competitions have come from the winery's Diamond Mountain Cabernet Sauvignon selections. The tasting room is located in Kenwood and the wines are crafted in Sonoma Valley, not a hotbed of Pinot Noir compared to other parts of Sonoma County. That said, the wines are crafted from superb vineyard sources in the Russian River Valley, and represent some of the best Pinot Noirs that Sonoma County has to offer. Although Csaba looks a bit menacing in the photo below, he is very charming and friendly.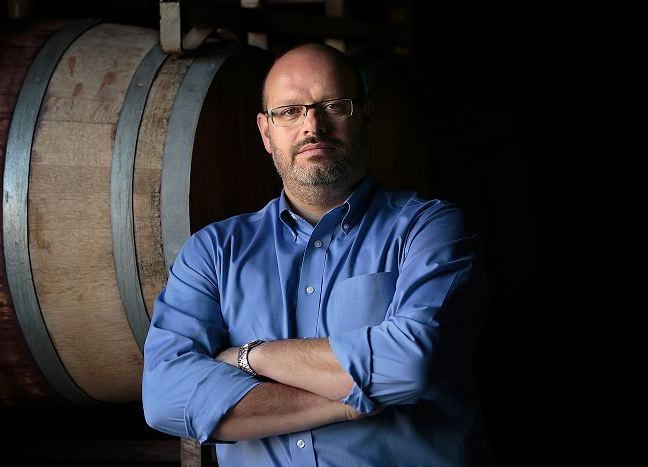 Csaba ferments in small bins, using gentle punch downs, and the flexibility to experiment with differing yeasts. After 17 months sur lees maturation, he and his spouse Sandy taste every barrel and choose the favorites for the reserve program and those wines that best represent the terroir for the single-vineyard bottlings. The final blends are thus created with both a male and female perspective.
Currently, four Russian River Valley Vineyards are incorporated in the Pinot Noir lineup. Olivet Court Vineyard is across the street from DeLoach in Santa Rosa and was planted in the early 1980s with two different Martini selections. Starkey Hill Vineyard and Pleasant Hill Vineyard are just outside the border of Green Valley in Sebastopol, facing each other on the opposite sides of a hilly area with dramatically different sun exposure. Starkey Hill is planted to 30+-year-old vines and Pleasant Hill to 25+-year-old vines. The newest vineyard addition is Gold Ridge Vineyard located on Gold Ridge Road in Sebastopol on the western border of Green Valley.
Early harvest in 2013 was mid to late September. RC212, RA17 and AMH proprietary yeast strains were used along with wild yeasts from the vineyards. The wines were aged in three-year Francois Frères oak barrels from Allier and Bertrange.
I have tasted and reviewed En Garde Pinot Noirs since the 2010 vintage, and each year the wines have shown an incremental increase in quality with the 2013 vintage wines the best to date. I preferred these wines over the boisterous 2012 vintage wines because of their approachability, vibrancy and balance.
The En Garde wines are available online at www.engardewinery.com. The Tasting Lounge at 9077 Sonoma Highway in Kenwood is open daily from 11:00 a.m. to 6:00 p.m.. Private tastings are availably by appointment.