Tasting Along the Pinot Road
In early May 2016 I visited and tasted at wineries in the Russian River Valley. Here are my impressions at Gary Farrell Vineyards & Winery and Hartford Family Winery.
I have long felt that a winery's wines can reflect the personality of the winemaker. In a newly published book that is reviewed in this issue, California Celebrity Vineyards written by Nick Wise and Linda Sunshine, the authors expressed my feelings as well. They noted, "During the course of our research, we made an unexpected and odd observation: wine frequently tastes like the winemaker in somewhat the same way that dogs tend to resemble their owners. Perhaps it is more accurate to say that wine seems to display characteristics similar to the person who made it."
The wines of winemaker Theresa Heredia of Gary Farrell Vineyards & Winery for example, are refined and elegant in style, maybe a bit feminine, yet her spirited and fiery side comes through in the edgy and avant garde demeanor of the wines that are far from dainty. The wines of Hartford Family Winery, crafted beautifully by winemaker Jeff Stewart, are another story. Jeff is a mountain of a man with a beard and hardy laugh, and his Pinot Noirs are more full-bodied, more extracted and masculine, yet they have a refinement and approach ability that reflects the friendly side of his personality.
Gary Farrell Vineyards & Winery, Healdsburg
Winemaker Gary Farrell was the original winemaker for Rochioli and Davis Bynum, and worked with iconic Russian River Valley vintners such as Joe Rochioli, Tom Dehlinger and Robert Stemmler. His winemaking career began in the mid 1970s and he made his first wine under the Gary Farrell label in 1982. Along with investor Bill Hambrecht, he built an architecturally stunning winery on Westside Road that was sold in 2004 to Allied Domecq and subsequently acquired by the current owners, The Vincraft Group. Farrell left his eponymous winery in 2006, started a new label, Alysian, and left the wine business after the 2012 vintage.
The stellar reputation of the wines has continued due to the talents of current winemaker Theresa Heredia. She has fostered Gary Farrell's legacy of vinifying small lots of varietally expressive and regionally distinctive Pinot Noirs and Chardonnays, primarily from highly regarded vineyard sources in the Russian River Valley that the winery has sourced for many years. Theresa has maintained the Farrell style that is quite singular among the wineries along Westside Road in that the grapes tend to be harvested earlier, the resulting alcohols are slightly lower and acidities notably higher, bringing a freshness and vibrancy to the wines. In addition, she has put her own subtle stamp on the wines and the results are spectacular. The 2014 vintage wines reviewed here represent her third harvest at Gary Farrell and are the ones she is most proud of to date. I will also be reviewing these wines in my usual fashion over the next several months as they are released and my reviews will appear in subsequent issues of the PinotFile.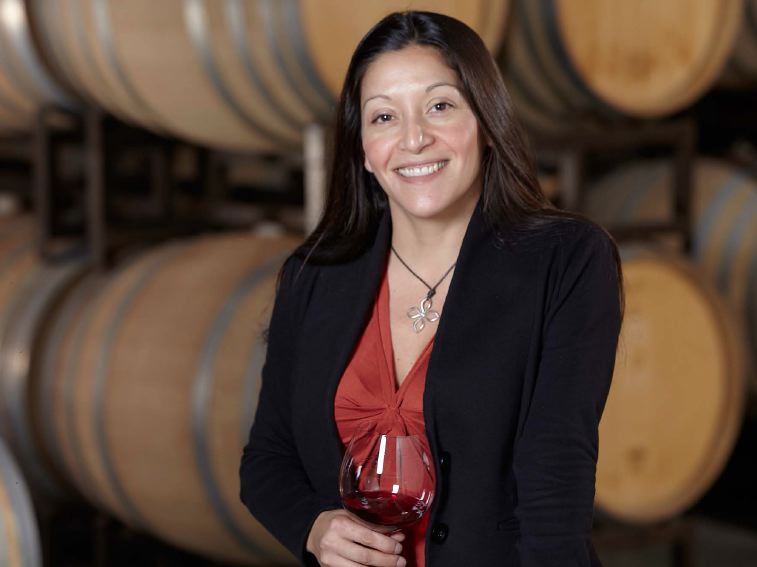 Chardonnay grapes are sourced from fifteen vineyards and Pinot Noir grapes from twenty-one vineyards. The Russian River Valley vineyards are pictured on the map below.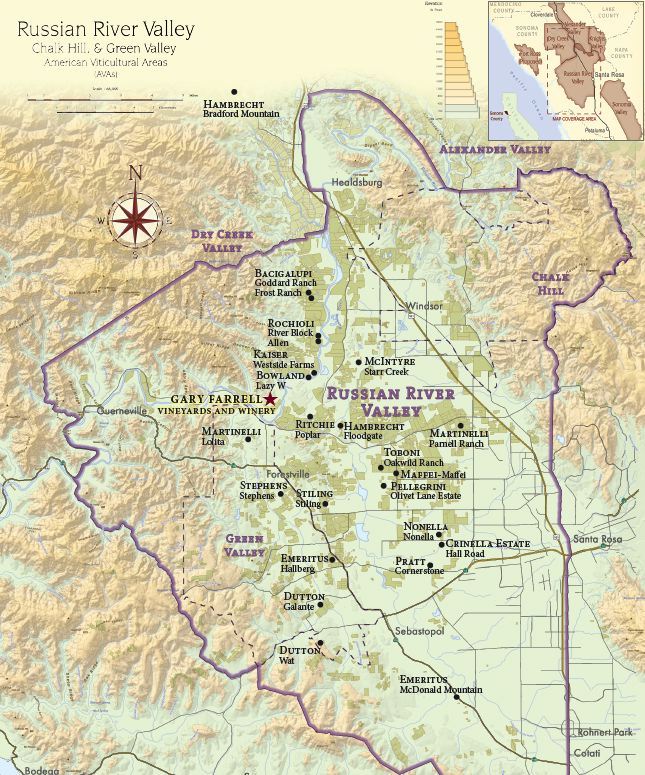 Tastings are available on the terrace overlooking the Russian River Valley by appointment only on weekends and highly recommended on weekdays to guarantee seating. Visit www.garyfarrellwinery.com.
Theresa is infatuated with the wines from the 2014 vintage. The growing season was moderate with no heat spikes and harvest was condensed beginning August 10 and finishing September 17. Although harvest started early, the grapes did not ripen prematurely and overall hang time was close to normal. The continuing drought led to smaller yields, smaller berries, and tremendous concentration of flavors. The grapes were picked early for freshness and energy and the resulting wines have inviting balance, structure, concentration, and most are well below 14.0% alcohol with alluring aromatics.
The Chardonnay grapes were picked at 21.5º-23.0º Brix and no acid additions were required. The grapes were whole cluster pressed using a gentle press program tailored specifically to each vineyard. The juice was chilled and settled before inoculating with Montrachet yeast. The wine was then transferred to French oak barrels (about 40% new) from several tonnelleries with some primary lees. The wines were aged for 8 months.
As for the Pinot Noirs, each wine was made slightly differently but most had a small portion of whole cluster inclusion. Theresa is an advocate of whole cluster additions, but in the Russian River Valley, the fruit generally ripens before the stems preventing the routine use of significant whole cluster inclusion. A 5 to 7-day cold soak and fermentation is carried out in small, open-top tanks, followed by post-fermentation extended maceration, and aging 8-16 months on the primary lees in about 40% new French oak barrels (light and medium toasted barrels from several French tonnelleries). The wines are racked once off the primary lees just before bottling.
Tech sheets were not available at the time of tasting for all wines and this is noted. Two released Chardonnays and three released Pinot Noirs were also later tasted at home in my usual fashion and are indicated by **.
Hartford Family Winery
Jeff Stewart, the winemaker at Hartford Family Winery, is a graduate of University of California at Davis with a degree in Fermentation Science. He has been crafting Pinot Noir, Chardonnay and Zinfandel in Sonoma County for over twenty-five years including winemaking positions at Laurier, De Loach, Mark West, Kunde, La Crema and Buena Vista Carneros. His earliest experience was as an assistant to Merry Edwards in 1989 when Hartford Family Winery in Forestville was known as Laurier Winery. His career has led him full circle, returning in 2011 to the winery that the Jackson Family bought out of bankruptcy in 1992. Don Hartford and spouse Jenny, Jess Jackson's daughter, are the owners of Hartford Family Winery and Jeff functions as both winemaker and general manager.
In the 2013 vintage, Jeff crafted a dozen Pinot Noirs sourced from both estate and grower vineyards in the North Coast as well as seven Chardonnays, all under the Hartford Court label. The majority of the wines are vineyard designates. A 2014 Pinot Noir from one of the Jackson Family's portfolio of vineyards, Zena's Crown in the Williamette Valley, will be added to the lineup and released in the fall 2016. This tasting was focused on Pinot Noir, but the Chardonnays are equally impressive.
Jeff described the 2013 vintage as warm, producing concentrated wines. The Pinot Noirs were vinified with native yeasts, aged in 30% to 42% new French oak barrels, and usually bottled unfined and unfiltered. Whole cluster is kept to a minimum as Jeff feels that whole cluster fermentation brings the wines together creating a commonality that can cause a sense of loss of place. Grapes were picked on the riper side, resulting in alcohols in the 14.2% to 15.2% range except for the Marin County bottling.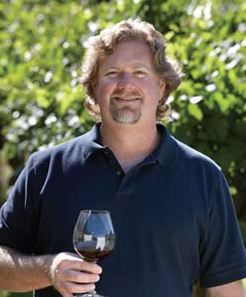 I found the 2013 Hartford Court Pinot Noirs to be full-bodied and structured yet balanced, generally dark fruited due to later harvests, with some modest oak presence. Overall, the wines were a bit tight and will benefit from decanting or another year or two in bottle.
Hartford Court Pinot Noir can be tasted at two venues: the original tasting room at the winery that is open daily in Forestville at 8075 Martinelli Road, and downtown Healdsburg also open daily at 331 Healdsburg Avenue. The wines are offered through a wine club and the website at www.hartfordwines.com.