Aussies Offer Gnarly Pinot Noirs at the 2016 International Pinot Noir Celebration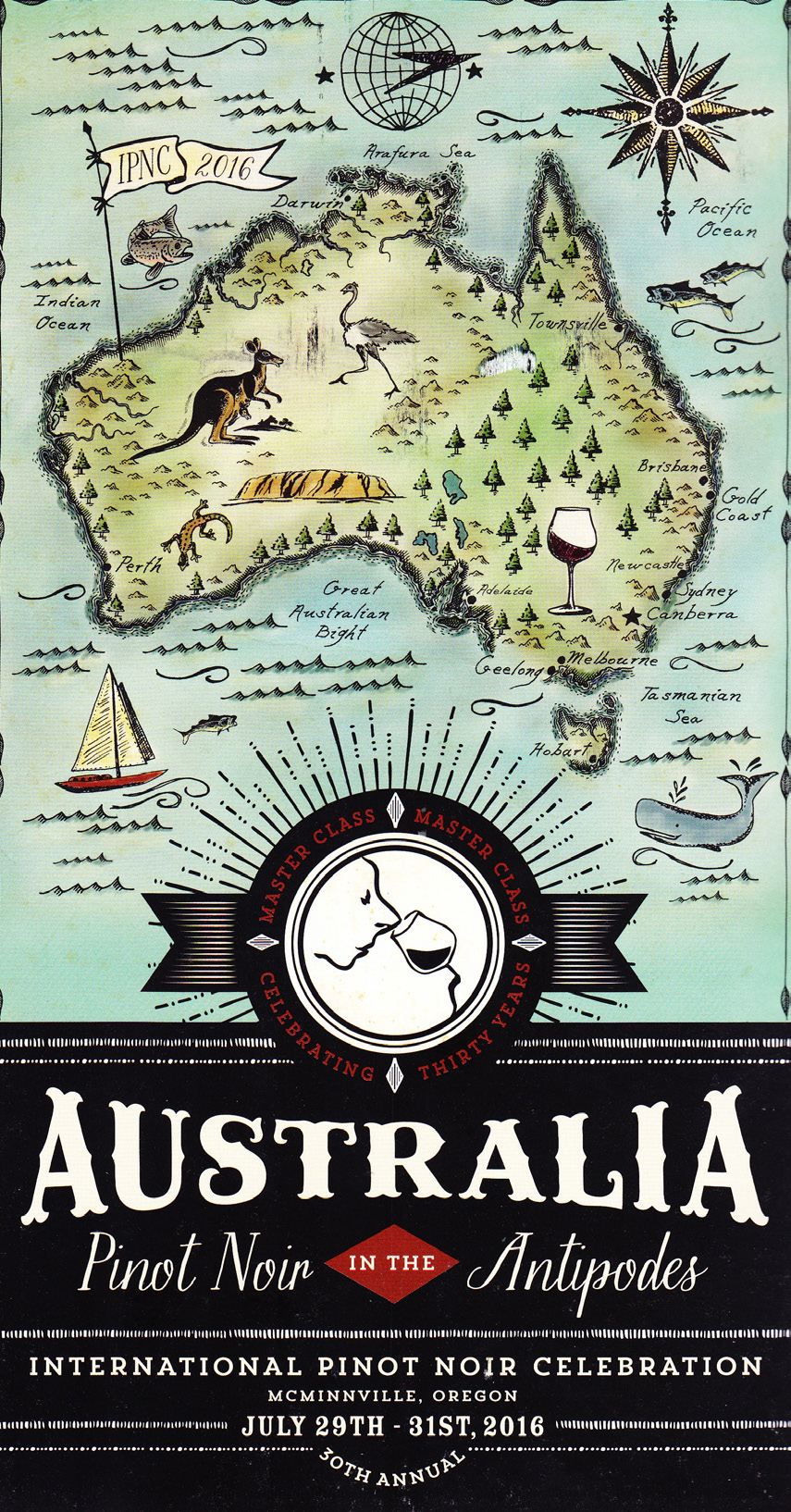 Australia has staked its wine reputation on Syrah (Shiraz), Cabernet Sauvignon, Merlot, Riesling, Semillon and "stickies." A feminine and nuanced wine like Pinot Noir historically has never fit into the Aussie drinking ethos that has emphasized big, jammy red wines. Although Pinot Noir has been grown in Australia since the 1830s, it was an afterthought for years, and has only gained recognition in recent years as dedicated vintners began to craft Pinot Noir that is downright gnarly (Aussie slang for terrific).
The 30th Annual 2016 International Pinot Noir Celebration (IPNC) offered a Grand Seminar Master Class titled, "Australia: Pinot Noir in the Antipodes," intended to enlighten attendees about the progress made in Australian Pinot Noir. The Master of Ceremonies was James Halliday AM, who has a long history with Pinot Noir. He founded the legendary winery, Coldstream Hills in the Yarra Valley in 1985. Halliday was joined on the panel by Michael Hill Smith AM, MW, of Tolpuddle Vineyard in Tasmania and Tom Carson, the winemaker at Yabby Lake in the Mornington Peninsula.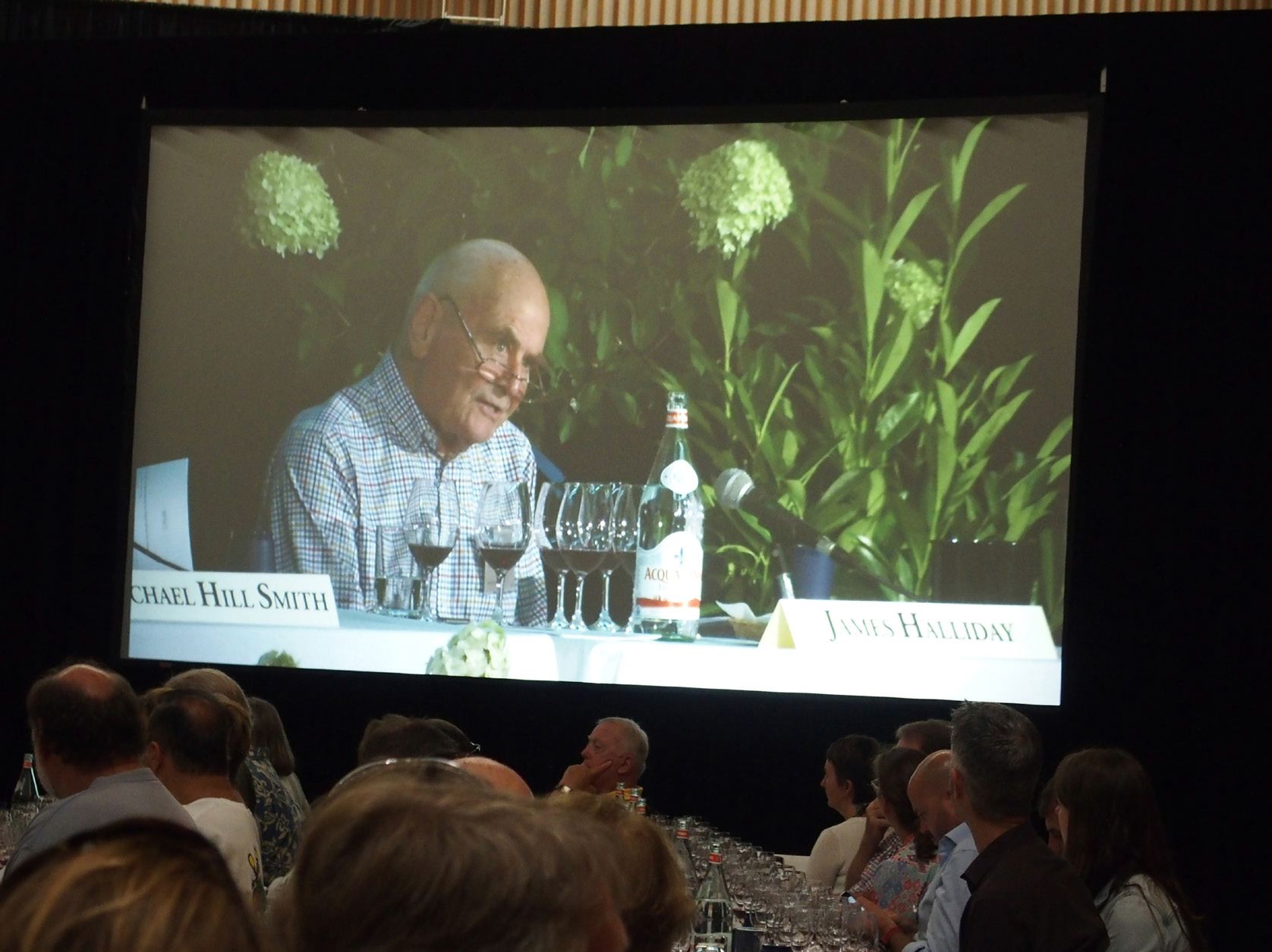 Victoria has been the epicenter of Australian Pinot Noir. This cool climate region in southeast Australia has a colorful history of grape growing that mirrors the historical events in California. The first plantings were established in the early 1930s using cuttings brought to Victoria from Tasmania and cuttings taken from Clos Vougeot that is now widely planted in Australia as clone MV6. Gold was discovered in 1851 that led to a boom in vineyard plantings and Pinot Noir was successfully grown in Victoria. By 1890, Victoria produced more than 50% of Australia wine. Some of the annual wine production was blended and shipped overseas under the name of "Australian Burgundy."
Phylloxera was first discovered in Victoria in 1875, and by 1910 had wiped out the wine industry there. Pinot Noir reappeared in the Yarra Valley in the late 1960s with wineries such as Yarra Yering, Mount Mary and Seville Estate leading the way.
Today, the regions that have emerged as being best suited to Pinot Noir in Australia are the Yarra Valley, Mornington Peninsula, Geelong, Gippsland and Macedon Ranges in Victoria, Adelaide Hills and Southern Fleurieu in South Australia, the Great Southern in Western Australia, and Tasmania. The Victoria region is the largest producer of Australian Pinot Noir by far. In 2015, there were more than 12,226 acres of Pinot Noir planted in Australia, and more than 950 growers and makers.
Australian Pinot Noir has evolved through the efforts of a small number of fanatical pioneers who possess a profound love of Burgundy. Improved planting material and clones are now widely available and modern viticultural techniques including proper canopy management and organic farming are the rule. Experimentation is ongoing with closer vine spacing, resulting in lower yields per vine. Many vineyards are on their own roots and are reaching maturity.
In the cellar, pre-fermentation cold maceration is employed, followed by whole berry and whole bunch (Aussie for whole cluster) fermentation in small open-top fermenting vessels. There is a trend toward feral yeasts. Post-fermentation maceration is often used to build structure. Screwcaps are the closure of choice for most premium Pinot Noir producers who find the wines stay fresh with minimal reduction issues.
The featured regions and producers whose wines were offered for tasting at the Master Class are depicted below. Abbreviations are VIC (Victoria), SA (South Australia), TAS (Tasmania).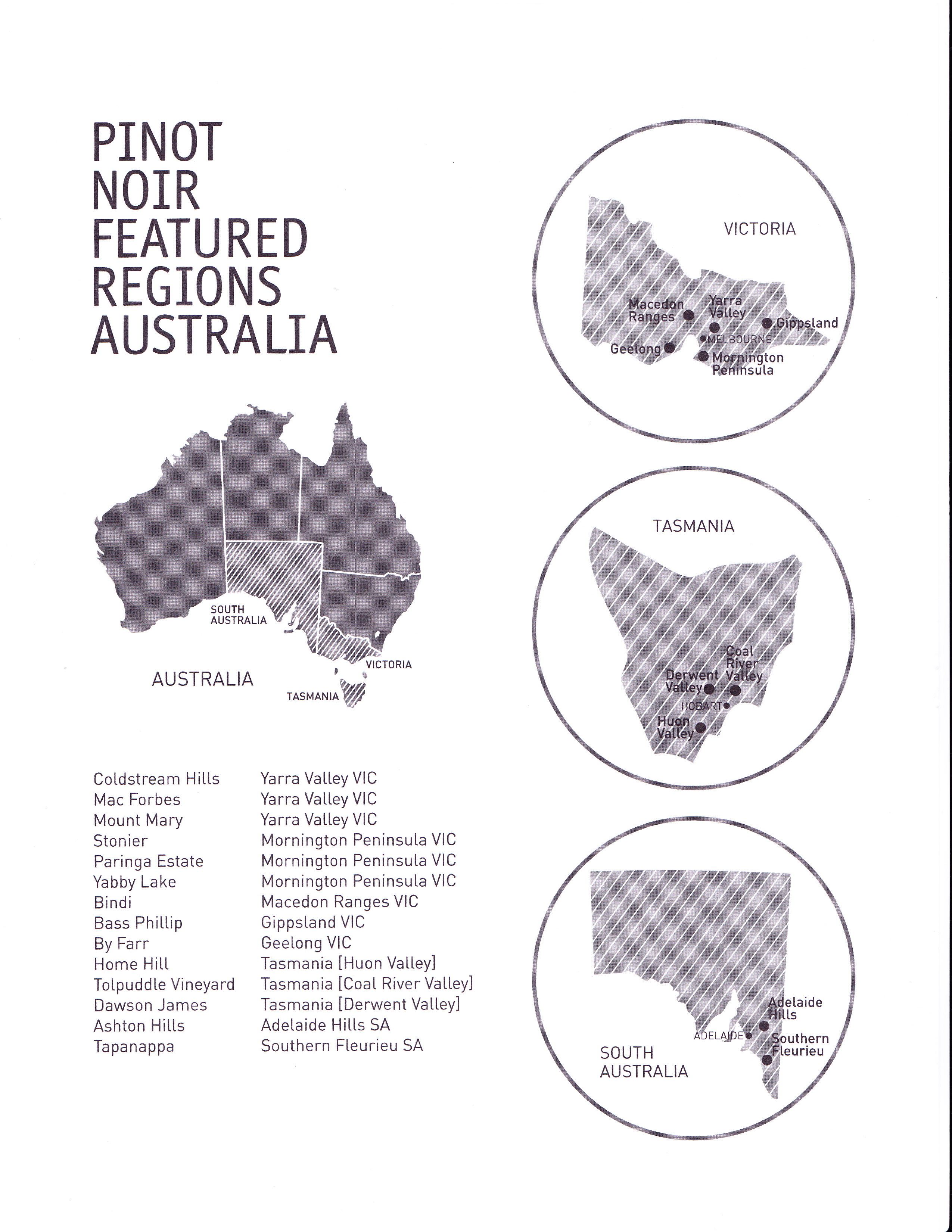 Yarra Valley Region, VIC
Participating wineries: Coldstream Hills, Mac Forbes, Mount Mary.
135 wineries in the region produce Pinot Noir.
Mornington Peninsula Region, VIC
Participating wineries: Paringa Estate, Stonier, Yabby Lake.
80 wineries in the region produce Pinot Noir.
Surrounded by water on three sides so that there is plenty of maritime influence.
Macedon Ranges Region, VIC
Participating winery: Bindi.
37 wineries in the region produce Pinot Noir.
Geelong Region, VIC
Participating winery: By Farr.
50 wineries in the region produce Pinot Noir.
Gippsland Zone, VIC
Participating winery: Bass Phillip.
38 wineries in the region produce Pinot Noir.
Tasmania Zone, TAS
Participating wineries: Dawson James, Home Hill, Tolpuddle Vineyard.
124 wineries in the state produce Pinot Noir.
An island state located off the southern tip of Australia. Very cool climate.
Adelaide Hills Region, SA
Participating winery: Ashton Hills
74 wineries in the region produce Pinot Noir.
The coolest region in Southern Australia.
Southern Fleurieu Region, SA
Participating winery: Tapanappa.
3 wineries in the region produce Pinot Noir
Australian All Star Pinot Noir Tasting
Note: the mix of Australian Pinot Noir clones is different from California and Oregon. Unique to Australia are clone MV6 (Mother Vine 6) selected from the Clos Vougeot Vineyard by James Busby, the father of Australian viticulture, and the backbone of many Australian Pinot Noirs (no USA equivalent), and the Abel clone (Gumboot, Ata Rangi, DRC) is reputed to be sourced from the Romanee-Conti vineyard in Burgundy in the 1970s and confiscated by New Zealand customs agent Malcolm Abel from a traveler's gumboot, and later planted at Kumeu (USA equivalent unknown). Other clones with USA equivalents are D4V2 (Pommard), D5V12 (upright, droit, UCD Beaujolais, FPS 19 - one of the first clones imported to Australia from California in 1962, now on the wane in Australia), Dijon 114,115, 667, 777, 828 and 943, Mariafeld, and D2V5 (Wädenswil 1a) and 8048 (Wädenswil 2a).
Where else but IPNC would you be able to taste such a lineup of exemplary Australian Pinot Noirs?
The majority of the wines were in the 13% to 14% ABV range. My general impression was that all the wines showed the Pinot Noir trifecta: fruit, spice and savory delights. I was struck by the deep color, bright acidity and modest tannins of most of the wines. If I had to include a nit, it would be an overzealous use of oak in some wines.
2015 Coldstream Hills Deer Farm Vineyard Yarra Valley Victoria Pinot Noir Winery founded by James Halliday, now part of Treasury Wine Estates. Winemaker Andrew Fleming. Moderate reddish purple color in the glass. Darker, very ripe berry fruits on the nose and palate along with savory spice and mushroom notes. Soft and smooth in the mouth, with tannins folded in, finishing with a slight sharp bite of acidity. Very Good.
2014 Mac Forbes Woori Yallock Yarra Valley Victoria Pinot Noir Mac Forbes was the winemaker at Mount Mary for many years. He began his own label in 2005, buying grapes from the Yarra Valley and has developed a cult following amongst millenials and sommeliers. Moderately dark reddish purple color in the glass. The nose was primarily oak-driven, with added aromas of spice, potpourri and pungent herbs. Light to mid weight in style, with a significant oak overlay and a juicy, dry finish. Good.
2013 Mount Mary Vineyard Yarra Valley Victoria Pinot Noir Established in 1971, this winery is known for long-lived Pinot Noirs. Founded by the late winemaker, Dr. John Middleton, who was one of the truly original figures in the Australia wine industry. Son David and grandson and winemaker Sam are continuing the Mount Mary legacy. Moderate reddish purple color in the glass. Very pleasant, with a light to mid weight core of dark red fruits nicely spiced. Forward drinking, with gentle tannins. Exceptional.
2015 Stonier Family Vineyard Mornington Peninsula Victoria Pinot Noir Stonier was established in 1978 and is one of the pioneers of the Mornington Peninsula. The winery focuses only on Pinot Noir and Chardonnay from estate vineyards and long time growers. A small percentage of whole cluster is included in the Pinot Noir wines. Moderately dark reddish purple color in the glass. Nicely perfumed with aromas of black raspberry jam and rose petal. Beautifully composed, featuring dark raspberry and plum fruit flavors, a firm backbone, and lengthy finish. Exceptional.
2014 Paringa Estate Mornington Peninsula Victoria Pinot Noir Winemaker Lindsay McCall has had unmatched level of success in wine shows and competitions with Pinot Noir and Shiraz. Established in 1985, Paringa Estate is one of the outstanding producers on the Mornington Peninsula. Dark reddish purple color in the glass. Aromatically pleasing with a lovely blend of nutty oak and dark berry aromas. Somewhat withdrawn and rustic, but enough black fruits to satisfy. A savory thread haunts the background along with a bright cut of acidity. Very good.
2013 Yabby Lake Block 2 Mornington Peninsula Victoria Pinot Noir This winery was started by the Kirby family with a focus on Pinot Noir and Chardonnay. Winemaker Tom Carson arrived and the quality of the wines skyrocketed. Yabby Lake was the first Pinot Noir to win the coveted Jimmy Watson Trophy in 2014. Moderate reddish purple color in the glass. The nose and palate veer to ripe, darker fruits framed by seasoned oak. The aromas of black cherry and rose petal draw you in, and the ripe berry core is well supported by firm but not aggressive tannins. A little more oak showing than I like, but otherwise Exceptional.
2014 Bindi Kaye Macedon Ranges Victoria Pinot Noir Bindi is one of the greatest small producers of Pinot Noir and Chardonnay in Australia. Winemaker Michael Dhillon (nicknamed "Elvis of Bindi" is in photo below) is experimenting with high density plantings currently. Moderate reddish purple color in the glass. Lovely scent of black cherry, black raspberry and spice leading to a middleweight core of purple berries, black cherry and spice flavors enhanced by complimentary acidity and chalky tannins. My favorite Pinot Noir of this tasting. Exceptional.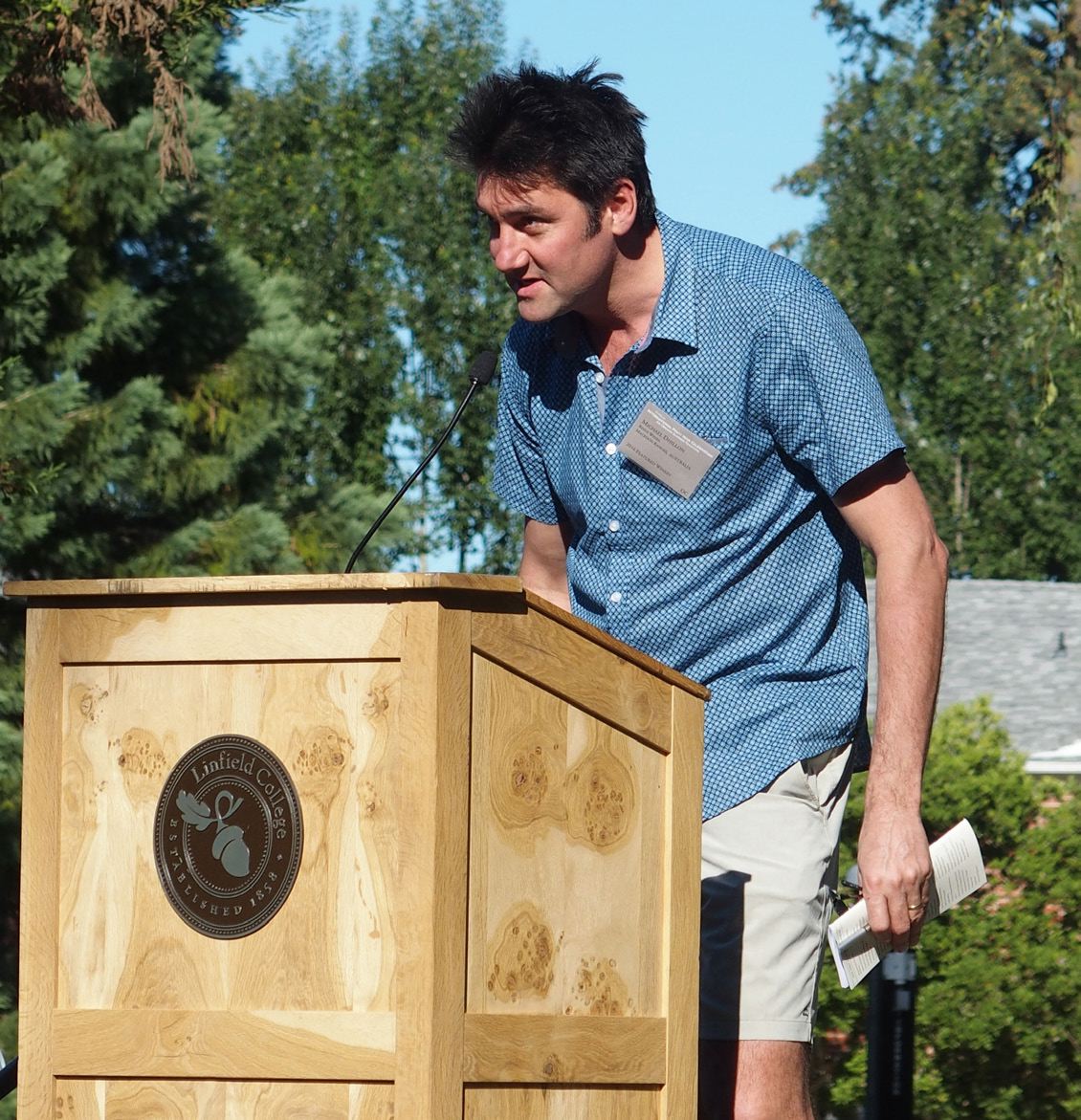 2013 Bass Phillip Premium Gippsland Victoria Pinot Noir Established in 1979 by Phillip Jones who crafts tiny quantities of legendary Pinot Noir which at its best has no equal in Australia. Dark reddish purple color in the glass. An ultra ripe, mid weight plus style with aromas and flavors of blackberry jam and cassis accented with charred oak, dry tannins and lively acidity. Very good.
2012 By Farr Sangreal Geelong Victoria Pinot Noir By Farr is a respected producer in Australia founded in 1994 by winemaker Gary Farr. Both Gary and his son Nick have worked numerous vintages at Domaine Dujac in Burgundy stretching over two decades. The wines are normally made with 60%-70% whole cluster inclusion. Dark reddish purple color in the glass. Another very ripe style, but more appealing due to whole cluster inclusion. Aromas of black raspberry, spice, and dark rose petal lead to a mid weight plus style with loads of charming black fruit accented by savory herbs (but not herbaceous), and framed by noticeable, but not daunting tannins. Exceptional.
2014 Tolpuddle Vineyard Tasmania Pinot Noir Tolpuddle Vineyard was planted in 1988 near Hobart. Since bought by Michael Hill Smith MW and Martin Shaw in 2011, the wines have received considerable international recognition. The 2013 Tolpuddle Pinot Noir was Best Australian Pinot Noir and Best Australian Red Wine at London's International Wine Challenge. Moderately dark reddish purple color in the glass. The nose is infused with roasted nuts including hazelnut aromas along with aromas of black cherry and blackberry. Silky in the mouth, with mid weight core of oak-infused dark berries backed by modest tannins, finishing with good intensity. Very good.
2014 Dawson James Tasmania Pinot Noir Peter Dawson and Tim James have a long history of successful careers as senior winemakers at Hardys/Accolade group. The partners started their label in 2010. 40% whole cluster inclusion. Moderately dark reddish purple color in the glass. Aromas of pungent herbs, clove, and spiced Mexican chocolate lead to a mid weight essence of dark red cherry and berry flavors. Bright acidity infuses the wine with vibrancy, but there is significant oak overlay and attending petrol note. Good.
2014 Ashton Hills Reserve Adelaide Hills South Australia Pinot Noir Stephen George built Ashton Hills into one of the great producers of Pinot Noir in Australia. Since 1982, over 25 Pinot Noir clones have been planted to determine the most suitable for the site. George decided on five clones eventually that make up the vineyard today. The business was sold to Wirra Wirra in 2015, but George continues in a consulting role. Moderately dark reddish purple color in the glass. Significant oak barrel influence in the nose and on the palate. The wine features mid weight red and black cherry fruits that possess charm and juiciness. Good.
2012 Tapanappa Foggy Hill Southern Fleurieu South Australia Pinot Noir Brian Croser and his spouse Ann established Tapanappa Vineyards in 2002/ Croser has strong links with Oregon, having established Argyle in 1987. Moderately light reddish purple color in the glass. Typical whole cluster nose featuring scents of cherry, tobacco, spice, pine and wilted rose. Lighter in weight, but flavorful, with tastes of cherry and herbs. The ripe tannins are modest and the wine finishes with generosity and purpose. Very good.
Americans have little opportunity to drink the better Australian Pinot Noirs since Australians love them so much, they keep them to themselves. Over 50% of all Pinot Noir produced in Australia is sold directly to Australian consumers at the wineries' tasting rooms (called cellar doors in Australia) or through mailing lists, with the balance divided between restaurants and wine retailers. The growing middle class in China also has a thirst for premium Australian wines. In the 12 months to June 30, 2016, Australian wine exports to China increased in value by 50 per cent to $419 million, while exports to the United States increased by 9 per cent.
Most of the Australian Pinot Noir that reaches the USA is value priced and includes forgettable labels like Lindeman's Bin 99 ($4), Yellow Tail ($5), Rosemount Estate ($5), The Little Penguin ($6), Fish Eye ($6), Shoofly ($9), Riposte The Dagger ($15), Oakridge Estate ($14), De Bertoli ($14), McPherson ($14), Wakefield Estate ($17), Sidewood ($20), Robert Oatley ($20) and Giant Steps ($30). When I checked www.winesearcher. com, I was able to find a few bottles of premium Australian Pinot Noir for sale from producers like Yarra Yering, Tolpuddle Vineyard, By Farr, Mount Mary, Yering Station, Stonier, Kooyong Massale, Penfolds Reserve, Giaconda, Bindi, Mac Forbes, Ten Minutes by Tractor and Eldridge Estate.
I have been fortunate to visit Victoria and many Pinot Noir producers there, and through my good friend, David Lloyd, owner and winemaker of Eldridge Estate in the Mornington Peninsula, I have tasted a number of very enjoyable Australia Pinot Noirs. My most recent tasting of Mornington Peninsula Pinot Noirs was in September 2014: www.princeofpinot.com/article/1571/.

The 2017 Mornington Peninsula International Pinot Noir Celebration, sponsored by the Mornington Peninsula Vignerons Association (MPVA), will be held on February 10-11, 2017 at RACV Cape Schanck Resort and various local wineries. This biannual event, the eighth in a series, is modeled after Oregon's International Pinot Noir Celebration. The 2017 Event Chairman, Lindsay McCall, announced that the theme will be "The alchemy of Pinot Noir...people, place and time." Matthew Jukes will host the Celebration and present his selection of Pinot Noir from around the world including wines from two exceptional Burgundy domaines - Méo- Camuzet and Comte de Vogüe. Tickets include two days of Pinot Noir wine tasting, lunches and dinners. To buy tickets, visit www.mpva.com.au/events/detail/Pinot-Noir-Celebration.