Final Thoughts After 2016 IPNC
** At the Grand Seminar on Australian Pinot Noir, reference was made to Pinot Noir as the "invalid grape," because "it is pale, frail and weak."
** When I asked Oregon winemaker, David O'Reilly, what he thought of "Pursuit of Balance," he responded, "Well, I moved to Oregon from Ojai, California."
** New terminology caught my fancy: the result of uneven crop set is often referred to as "hens and chicks" in wine grape bunches (what the French term millerandage) with chicks being the smaller berries. A term I heard for the first time is more fitting, with the occurrence better described as "peas and pumpkins."
**There were about 825 registered attendees for the 2016 IPNC weekend, including 140 representatives from the 73 featured wineries. A new audience of about 550 guests attended the IPNC Sunday Passport to Pinot.
** The featured Pinot Noir producers came from Argentina, Australia, Burgundy, California, Canada, Champagne, Michigan, New Zealand, Oregon, Virginia and Washington.
** Guests have the opportunity to taste more than 250 wines at IPNC and I tasted my fair share. Wines that stood out at the Alfresco Tastings included 2015 Chacra Cincuenta y Cinco Rio Negro Argentina, 2015 Bindi Wines Dixon Vineyard Macedon Ranges Australia, 2015 Stonier Wines Stonier Family Vineyard Mornington Peninsula Australia, 2014 Failla Wines Occidental Ridge Vineyard Sonoma Coast, 2014 Flowers Vineyards & Winery Sonoma Coast, 2013 Lutum Wines Bien Nacido Vineyard Santa Maria Valley, 2014 Masut Vineyard & Winery Eagle Peak Estate Redwood Valley, 2013 Thomas Fogarty Winery Rapley Trail Vineyard Santa Cruz Mountains, 2013 Blue Mountain Reserve Okanagan Falls BC, 2012 Domaine Marquis D'Angerville Volnay 1er Cru Volnay Burgundy, 2011 Domaine Henri Gouges 1er Cru Les Pruliers Nuits-Saint-Georges Burgundy, 2014 Domaine Marc Roy Clos Prieur Gevrey-Chambertain Burgundy, 2014 Anam Cara Cellars Nicholas Vineyard Reserve Chehalem Mountains Oregon, 2014 Ayres Vineyard ONE Estate Chehalem Mountains Oregon, 2013 Harper Voit Strandline Yamhill-Carlton Oregon, 2013 J.K. Carriere Vespidae Chehalem Mountains Oregon, 2014 Owen Roe "The Kilmore" Willamette Valley Oregon, 2013 R. Stuart & Co. Winery Autograph Willamette Valley Oregon, 2014 Shea Wine Cellars Estate Yamhill-Carlton Oregon, 2014 Solena Domaine Danielle Laurent Yamhill-Carlton Oregon, 2013 Tendril Wine Cellars Tight Rope Yamhill-Carlton Oregon.
**2013 Dundee Hills Vintage Collection: An exclusive collection of 30 bottles of Dundee Hills Pinot Noir from the 2013 vintage - $1,850. The 2012 Collection is sold out. Reserve the 2013 Collection at www.dundeehills.org/vintage-collection/.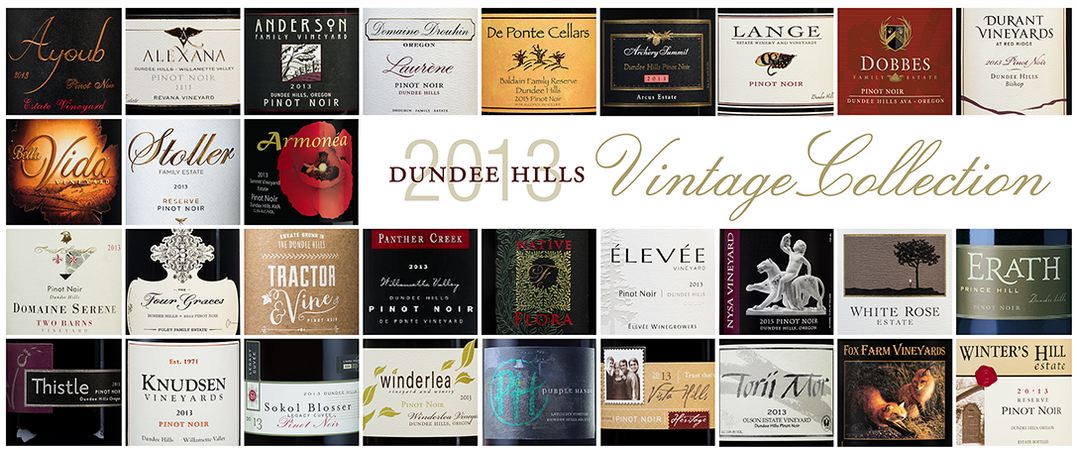 **50 Years Pressing On - A Guide to Willamette Valley Wineries. Your best guide for visiting the Willamette Valley is available at wineries or visit www.willamettewines.com.
**Heart of Willamette Wineries. A group of the more southern wineries in the Willamette Valley have their own guide available at www.heartofwillamette.com. These are superb wineries that because of their greater distance from Portland are less well-traveled but equally accomplished. Examples are Treos, Airlie Winery, Lumos Wine Company, Tyee Wine Cellars and Benton-Lane Winery.
**¡Salud! is celebrating its 25th anniversary in 2016. This charity is dedicated to providing healthcare services and outreach to Oregon's seasonal vineyard workers and their families. The ¡Salud! Cuvée Tasting and Big Board Auction will be held Friday, November 11, 2016, at Ponzi Vineyards and is the only opporrtunity to buy Oregon's most exclusive Pinot Noir cuvées. The following evening, Saturday, November 12, 2016, the 25th Anniversary Celebration Gala and Auction will be held at the Sentinel Hotel in Portland. Friday, Saturday and full weekend tickets are available now online at www.saludauction.org.
**The 31st Annual IPNC will be held at Linfield College on July 28-30, 2017. Registrations are now being taken for the Full Weekend, priced at $1195. Visit www.ipnc.org. If you only attend one Pinot Noir celebration, you must experience IPNC. Chances are, if you attend once, you will return repeatedly.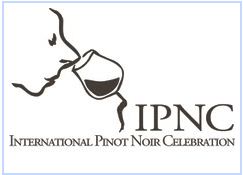 **IPNC also produces the annual Oregon Chardonnay Celebration to be held February 27, 2016, at The Allison Inn & Spa in Newberg, Oregon. The event begins with a seated topical seminar and tasting followed by a walk around sampling of over 40 Oregon Chardonnays. Visit www.ipnc.org for more information and tickets.