Romancing with Les Amoureuses
A feature on Burgundy? The Holidays are a slow time for wineries to ship wine for review so I thought I would tap into my cellar for some wines that might interest pinotphiles. As you realize, the PinotFile is devoted to domestic Pinot Noir, but I have drank and cellared red Burgundy through the years. Although this experience gives me some reference, red Burgundy is a completely different wine than domestic Pinot Noir. It is also outrageously expensive and led me to quit buying red Burgundy for the most part after the 2005 vintage.
Referencing Clive Coates MW in The Wines of Burgundy, Remington Norman in The Great Domaines of Burgundy, and Steen Öhman at winehog.com, I have sourced some information about the climate, Les Amoureuses.
Les Amoureuses is a 5.40 hectare (13 acres) Premier Cru vineyard in the commune and appellation of Chambolle-Musigny in Côte de Nuits. One of 25 climates in Chambolle-Musigny, it is considered the best of the Premier Cru vineyards. The two Grand Cru climates in Chambolle-Musigny are Bonnes Mares and Le Musigny, but many wine experts consider Les Amoureuses the equivalent of a Grand Cru. It certainly commands the prices of a Grand Cru.
The name, "Les Amoureuses," is thought to be derived from a place where young lovers would go to embrace, although Jasper Morris suggests that because the soil thickens in the rain and sticks to your boots, the soil clings like young lovers. The latter is a less likely explanation since many vineyards in Burgundy show this clings like young lovers. The latter is a less likely explanation since many vineyards in Burgundy show this characteristic.
Les Amoureuses is situated down slope and adjacent (north of) to Le Musigny (see map above). The soil of Les Amoureuses is similar in style to Le Musigny but is shallower than the lower sections of Le Musigny above.
Some have labeled Les Amoureuses as the "younger brother to Musigny," claiming that Les Amoureuses lacks the power and depth of Le Musigny. Wine writers emphasize the wines of Les Amoureuses reveal finesse rather than power or weight. Steen Öhman said, "Chambolle-Musigny Les Amoureuses is the delight of Burgundy…filigree, sensual, cool and refined. The female pendant to Musigny with the same type of regal mineralogy - yet more delicate and light footed - without the sheer power and depth of the might Musigny. Les Amoureuses has a delicacy and sensuality not found in Musigny and is perhaps the most delicate wine of Burgundy."
The alluring descriptions of Les Amoureuses led me to purchase a number of bottles over the years. That said, the description of Les Amoureuses as delicate and feminine may be an oversimplification based on my recent tasting of several examples. Depending on the producer and the vintage, I found some wines quite powerful and concentrated. I also found large differences among the various producers indicating that winemaking approaches vary noticeably.
Les Amoureuses, like red Burgundy in general, is a much more savory wine than domestic Pinot Noir. The most impressive feature for me of the wines reviewed here was the intensity and length of finish on almost all of these bottles. I did not score the wines, preferring to use a one word descriptive of quality. I believe my palate is so "domesticated," with a preference for freshness and fruitiness, that perhaps I don't appreciate these wines like a Burgundy aficionado would. I think domestic Pinot Noir offers more consistency of quality. Some wines were downright disappointing considering they cost well over $100 a bottle several years ago.
Among the vignerons whose wines were reviewed here, Groffier, with over 1 hectare, is the largest owner.
The Les Amoureuses wines are labeled either Chambolle-Musigny Premier Cru (1er Cru) Les Amoureuses, or Chambolle-Musigny Premier Cru in which case the wine may be blended from several Premier Cru vineyards within the ACC. In some cases, the vineyard is simply designated as Amoureuses.
All wines were acquired upon release and perfectly cellared at 55º. I have included current prices (shocking) from auction or retailers on wine-searcher.com.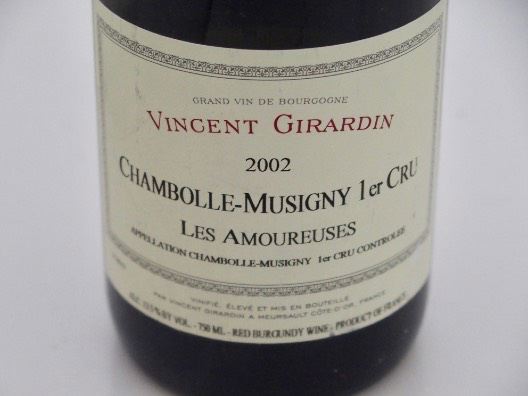 2002 Robert Groffier Père & Fils Chambolle-Musigny 1er Cru "Les Amoureuses"
13.5% alc.. $250-$450 (current auction price). Imported by Atherton Wine Imports, CA. · Moderating garnet color in the glass with slight rim bricking. Perfumed with aromas of black cherry, tobacco, piquant spices, green bean and toast. Discreetly concentrated flavor of earth-kissed black fruits with a slight feral and vegetal underpinning. Juicy and expansive in the mouth, with merged tannins and admirable balance. Drink now to 2022. Score: Very Good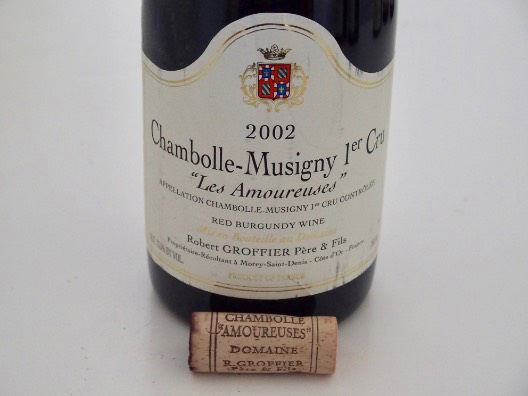 2002 Frédéric Magnien Premier Cru Chambolle-Musigny Amoureuses
13.5% alc.. $431 (current price). Imported by Premier Cru, Emeryville, CA. Unfiltered. · Dark garnet color in the glass. Complex nose offering scents of black cherry, dried herbs, earthy flora, and floral bouquet increasing in grandeur over time in the glass. Mid weight plus in concentration, with an intense attack of boysenberry, blackberry and cassis fruit flavors and subtle citrus, earth and green herbal threads in the background. Silky in the mouth, with merged tannins and a very lengthy finish. Drink now to 2022. Score: Very Good
2003 Lucien Le Moine Chambolle Musigny 1er Cru "Les Amoureuses"
13.5% alc.. Imported by Atherton Wine Imports, San Jose, CA. Unfined and unfiltered. · Dark garnet color in the glass. Very ripe but not over ripe fruit aromas and flavors predominate. The nose offers scents of black cherry, blackberry, prune, spice, dried rose petal, mulch and char. Mid weight plus in concentration with flavors that echo the aromas. Sappy in attack, length and finish with a sleek texture and compatible backing tannins. Delicious in a fruit-driven Caliesque style with plenty of sweet fruit that is not tiring and pumps out goodness over a considerable length of time. Drink now to 2023. Score: Exceptional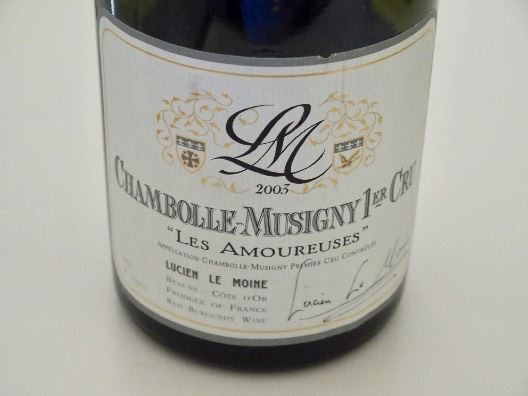 2004 Domaine Louis Jadot Chambolle-Musigny Les Amoureuses
13.5% alc., $135 (purchase price and current price). Imported by Kobrand Corp, NY, NY. · Moderate garnet color with slight rim bricking. Funky, even over time, with aromas of old cork, dank cellar, old leather, toast and a hint of Bing cherry. Slightly sulfured at first but disappearing over time, revealing the delicate flavor of chocolate imbued cherry with savory and char notes. Silky in texture, with restrained tannins and some length on the finish. Good acid drive, even leading to a slightly tart finish. The wine just doesn't deliver enough charm. Drink up. Score: Good
2004 Francois Bertheau Chambolle-Musigny Premier Cru Les Amoureuses
13.5% alc.. $378 (current price). Imported by Kermit Lynch, Wine Merchant, Berkeley, CA. · Moderate light garnet color with slight rim bricking. Pleasant aromas of cherry, dried rose petal and spice. Very delicate and elegant in style with a lively acid underbelly, offering flavors of redder fruits and complimentary oak overlay. The wine finishes with a tart cherry persistence. This wines shows the finesse side of this vineyard. Drink now to 2024. Score: Very Good
2004 Domaine Comte Georges de Vogüé Chambolle-Musigny Les Amoureuses Premier Cru
13.5% alc.. $478-$616 (current price). Imported by I & B Imports Chicago, IL. (Note - I recently tasted all five Vogüé wines from the 2004 vintage - but that's for another feature) · Moderately light garnet color in the glass. Gorgeous nose over time offering aromas of sous-bois, spice and cherry. Redder fruited in a mid weight style with impressive length in the mouth and an extended finish. Silky and sexy, with add flavors of iron, baking spices and savory herbs. This beauty is struck through with earth and mineralogy. Drink now through 2030. Score: Exceptional