Marin County Pinot Noir Celebration
The Marin County appellation has a long and colorful history of grape farming. Frenchman Jean Escalle established the red brick Escalle Winery in Larkspur and planted his land to grapes in the 1890s. Escalle's Marin County wine production exceeded 9,000 cases per year from his 23-acre hillside vineyard. Long-time Marin resident Helen Wilson recalled, "Escalle was a wonderful place. The French and Italians came here in droves on weekends to enjoy themselves. They brought their children and ate lunch. You could hear them singing all over town!" Today, the historic Escalle Winery serves as the venue for the annual Marin County Pinot Noir Celebration, this year held on Friday and Saturday, June 8 and 9, 2007. The event was organized by the Marin County Winegrowers Association and all proceeds benefited the Marin Agricultural Trust (MALT) which is an agricultural land preservation effort protecting 38,000 acres of Marin County land on 57 family farms and ranches.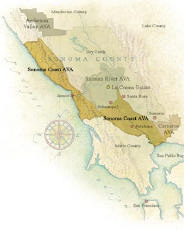 p> Marin County borders Sonoma to the north and the climate is similar to the Sonoma Coast. It is no surprise, then, that the area has sparked interest for Pinot Noir fanciers. The climate is influenced by two bodies of water - the Pacific Ocean along Marin's western coast and the San Pablo Bay along the eastern border. According to winegrower Jonathan Pey (Pey-Marin Vineyards & Mt. Tamalpais Vineyards), Marin's winters are warmer than neighboring Napa and Sonoma because of extremely high winter precipitation. Subsequently, bud break is accelerated, but Marin's persistently cool weather in the spring and summer and complete lack of heat waves push flowering, "set," and harvest many weeks beyond the so-called "cool-climate" district of Carneros. The result is one of the longest natural "hang times" in the state. Because of the long growing season, wines from western Marin (Pinot Noir, Merlot, and Riesling) have superb natural acidity and generally lower alcohol levels. The more inland areas of Marin County are warmer and more conducive to Bordeaux varieties. When nature cooperates, western Marin County can produce very small Pinot Noir berries that yield wild and concentrated flavors.
There are about 125 acres of vineyards in Marin County, with 80 acres planted to Pinot Noir. That amount is minuscule compared to Sonoma County, which has over 6,500 acres of vineyards. The major Pinot Noir vineyards in Marin County include Devil's Gulch Ranch (18 acres of Pinot Noir and Chardonnay in Nicasio, fruit sold to Dutton-Goldfield and Sean Thackrey) which is pictured below in full bird netting mode, McNeil Vineyard (leased by Chalone and farmed by Mark Pasternak of Devil's Gulch for Orogeny label), Stubbs Vineyard (planted in 1998, farmed by Mark Pasternak and owner Tom Stubbs),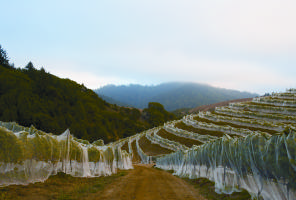 Corda Vineyard (11 acres of Pinot Noir planted in 1990-1991 as part of the Chileno Valley Ranch, grapes sold to Pey- Marin, Vision Cellars, Thomas Fogerty and Precedent), Skywalker Ranch (a joint project of Niebaum-Coppola and George Lucas farmed by Mark Pasternak), Point Reyes Vineyard (a winery and B&B owned by the Doughty family with the only tasting room in Marin County), and Kendrick Johnson Vineyard (winegrower Stewart Johnson). The Marin Musketeers are seen in the photo (L to R: Mark, Jonathan, Stewart).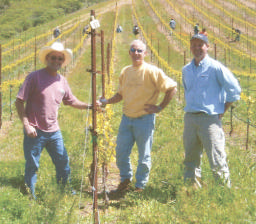 Mark Pasternak has his hand in the farming of most every vineyard in Marin County. He has been producing grapes in Nicasio since 1980, and was the first person to plant a vineyard in West Marin since the Prohibition era of the 1920s. Early on, he sold his grapes for sparkling wines (Schramsberg and Kalin Cellars) and although he realized the quality of his Pinot Noir grapes were such that fine still wine could be made, he couldn't even give them away! Dan Goldfield, the winemaker at La Crema at the time, had an interest in unique terroirs including cold-climate vineyards in the Sonoma Coast, and was happy to take the grapes. In 1991, he made Pinot Noir from the Devil's Gulch Vineyard at La Crema, later at Hartford Court, and most recently since 2001 at Dutton-Goldfield. The success of Devil's Gulch Pinot Noir established the quality of Pinot Noir grapes from Marin County and today, producers can sell every berry they produce. The Marin County appellation has meaning now for Pinot Noir lovers.
Marin County will never become a large grape growing region. Water is scarce, coastal fog and the climate can prevent fruit ripening (ie vintage 2005), and available property for vineyards is scarce. Only large parcels are for sale and much too expensive for grape growers to exploit. Some winegrowers are turning to leasing plots of land on the large ranches.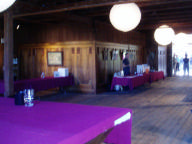 The 4th Marin County Pinot Noir Celebration was an intimate affair with 13 producers participating who are either located within Marin County or source grapes from the region. Artisan organic Marin-grown cheeses and breads were served along with some down-home barbecue featuring Mark Pasternak's famous rabbit sausage (besides farming grapes, Mark also raises rabbits for many high-end California restaurants). Tasting impressions at the event follow.

this.fmt_tasting_notes(1054,1055,1056,1057,1058): 1054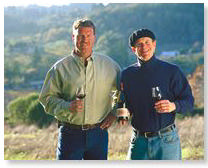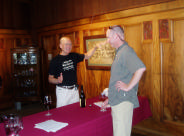 Dale Bartley is an accomplished home winemaker and wine geek living in San Rafael. He is well known for his homemade medal winning Pinot Noirs dating back to 1998 and his "Zin from Dale" which is quite good. His labels say, "It is this family's deep devotion to drinking that has brought you this wine." Dale is pictured right (black T) at the Marin County Pinot Noir Celebration helping to pour a little Pinot and handing out plenty of wine b.s..
For information on next years event, check the Marin Agricultural Land Trust website: www.malt.org.