Oregon's Big Table Farm and California's Big Basin Committed to Whole Cluster
Whole cluster fermentation of Pinot Noir can be a risky proposition but Big Table Farm and Big Basin Vineyards are committed to it "big time," and their results are stunning. The potential advantages of whole cluster fermentation include exotic aromatics, silky smooth tannins, and more lengthy and cooler fermentations that impart a different and enchanting flavor profile. I had the opportunity to taste current releases from these two wineries a few days apart, and although the wines from the two wineries are quite different in several ways, they do share a commonality only found in whole cluster fermented Pinot Noir.
Big Basin Vineyards, Boulder Creek, CA
Proprietor and winemaker Bradley Brown established Big Basin Vineyards in 1998 adjacent to Big Basin Redwoods State Park. Wine grapes were grown here by French immigrants in the early 1900s and continued until 1954 when the property was sold by Justin Lacau to a local timber company. By the 1990s, all that remained of the vineyards were redwood stakes and scattered vines hidden by brush.
Bradley has restored this historic property and the entire vineyard and olive tree orchards are now Certified Organic by CCOF. 90% of the estate is preserved in its natural state. A winery was built on the same site as the original 1890s house structure that burned down in the 1970s, and completed in 2003. The winery building is of timber frame construction built using redwood harvested from the estate.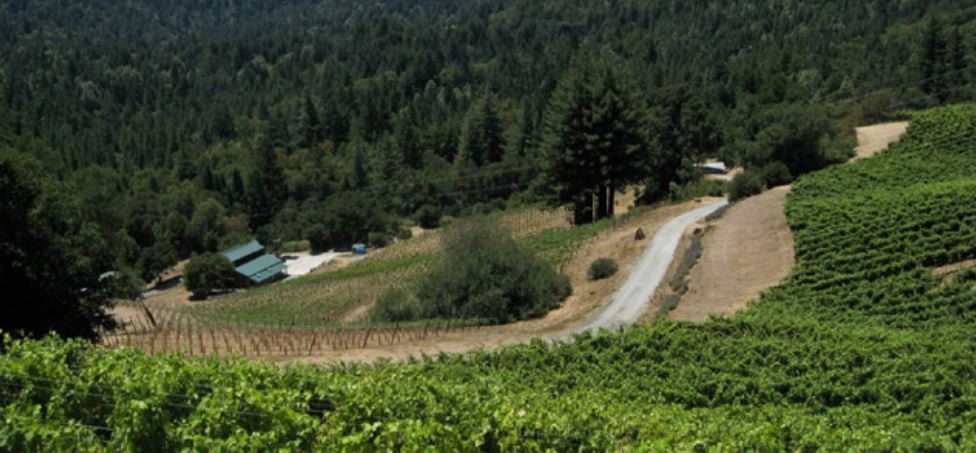 100% whole clusters of Pinot Noir are commonly employed. The whole berries and whole clusters are cold soaked for up to a week before being heated up to start the spontaneous indigenous yeast fermentations. The juice is pumped over and hand punched down, and the wine is gently pressed off the skins after 15 to 30 days of skin contact. The wines are only racked once to oxygen-free bottling tanks for bottling unfined and unfiltered. The whole process is truly non-interventional resulting in truly artisanal wines.
The winery's portfolio includes over sixteen wines, and typically five different single-vineyard Pinot Noirs from special sites in the Santa Cruz and Gabilan Mountains. The Pinot Noir wines tasted here are truly impressive as a group and unlike any other wines currently produced in the Santa Cruz Mountains. They are notable for their freshness, engaging aromatics, invigorating fruit, complexity and a judicious use of new oak. Bradley notes that the wines are "still in their tight phase of youth," so I sampled them initially over a 2-hour period, then again 6 hours later, and again the following day.
Tasting is available at the winery's Saratoga Tasting Room and the Estate Vineyard and Winery Tasting Room in Boulder Creek. Visit the website at www.bigbasinvineyards.com for more information.
Big Table Farm, Gaston, OR
Brian Marcy and Clare Carver departed Napa in 2006 and moved to Oregon. Brian was an experienced winemaker and Clare had artistic talent and a way with animals. They bought a 70-acre property in the northern Willamette Valley, where they now produce Pinot Noir, Chardonnay and Pinot Gris, raise farm animals and produce seasonal vegetables.
Their business model is one to envy although the couple is not trained or by nature business people. They host consumers for tasting in their more than 100-year-old farmhouse, enjoy entertaining visitors outdoors for meals at a "big table," (Brian is also an accomplished chef), vinify outstanding wines in a barn-like winery on their property, and offer hand-drawn labels by Clare with artwork that is unique to each vintage. After a label is applied by hand, each bottle is carefully wrapped in tissue to preserve the letterpress paper's texture and beauty (a product code on the bottom of each bottle allows identification of the wines without unwrapping them). The winery's website is one of adept design and concise content. Even the name, Big Table Farm, is attention-grabbing.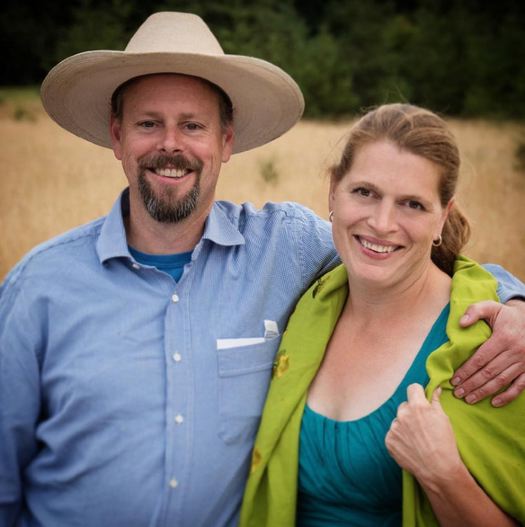 The biggest news of late is that a vineyard is being planted on the estate property behind the winery. This was part of their vision from the beginning.
I have visited the winery on several occasions and tasted most every bottling since the first wines from the 2006 vintage. I have never been disappointed in the quality of the wines and have touted them repeatedly in the PinotFile. Brian doesn't even own a de-stemmer and does not tout that his Pinot Noirs are 100% whole cluster, but he is committed to this style of Pinot Noir winemaking.
Big Table Farm wines are sold through a mailing list or directly with the winery. Call or email Clare or Laura to purchase at admin@bigtablefarm.com or call 503-662-3129. Free case shipping. Tasting is by appointment.
The wines reviewed here are from the fall 2018 release. Brian says, "These wines all have their own quirks and characteristics that make them unique and delicious in their own way," and I agree completely.