Benovia Winery Debuts
When I recently visited the Russian River Valley for the Hospices of Sonoma, I hung out with general manager Bob Mosby and winemaker Mike Sullivan of Benovia Winery. I came away very impressed by the commitment to precision viticulture, the state-of-the-art winery, and the deft winemaking here.. Benovia is still a secret to even the most avid pinotaficionados since the winery has yet to release a Pinot Noir (the inaugural Pinot Noirs will be introduced at this time next year). My barrel sampling of the 2006 vintage of Pinot Noirs indicated that this winery is poised for success.
The new venture is spearheaded by a group of businessmen headed by Joe Anderson, who resides in Phoenix, Arizona, where his company, Schaller Anderson, Inc., is a third-party administrator for health insurance. He has a passion for fine wine and has committed significant financial resources to achieve his goal of making extraordinary wines. The winery is managed by Bob Mosby, PhD, a noted psychologist and business consultant who formerly lived in Phoenix . Bob is a long-time wine enthusiast who helped out with the crush at Williams Selyem beginning in 1989. After the winery was sold, he worked the harvest at Brogan Cellars. Well-known viticulturist Daniel Roberts, PhD, has been hired to oversee the management of the vineyards and direct all new planting projects.
Joe Anderson searched for a winemaker that "had experience and touch to produce wines that are compelling, honest and dramatic." The winemaker he chose was Mike Sullivan, a graduate of Fresno State who has worked in the wine industry for over 15 years. Most recently, he crafted refined and elegantly-styled Pinot Noirs at Hartford Family Winery in Forestville. Under his leadership, Hartford became one of California's top producers of Pinot Noir, Chardonnay, and oldvine Zinfandel. Mike has received a number of accolades including "2002 Wine Personality of the Year" by Robert Parker of The Wine Advocate and "2002 Winemaker of the Year" by Ronn Wiegand of Restaurant Wine. After his hiring, Mike said, "I joined Benovia to make wines that transcend varietal correctness. I want to create bottlings that meld the grape, climate and topography into something unique and special. We've got some of the world's finest cool-climate sites within spitting distance of our winery. The cold winds that blow off the Pacific Ocean and the complex soils and geography of the California coastline provide us with some of the greatest natural resources on Earth. I am looking forward to vinifying wines that are deep, concentrated and incredibly complex."
Bob and Mike are too of the nicest guys you ever want to meet. I urge you to visit the winery and get to know them. The vest brigade is pictured below (Bob on left, Mike in middle).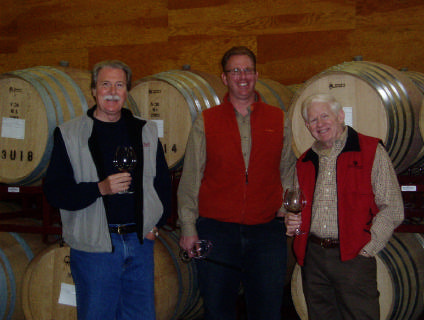 The winery is located on Hartman Road in Santa Rosa, in the heart of the Santa Rosa Plain. Originally, the building (pictured below) was the home of Merry Edward's first winery, Merry Vintners. It was subsequently acquired by De Loach and expanded to produce nearly 30,000 cases. Joe acquired the 55-acre property from Cecil DeLoach. The winery has been downsized and equipped with the latest in winemaking toys. The Martaella Vineyard, now Benovia Vineyard, is adjacent to the winery. This vineyard is 18 acres, with 13.5 acres planted to the Pommard clone of Pinot Noir in 1998. Extensive renovation has been done to lower yields for quality. In addition, new tight-spaced plantings (4' x 4') are going in as I write this newsletter. The property also has a guest house (more about that later) and an additional house which will be converted into a hospitality center in the future. See additional photos on page 3.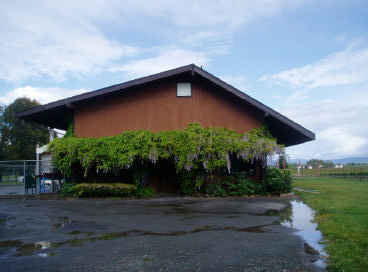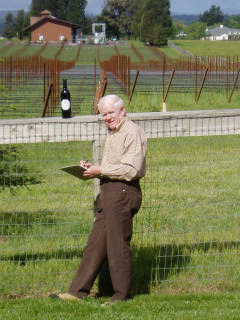 Above left: taking notes with new planting and winery in background. Above right: new plantings with guest house in far distance.
In addition to the Benovia Winery and vineyards, owner Joe Anderson purchased the Benovia Ranch, formerly the Cohn Ranch in 2002. Bob took me for a drive to visit this magnificent 55-acre property. The Cohn Vineyard is located in the hills off of Westside Road, west of Healdsburg. It is one of the Russian River Valley's heritage vineyards, with Pinot Noir and Zinfandel vines dating to 1975. Two women owned the property initially and it was subsequently sold to the Cohn family. For several years it was owned and farmed by De Loach Vineyards. The vineyard sits on a steep and rocky slope surrounded by redwoods and has a stunning view of the Russian River Valley (photo below).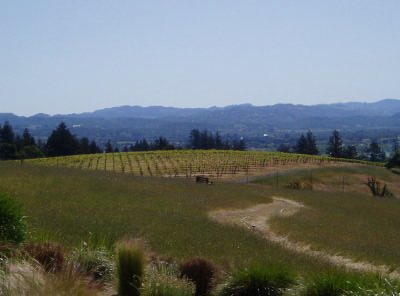 The Cohn Vineyard was made famous by Williams Selyem and most recently, Kosta Browne. The vineyard has undergone extensive refurbishment to bring it in line with modern farming goals including severe pruning of the vines to markedly limit yields.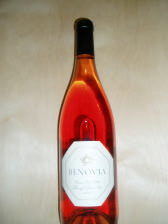 The name Benovia comes from a combination of the first names of the Anderson family's grandfathers. The winery's ultimate goal is to produce 5,000 cases per year of Pinot Noir, Chardonnay, and Zinfandel. As an indication of the commitment to quality here, no 2005 vintage of Pinot Noir was bottled because it was not deemed worthy enough to represent the Benovia label. Two wines have been released, a
2005 Benovia Winery Cohn Vineyard Zinfandel
and a
2006 Benovia Winery Rosé of Pinot Noir.
The Zinfandel has heady berry aromas with lip-smacking peppered fruit and pleasing persistence. The Rosé is a crisp wine offering strawberry, orange peel and watermelon flavors and a kiss of minerality on the lively finish.
I barrel tasted through the 2006 lineup of Pinot Noirs and one 2006 Chardonnay. The Chardonnay was sourced from a former apple orchard in the Russian River Valley and I could swear that I tasted apple notes along with citrus flavors in this perfectly fine wine. There were two Pinot Noir blends: one an entry level wine from several vineyards and the second a blend of three vineyards. The latter was a step up with attractive aromatics and a long finish. The Cohn Vineyard Pinot Noir was ridiculous - generously perfumed and sensuous. There was a great core of intense cherry fruit, cola and spice, a silky texture, and a clean finish. The Savoy Vineyard (Anderson Valley) Pinot Noir exhibited a more characteristic structured and tannic backbone with nice herbal overtones on the backend. All of the wines were well-made with pin-point balance and appealing textures. No alcohol or tannic overload whatsoever. Mike says his style is "Old Word meets New World halfway."
The Benovia Vineyard Hideaway is a three bedroom, two bath house surrounded by vineyards at the end of Hartman Road. From every window there is a vineyard view. It is modern inside with plush bedding (I stayed a week with the Princess and we slept like babies here). The house has many amenities including a two-car garage, barbeque, spa, two porches, and even a fenced-in dog run. Perfectly located, the house is 15 minutes from both Healdsburg and Sebastopol and very close to the famous wineries of the Russian River Valley. I very highly recommend it for your adventures in Pinot Noir heaven.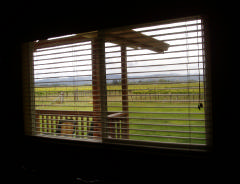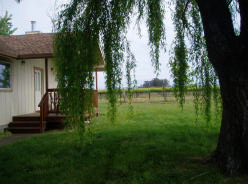 Benovia Winery
is located at 3339 Hartman Road, Santa Rosa. The phone number is 707-526-4441. The website is
www.benoviawinery.com
where more information on the winery and Vineyard Hideaway can be found. You can visit by appointment by contacting Bob Mosby at bmosby9766@aol.com. Join the mailing list and keep apprised of open houses and future releases. I might add that Bob and Mike know all the good bakeries, artisan food suppliers and restaurants in the Russian River Valley which makes a stay here even more delightful.