Dutton-Goldfield 2016 Pinot Noir: Whoa Nelly!
I recently sampled ten Dutton-Goldfield Pinot Noir wines from the 2016 vintage and was awed that every single wine in the lineup was superb.. Year in and year out, the team of winemaker Dan Goldfield and winegrower Steve Dutton produces wines of consistent excellence so this tasting was no surprise. As a group, this lineup of Pinot Noirs was the best I have ever tasted from Dutton-Goldfield.
Steve Dutton is a fifth-generation farmer whose father Warren Dutton pioneered the growing of grapes in the western reaches of the Russian River Valley in the mid-1960s. Steve joined the Dutton Ranch team full-time in 1987 and now manages the family business that has grown to over 80 vineyards comprising more than 1,000 acres throughout the western Russian River Valley. Dutton-Goldfield does not source grapes exclusively from Dutton Ranch vineyards but these vineyards form the core of the lineup.
Winemaker Dan Goldfield gained his reputation for Burgundian-focused wines while working at La Crema and later Hartford Court. He joined Steve on a handshake in a vineyard in 1998 and they established a winery that today is among California's best producers of cool climate varietals. His winemaking regimen for Pinot Noir is explained fully in the "In the Cellar with Dan" section of the website at www.duttongoldfield.com.
Unlike the single cooperage Pinot Noir wines of Soliste reviewed in this issue, the Dutton-Goldfield Pinot Noir wines are vinified using an array of barrels for each of the single-vineyard wines. Dan purchased barrels from nine different coopers for the 2015 vintage. The Pinot Noirs often undergo a spring "rack and back" to choose the barrel array for the final aging of the wines.
The Dutton-Goldfield Tasting Room in Graton is open daily, offering several tasting experiences that can be booked online. In the Tasting Room, the winery just celebrated its 20th anniversary with a Harvest Party. Many of the wines are available for purchase on the winery's website. Magnums are available.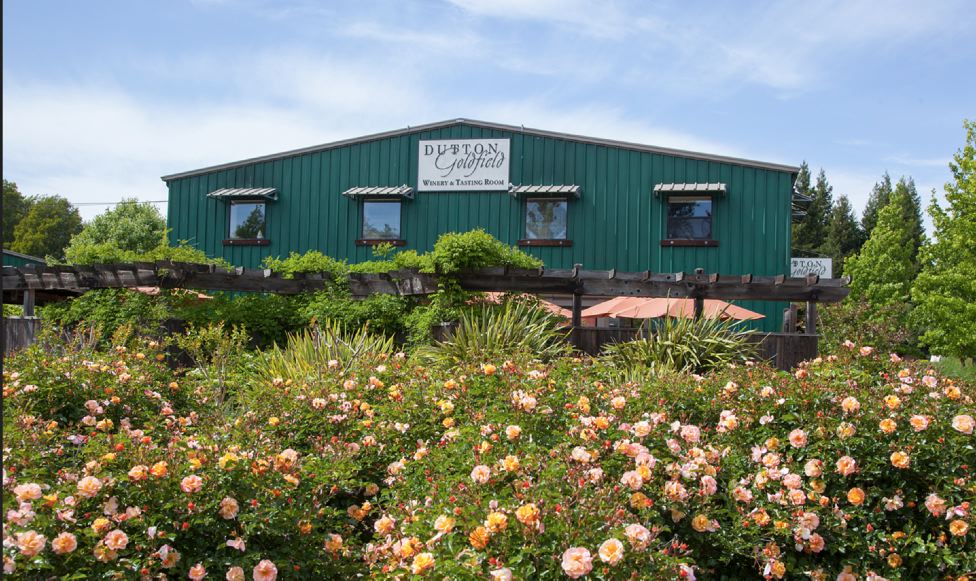 The wines reviewed here represent the nine 2016 single-vineyard Pinot Noirs and one blended Pinot Noir called Deviate. The Docker Hill Vineyard in Comptche in Mendocino County is a new addition to the Dutton- Goldfield lineup. Dan looks for exotic vineyard sites farmed by people with unique personalities and this addition fit that goal.