Recently Tasted Willamette Valley Wines
Bluebird Hill Farm B&B & Cellars, Monroe, OR
Proprietors Neil and Sue Shay are Willamette Valley transplants from Florida who moved to Monroe, Oregon in 2010, purchased a property in 2011 and renovated a six-acre property that was overgrown with Christmas trees and populated with bluebirds. The couple had made hobby wines when living in Southern Michigan and had success in local wine competitions. Neil is a food science professor at Oregon State University and former director of the Oregon Wine Institute from 2010-2012. Sue had a background in sales and marketing and worked in that role for Airlie Winery and Heart of Willamette Valley wineries. She is the hostess at Bluebird Hill Farm B&B and Cellars.
After spending three years to fully clear the land, the Shays planted 1.5-acres to Pommard clone Pinot Noir. More plantings have followed each year. Currently, the estate vineyard is 3-acres of high-density plantings including the addition of Wädenswil and Dijon clones.
BlueBird Hill Cellars began small, with 214 cases from sourced grapes released from the 2015 vintage. The winemaker is Bobby Moy, a veteran who has crafted wines in Santa Barbara, San Luis Obispo and the Willamette Valley. Nick Cheatham, who has a degree in fermentation science from Oregon State University, is the assistant winemaker and vineyard manager. The winery expanded to seven varietals with the 2016 vintage. Local artist Sky Evans painted the bluebird that graces the attractive wine labels.
A winery tasting room opened in 2016 and tasting is available by appointment and can be scheduled online. Visit www.bluebirdhillcellars.com to purchase wines. The Bluebird Hill Farm B&B, a private hilltop retreat, is available to rent at www.bluebirdhill.biz.
Franchere Wine Company, Woodburn, OR
Proprietor and winemaker Mike Hinds was born and raised in Oregon. Work in the music business and web development did not suit him, so after also working for four years in wine retail stores, he began crafting wine at Illahe Vineyards. His first commercial vintage was 2013.
Grapes are sourced primarily from vineyards in the Willamette Valley, including Hanson, Zenith, Havlin and Zena Springs vineyards (all dry farmed). The wines are fermented with native yeasts, vinification proceeds without additives, and the wines are aged in used barrels and neutral tanks.
The wines are made in small lots and sold primarily through a mailing list at www.francherewine.com. Tasting is available by appointment.
The two wines here are from the Van Duzer Corridor AVA. Late afternoon winds are the most prominent feature of the AVA, cooling the region. The result is that the berries are small and thick-skinned and the phenolics ripen at slightly lower sugars compared to most of the Eola-Amity Hills. The unique block that the grapes are sourced from within the Havlin Vineyard consist of ironstone bedrock beneath marine sedimentary topsoil. The vines receive the proper amount of stress so the vines are naturally low yielding and do not require the dropping of fruit or leaf pulling.

2015 Franchere Havlin Vineyard Willamette Valley Pinot Noir
12.6% alc.,pH 3.64, TA 0.59, 60 cases, $28. Vineyard is located in the Van Duzer Corridor (the Willamette Valley's newest AVA). Soils are marine sedimentary over rare ironstone bedrock. Harvest Brix 21.9º. 60% Pommard, 40% 115. 10% whole cluster. Native yeast fermentation, aged 10 months in used oak barrels. Bottled unfined and unfiltered with Diam closure. · Moderate garnet color in the glass. The nose opens slowly to reveal aromas of blackberry, spice, bramble and damp soil. Earthbound fruit flavors of purple and black fruits are framed by gutsy, but not aggressive tannins. Good liveliness, with a boysenberry-driven finish. Score: 89
2016 Franchere Havlin Vineyard Willamette Valley Pinot Noir
13.3% alc., pH 3.67, TA 0.60, 40 cases, $28. Clone 115, Harvest Brix 23.2º. Native yeast fermentation. 10% whole cluster. Aged 10 months in used French oak. Bottled unfined and unfiltered. · Dark garnet color in the glass. Shy aromas of smoky ash and woodshed with no fruit arriving over time. Mid weight plus in style, displaying flavors of blackberry and cassis. Husky, dense and brooding, with daunting tannins. No change when re-tasted several hours after opening. Veers to Syrah in character. Score: 87
Lingua Franca, Salem, OR
Master Sommelier Larry Stone was a legend in the restaurant business for many years, with stints at Four Seasons, Charlie Trotter's and Rubicon restaurants. He was the first American to win the prestigious Best International Sommelier in French Wines competition in Paris. It seems everyone knew him, including Julia Child and Darrell Corti, and many invited him to lend his talents including André Tchelistcheff and the Coppolas. Despite his impressive resume and notoriety, Larry remains humble despite his remarkable palate and wine sense.
Larry left the restaurant business in 2006, became president of Evening Land Vineyards in the Eola-Amity Hills a few years later, leaving in 2012. In 2013, he sold his vast personal wine collection and with the assistance of friends, family, and a major investor, David Honig, acquired a property in the Eola-Amity Hills AVA adjacent to Seven Springs Vineyard.
The inaugural Lingua Franca Pinot Noir and Chardonnay wines were produced in 2015 using purchased grapes, with estate-grown bottlings added in 2016 from the 66-acre LFV Estate Vineyard. A modern winery was constructed and completed in 2016. The wines are crafted in consultation with noted Burgundian vigneron Dominque Lafon and by on-site winemakers Thomas Savre and Larry Stone. The vineyard manager is Antoine Petigny-Samuelson.
Lingua Franca wines have already been placed in prominent Parisian restaurants and have achieved notoriety in the wine press in the U.S. The website, www.linguafranca.wine, offers the Lingua Franca Journal, a unique behind the scenes perspective of the winery. The winery appears in the new movie, 'Somm3.'
The wines are sold exclusively to mailing list and Wine Club members. Starting with the spring 2019 release of the 2017 vintage, a selection of very limited bottlings will be offered only to Wine Club members. Wine Club members also have exclusive access to the winery's new Sommelier For Hire program. The Lingua Franca experience is made available to you in your preferred location. If you are not a member and would like to join or need more information about the winery's Wine Club, inquire at hospitality@linguafranca.wine.
Two of the wines reviewed here are from Mimi Casteel's Vineyard and the third, Hopewell Vineyard, is farmed by Mimi. She is a very intuitive and sensitive farmer working with dwarf sheep herded by llamas, and letting wildflowers grow in the vineyards she farms. Larry says, "The vines yield flavors to her as to no one else."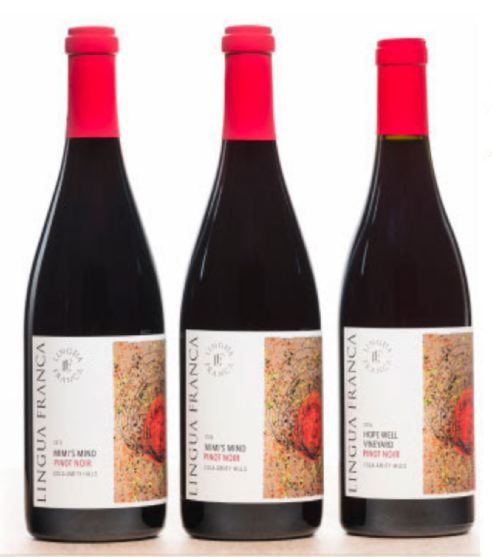 2015 Lingua Franca Mimi's Mind Eola-Amity Hills Willamette Valley Pinot Noir
13.5% alc., $90. · Moderately dark garnet color in the glass. Aromas of fertile earth, spice, rose petal and black cherry lead off. Very similar to the 2016 vintage, except a little more concentration in a mid weight plus style and seemingly riper dark red and black fruit flavors. More gutsy than the 2016 bottling with muscular tannins that come on with a rush on the succulent-fruited finish. Needs more time in the cellar to integrate and moderate the tannins. Score: 92
2016 Lingua Franca Mimi's Mind Eola-Amity Hills Willamette Valley Pinot Noir
13.5% alc., $90. Heritage Pommard vines. · Moderate garnet color in the glass. Aromas of fertile earth, tobacco and cherry. Discreetly concentrated in a mid weight style featuring red cherry and red berry fruit flavors accented with a savory tobacco note. Backed by fine-grain tannins, the fruit holds on through a slightly astringent finish. Unchanged when tasted the following day from a previously opened and re-corked bottle. Score: 92
2016 Lingua Franca Hopewell Vineyard Eola-Amity Hills Willamette Valley Pinot Noir
13.0% alc., 340 cases, $60. Crafted from Dijon clones farmed to exacting standards by Mimi Castell in the hills above the village of Hopewell. · Moderately light garnet color in the glass. Lovely aromas of black cherry, woodland spice, pipe smoke and toasty oak. The middleweight black cherry, boysenberry and black raspberry flavors are very satisfying. Admirable balance, with a compliment of toasty oak in the background and an extended and generous finish. Even better when tasted the following day from a previously opened and re-corked bottle with an emerging seductive nose and a memorable finish. Score: 93
Fullerton Wines, Beaverton, OR
Owner Eric Fullerton was first introduced to viticulture and winemaking as a 14-year-old boy in Boppard am Rhein, Germany in 1969. In 1997, the Fullerton family moved from Denmark to the Willamette Valley of Oregon where the wines proved inspirational to the Fullerton family. Eric's son, Alex, who had swirled, smelled and tasted wine from a young age, had a serendipitous encounter with Lynn Penner-Ash that enabled Alex to begin his career in wine as a cellar hand for Penner-Ash Wine Cellars for two vintages. Alex and Eric made their first wine together in a garage in 2011. Alex worked a vintage for Josh Bergström of Bergström Wines in 2012 and the same year Fullerton Wines was launched with 350 cases of wine at the new SE Wine Collective.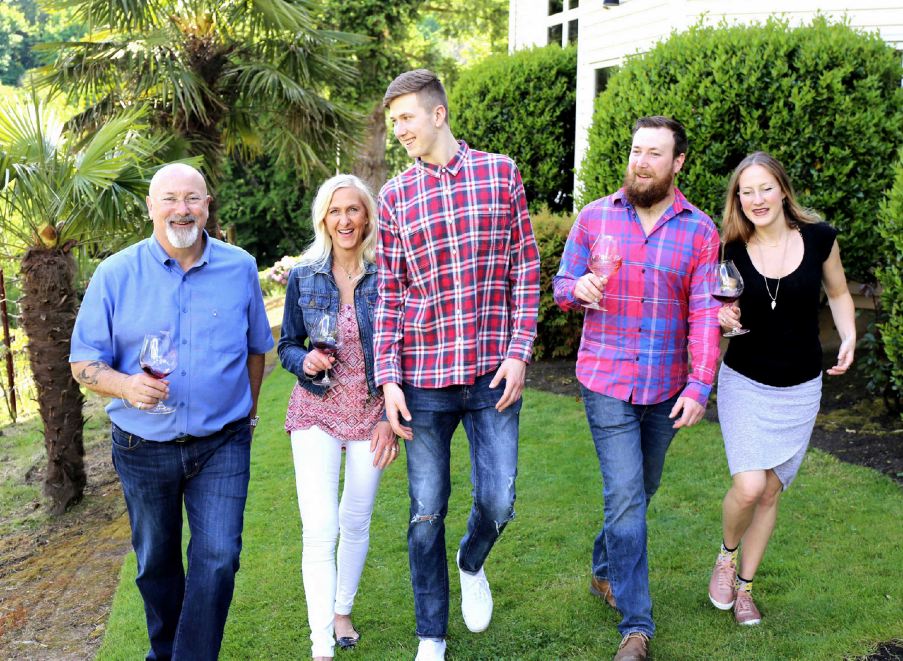 Today, Fullerton Wines produces 4,500 cases annually of Pinot Noir and Chardonnay sourced from select vineyard partners and the Estate Ivy Slope Vineyard. The winery has three labels: Fullerton single-vineyard designates of Pinot Noir and Chardonnay, Five FACES Pinot Noir and Chardonnay, and Three Otters Pinot Noir, Chardonnay and Pinot Noir Rosé. FACES is an acronym for the five Fullerton family members, Filip, Alex, Caroline, Eric and Susanne (see photo above), and resides on the Five FACES Willamette Valley bottlings. The Fullerton Coat of Arms hails from 13th century Scotland with three otters centrally displayed. These otters serve as the inspiration for the Three Otters label wines.
Vinification is in open-top, closed-top and barrel fermenters, with punch downs for the open-top, pump-overs for the closed-top, and rotation for the barrels. Lots are usually cold soaked for up to 10 days and ambient yeast carry out the primary fermentation. Whole cluster inclusion varies with the lot and can change from 15% to 100%. Some vineyard-designated wine lots undergo extended maceration after fermentation. The vineyard designates are bottled unfined and unfiltered.
For more information and to shop for wines online, visit www.fullertonwines.com. The Fullerton Wine Bar and Tasting Room is located in Portland and is open Wednesday-Sunday.
Van Duzer Vineyards, Dallas, OR
Nestled in the Van Duzer Corridor, the estate vineyard is impacted by oceanic influences, keeping the vines warmer during a cold growing season and cooler during a warm vintage (like 2015) compared to the rest of the Willamette Valley.
The 2015 vintage was characterized by warm and dry weather. A dry, east wind at the end of August created the potential for dehydration in the vineyard, so a targeted watering program was instituted to combat moisture loss while allowing gradual maturation of fruit at an ideal measure of water stress. Fruit was harvested September 26.
Visit the beautiful hospitality center for tasting open every day. the wines may also be purchased through the winery's online store at www.vanduzer.com. See previous issues of the PinotFile for the full scoop on this winery.