RAEN Winery
Fourth-generation winegrowers, Carlo and Dante Mondavi founded RAEN (Research in Agriculture and Ecology Naturally) in 2013 with the goal of producing world-class Pinot Noir and Chardonnay from three distinct hillside coastal vineyards in West Sonoma County. The pair learned the wine business from grandfather Robert and father Tim. Tim was a pioneering producer of California Pinot Noir in the early 1970s.
Three Pinot Noir wines are offered from three vineyards (north to south): (1) Fort Ross-Seaview Home Field Vineyard Sonoma Coast Pinot Noir (going forward known as Sea Field Vineyard) from a site located just north of Jenner overlooking the Pacific Ocean, (2) Freestone Occidental Bodega Vineyard Sonoma Coast Pinot Noir and (3) Royal St. Robert Cuvée Sonoma Coast Pinot Noir.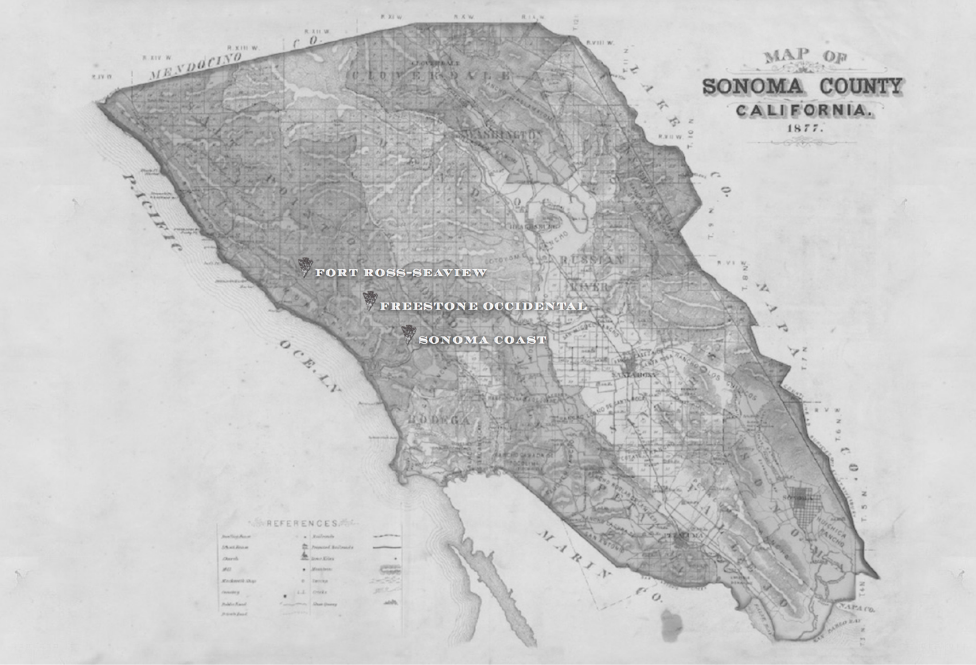 Fort Ross-Seaview Vineyard is located at 1,025-1,270 feet elevation less than 2 miles from the Pacific Ocean. The 4.8 acres contains soil that is decomposing iron-rich sandstone of the Franciscan series. Clone 777 is planted here near David Hirsch's property.
Freestone Occidental Vineyard is the winery's coolest daytime site. This 1.8-acre vineyard is surrounded by redwoods and native grasses. It is located just east of Bodega Bay between the small towns of Freestone and Occidental. This westerly planting is one of the oldest meter-by-meter plantings of Pinot Noir on the Sonoma Coast. Elevation is 750 feet and the soils are Goldridge sandy loam and iron-rich Franciscan. The clones planted are 667, Calera and Pommard.
Sonoma Coast Royal St. Robert (RSR) Vineyard fruit is located near the village of Freestone and Joseph Phelp's Freestone project overlooking Bodega Bay and the Sonoma coastline, Summer mornings are characterized by pacific fog engulfing the vines, receding in the late morning when the vines become drenched in afternoon sunlight to ripen the fruit. 10 acres of Pinot Noir plantings include Calera, Pommard, "828," VR1 and 667. The elevation is 659 feet. Soil is Goldridge sandy loam with the upper parcel iron-rich Franciscan. The Cuvée is a barrel selection bottling.
A Chardonnay is sourced from the Charles Ranch Vineyard located in Fort Ross-Seaview AVA of the West Sonoma Coast. Very limited production each year. The 2018 vintage is the third release. Charles Ranch was the second vineyard to be planted in the Fort Ross-Seaview AVA. George Charles Martinelli planted it at a time when many people thought that grapes could not ripen out there. The Ag Commission did not want to give George a permit to plant because they did not believe grapes would grow out there in the cooler weather. He did it anyway. Budwood planted in 1982 is Wente and 04 on AxR and St. George rootstock in well-drained Josephine and Goldridge soil.
Both Carlo and Dante are involved in the winemaking (although Dante is listed as the winegrower on the label) with input from winemaker Kristof Anderson of Scribe. The wines offer whole cluster aesthetic, a minimum of new oak and very modest alcohol levels.
A 2019 RAEN The Monarch Challenge Rosé is also produced ($28).
The wines are eagerly sought after and highly allocated to a mailing list at www.raenwinery.com. Tasting is by appointment. Members of the RAEN Society are guaranteed one automated yearly shipment of the limited production wines (less than 1,000 cases annually). Various allocation levels are offered. Each spring, large formats are released. For 2018, 60 magnums and 7 double magnums were released. Production is in Sebastopol. Word on the street is that they are looking to cquire property on the Sonoma Coast to open an intimate tasting room. Follow at www.facebook.com/raenwinery/.
This young winery is offering Pinot Noir par excellence and has me hooked.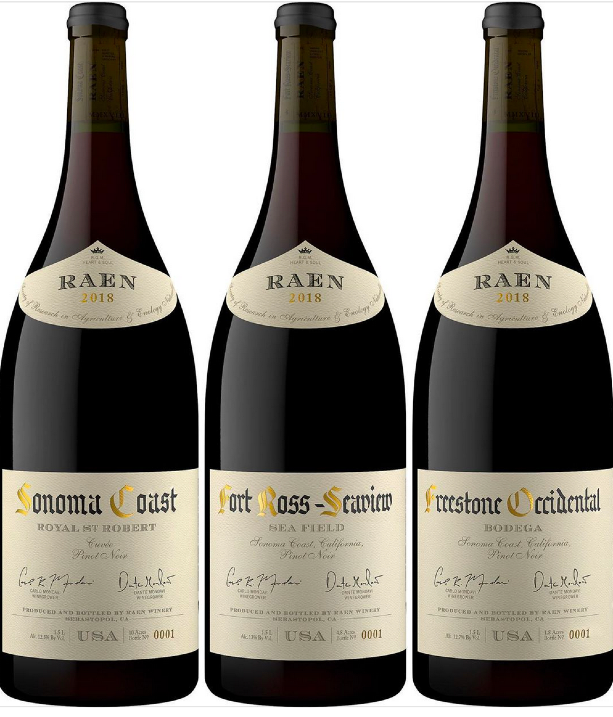 2018 RAEN Fort Ross Seaview Sea Field Sonoma Coast Pinot Noir
13.0% alc., $80. · Moderate garnet color in the glass. Aromas of dark cherry, boysenberry, subtle oak and salt air draw you in. The mid weight core of black cherry and blackberry fruits are framed by moderate tannins the most of the three 2018 RAEN Pinots). There is a slight herbal tone. The dry finish is very long and dripping with fruit. The wine is most agreeable when tasted two days after opening indicating age ability. Score: 94

2018 RAEN Freestone Occidental Sonoma Coast Pinot Noir
12.7% alc., $90. · Moderately dark garnet color in the glass. Aromas of underbrush, potpourri and floridity present initially with dark fruits chiming in over time in the glass, culminating in a glorious experience. Well-bred medium weight flavors of black cherry and blackberry are accented with a subtle dried herb note. A delightful wine with a rich middle palate, gracious harmony and a creamy mouthfeel. The finish is intensely fruity and remarkably long like a 3-hour movie you don't want to end. Simply delicious and still engaging two days after opening. Score: 96
2018 RAEN Sonoma Coast Royal St. Robert Pinot Noir
12.5% alc., $70. A special bottling dedicated to Robert Mondavi. A selection of the finest barrels. · Moderately dark garnet color in the glass. The nose is more expressive over time in the glass. revealing aromas of dark cherry, burnt tobacco and dried herbs. Soft in the mouth and relatively light in weight, offering fruit flavors of black cherry and black raspberry with an underpinning of dried herbs and smoky oak. Very fine-grain tannins make for easy approachability, but the wine picks up more fruit intensity and finishing length over time. Score: 91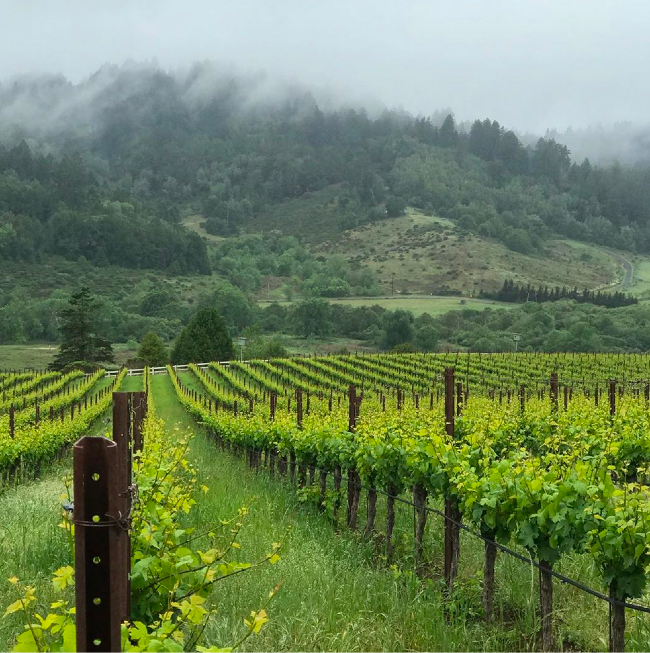 2018 RAEN Charles Ranch Fort Ross-Seaview Sonoma Coast Chardonnay
12.5% alc., $65. Pre-phylloxera hillside Chardonnay plantings less than two miles from the Pacific Ocean. · Light golden yellow color in the glass. A complex nose displays scents of lemon curd, pineapple, white flower blossom, warm pastry and a compliment of oak. An expressive core of lemon-lime and pineapple fruit flavors is nicely paired with spirited acidity that walks the line between a fruity Chardonnay and a lean, crisp style. The slightest viscosity adds a desirable texture and and the finish offers a refreshing grip of acidity. Score: 94