Brewer-Clifton Hapgood Mini-Vertical
Veteran winemaker Greg Brewer recently made available a Hapgood Pinot Noir Vertical Three-Pack ($225) and I tasted the 2015, 2016 and 2017 vintages. My interest was piqued by a 100-point rating given to the 2015 vintage by Doug Wilder of the Purely Domestic Wine Report. This publication focuses on producers in California, Oregon and Washington exclusively and is published quarterly by subscription. Wilder launched his publication in 2011 after a twenty-year career as a speciality wine buyer for domestic retailers. The publication is at www.purelydomesticwinereport.com.
100-point ratings for domestic Pinot Noir are extremely rare. Robert Parker, Jr. has given out many 100-point ratings but only bestowed that mark of perfection on three domestic Pinot Noirs from a single producer: 2010 Peter Michael 'Clos du Ciel' Sonoma Coast Pinot Noir and 2010 and 2012 Peter Michael 'Ma Danseuse' Sonoma Coast Pinot Noir. Wine writer and critic Steve Heimoff awarded 100 points to the 1991 Williams Selyem Hirsch Vineyard Sonoma Coast Pinot Noir, the 2007 Williams Selyem Litton Estate Russian River Valley Pinot Noir and the 2010 Williams Selyem Hirsch Vineyard Sonoma Coast Pinot Noir. I don't believe an Oregon Pinot Noir has ever been awarded 100 points.
Perfection in Pinot Noir is Unattainable
"There is no such thing as a 100-point wine."
Neil Beckett, Editor, The World of Fine Wine
I have drunk domestic Pinot Noir long before it ever became fashionable and was fortunate to live through the modern renaissance of North American Pinot Noir. Even though many of the Pinot Noir wines I have tasted were revelations, even epiphanic, I never awarded one Pinot Noir the mark of perfection, that is, 100 points. I don't believe perfection is ever achieved although an increasing number of domestic Pinot Noirs come darn close. As Yogi Berra would say, "If Pinot Noir were perfect, it wouldn't be."
Perfection in Pinot Noir is simply not achievable because it doesn't exist. But if we chase perfection, the end result is perfectly enough. The words of the legendary football coach, Vince Lombardi, ring true for me, "Perfection is not attainable, but if we chase perfection we can catch excellence."
Brewer-Clifton was founded in 1995 by two young winemakers, Greg Brewer and Steve Clifton (and Steve's spouse Chrystal), who decided to dedicate their new label to single-vineyard Pinot Noir and Chardonnay at a time when many Santa Barbara wineries were concentrating on varieties blended from multiple sources. They started with their combined meager savings and began producing their wines in the unglamorous Lompoc "Wine Ghetto." They hit pay dirt in 2002 when Robert Parker, Jr. reviewed their wines from the 2001 vintage and proclaimed that the Brewer-Clifton wines were "the single greatest revelation of his 2001 tastings.
The wines have always featured a full-throttle California style, driven by very ripe prodigious fruit and high alcohol. There is an emphasis on whole cluster fermentation with a focus on ripening stems alongside the fruit. The result is earthy, dense, bold Pinot Noir that can obscure the whole cluster aesthetic but provides age ability. The winery advises that the wines are produced with the intention of aging and cellaring for at least 10 years and can be easily enjoyed after 15 years.
Vineyard sites in the Sta. Rita Hills AVA have always been carefully chosen and the emphasis has been placed on the vineyard as the ultimate determination of wine quality. Since 2012, the winery has only used fruit from 60 acres of estate vineyards within the AVA.
In 2015, while celebrating the winery's 20th vintage, the owners announced that they had sold a majority (70%) share in their winery to a group of investors. the goal of the sale was to use the new capital to maintain the brand's quality, continue vineyard development and use the financial and business acumen of the new partners. In 2017, the winery was acquired by Jackson Family Wines Greg Brewer continues as the winemaker while Steve Clifton has left the winery to found his own label, La Voix, that specializes in vineyard-designated Pinot Noirs.
Hapgood Vineyard is planted to Mt. Eden clone 37 with the most recent installation in 2010. The budwood was originally sourced from Merry Edwards. The clay loam content of the soil results in a dense palate expression.
The winery's lineup of Pinot Noir and Chardonnay (10,000 cases annually) is allocated through a mailing list with some wines available only to Foundation Club Members. Some collections are currently available on the website at www.brewerclifton.com. The winery's tasting room is open daily in Los Olivos.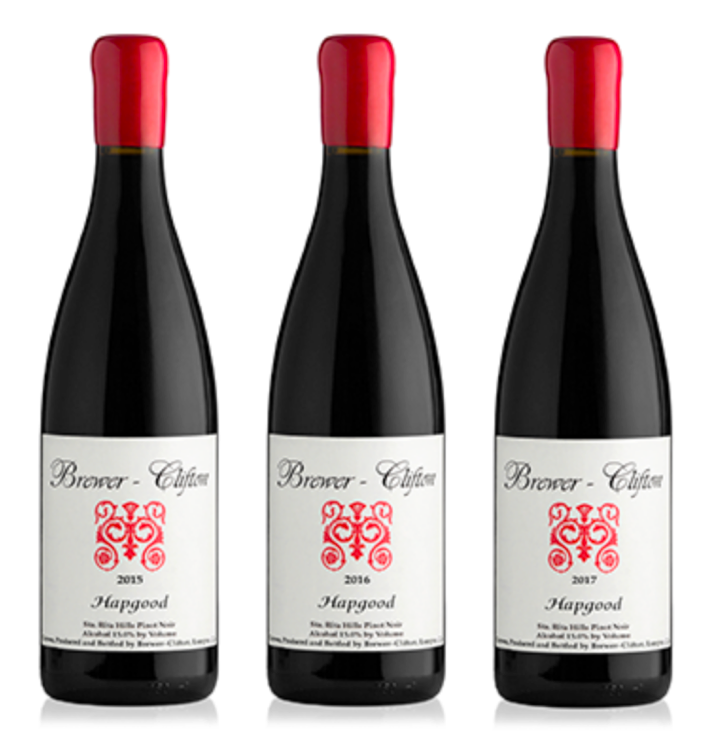 2015 Brewer-Clifton Hapgood Sta. Rita Hills Pinot Noir
15.0% alc., 200 cases. · Moderate garnet color in the glass. Aromas of blackest cherry, earthy flora, oak spice and Herbes de Provence. Both earth and oak accent the hearty core of black cherry and boysenberry fruit that is framed by mild fine-grain tannins. There is a hint of tobacco and mocha. Silky in texture, with some length on the finish. When tasted the following day from a previously opened and re-corked bottle, the earth and oak tenor of the fruit persisted. Score: 92
2016 Brewer-Clifton Hapgood Sta. Rita Hills Pinot Noir
15.5% alc., 75 cases. · Moderate garnet color in the glass. The nose offers aromas of blackest cherry, black raspberry, dried herbs and burnt tobacco. Mid-weight in concentration, featuring well-ripened, earth-toned black fruits with a modicum of oak in the background. Fruitladen, with mild tannins, good brightness and a sappy finish. Similar when tasted from a previously opened and re-corked bottle the following day. A hint of warmth appears on the finish as the wine warms in the glass. Score: 92
2017 Brewer-Clifton Hapgood Sta. Rita Hills Pinot Noir
15.0% alc., 100 cases. · Moderate garnet color in the glass. Aromas of blackberry, pomegranate and oak-driven toast and tobacco. Mid-weight plus in heft, offering an onslaught of ostentatious, spicy purple and black fruits, yet sleek, polished and very agreeable in the mouth. There is more tannins evident but they are entirely supportive. The wine sports impressive length on the generously fruity finish. Still enjoyable when tasted the following day from a previously opened and re-corked bottle. This wine needs more time in the cellar. Score: 93