Historic California Old Vine Pinot Noir Vineyards Pulled Out or Planted Shortly After 1980 or Lacking Verifiable Planting Information

Allen Vineyard The oldest vines date to 1974 and were established by Joe Rochioli, Jr. using cuttings from Rochioli's 1970 West Block planting. Later plantings included additional West Block selection, Pommard 4, and Dijon 115. The portion of the original Howard Allen estate named Three Corner Vineyard was deeded to Joe for the work he did in establishing and farming the Allen Vineyard and has been an estate vineyard of J. Rochioli Vineyards & Winery ever since. The remainder of the Allen Vineyard is 14 acres of Pinot Noir and 18 acres of Chardonnay. Allen began selling fruit to Williams Selyem in 1980 and an Allen Vineyard designated Pinot Noir was first released by William Selyem in 1987. Grapes have also been sold to Gary Farrell Vineyards & Winery and Alysian (Gary Farrell's subsequent label).
Ashton Vineyard This vineyard was located in the heart of Glen Ellen in Sonoma County at the foot of Sonoma Mountain. First planted in 1970 by Stephen Ashton, this organically-farmed vineyard contained 7 clones of Pinot Noir. "Old Vine" Pinot Noir was produced by winemaker Robert Rex. The vineyard was tragically destroyed by the Nuns fire in 2017.
Beckstoffer-Los Amigas Vineyard Planted by Louis P. Martini in 1963, this is the only vineyard among Martini's Carneros plantings that survived. Beckstoffer Vineyards purchased the vineyard, now named Carneros Lake/Los Amigas Vineyard, in 1993 and expanded it to 410 acres of Pinot Noir, Merlot and Chardonnay in 2017. Acacia Winery and Signorello Winery bottled vineyard-designated Pinot Noir from this vineyard (the last from Signorello was 2011), but I was unable to confirm whether the original plantings were still in production.
Boer Vineyard The original block of Cabernet Sauvignon was planted in about 1980 at 2,000 feet elevation in the Gabilan Mountain Range by Pinnacles National Park in the Chalone AVA. The vineyard is a mile south of the Antle Vineyard. Soils are decomposed granite and chalky limestone. It was originally called the A-Frame vineyard after a house on the property built by Chalone's Phil Woodward. Today, it is named Boer Vineyard after Chalone vineyard manager Richard Boer who owns and farms the vineyard. The Cabernet Sauvignon was grafted over to Pinot Noir in 2000. Pinot Noir is sourced by Birichino and Sandler Wine Co.
Bonny Doon Randall Grahm started Bonny Doon Winery in 1975 with the intention of producing Pinot Noir in the Santa Cruz Mountains. His results were so disappointing that he budded over his Pinot Noir vines to Rhone varieties in 1985. Grahm would say, "I'm Doon with Pinot Noir."
Buena Tierra Vineyard Owned and farmed by Joseph R. Miller, this 47-acre vineyard was planted in 1978. It is located 1.5 miles southeast of Rochioli Vineyard in the low hills of the Laguna Ridge where the Russian River turns to head to the Pacific Ocean (1 mile from the Russian River). Pinot Noir and Chardonnay are planted to several clones in well-drained sandy clay loam soil. containing limestone. The oldest block was termed the Helio Doro Block, 2.5 acres named by Burt Williams' son Fred Williams when he discovered the vineyard in 1999. The name refers to one of the employees who worked in the vineyard for many years. Brogan Cellars sourced this block until the old vines were pulled out and replanting took place. This was my favorite Brogan Cellars wine crafted by Burt's daughter, Margi. I reviewed every vintage of this wine from 2002 to 2008: www.princeofpinot.com/ winery/357/. I have also reviewed Original Vines Pinot Noir (but not designated as Helo Doro Block) produced by Woodenhead Vintners for every vintage from 2002-2009: www.princeofpinot.com/428/. Recently reviewed: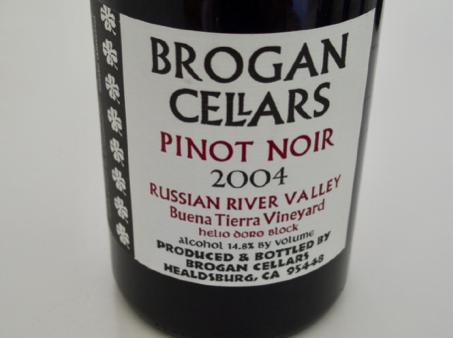 2004 Brogan Cellars Buena Tierra Vineyard Helio Doro Block Russian River Valley Pinot Noir
14.8% alc., 220 cases, $75, Magnum. · Moderate light garnet in color with some bricking of rim. Intriguing, complex and captivating aromas of fresh cherry, barrel spice, old leather, blood orange zest, root beer and dried herbs. Delicious flavors of burnished black cherry, black raspberry and dark chocolate in a mid-weight style with faded tannins and a silky mouthfeel. Showing an aged patina but still delightful, finishing with some persistence and the slightest sense of alcohol. The wine held up nicely over time in the glass. Magnums make all the difference. Score: 93

Chalone Vineyard This historic vineyard property of about 950 acres was founded by Dick Graff, a Harvard-educated amateur musician, who was described by partner Phil Woodward as "a rugged individualist and idealist." Like Josh Jensen at Calera, he sought after limestone-based soils and found them at this remote location perched 1,800 feet above the Salinas Valley in the Gabilan Mountain Range.
Lucien Charles Tamm (who most often went by Charles L.) immigrated with his family from France and later homesteaded this remote outpost. He was the first to plant wine grapes here in 1919, setting out Chenin Blanc but apparently never made wine from the grapes and spent little time here. A nearby property of 80-acres was sold to John C. Dyer in 1912 and this site on the Gabilan bench land would later become the Chalone Vineyard. In 1921, the Dyer ranch was sold to five partners with William Silvear being the primary operator of the property and sole owner by 1930. Inspired by Tamm, Silvear planted Chenin Blanc, Chardonnay, Pinot Blanc, and Pinot Noir in 1946 during Prohibition. He sold wine grapes to the Wente Brothers, Almaden, to others for sacramental wine, and Pinot Noir to Georges de Latour of Beaulieu Vineyard (BV). Andre Tchelistcheff arrived at Beaulieu in the late 1930s and had met Silvear. It is believed that Latour sourced his Pinot Noir from either Paul Masson plantings that dated to the 1890s or early 1900s or Paul Masson stock through Silvear's plantings.
Silvear died in 1955 and his spouse sold his benchland property two years later to psychiatrist Dr. Edward Liska and stockbroker John Sigman. They hired Philip Togni as winemaker in 1960 and that year he produced Pinot Noir, Chardonnay, Chenin Blanc, and Pinot Blanc, the first wines ever vinified on this property. This was quite a challenge for Togni for Silvear's vines had been mismanaged, the property lacked water and electricity, yields from the 35 acres were a measly ½ ton per acre and a converted chicken coop had to be used for vinification.
Under the new ownership, the property was named Chalone Vineyard, chosen for a peak called Mount Chalone shadowing the benchland property.
Togni left in 1962 to work at E. & J. Gallo and the partnership, lacking funds to pay Togni and run the winery, dissolved their partnership. Rodney Strong, who ran a retail wine store in Tiburon and worked at Windsor Vineyards, had met Sigman and agreed to become the winemaker at Chalone Vineyard in 1964, crafting the wines at the Windsor winery. Enter Dick Graff.
Graff visited Windsor Vineyards winery in 1964, was impressed with early 1960s Chalone wines that Strong poured him and was fascinated by stories about Chalone. When he visited for the first time in 1964, he was enthralled with the property. Enthused about wine, the following year Graff went to UC Davis to study viticulture and enology and became an agent for Siruge barrels in the United States. After the 1966 harvest, Graff's first at Chalone, he bought a property neighboring Chalone, and later built a house there and developed vineyards on about 8 acres in the 1980s.
Graff took care of the Hall Ranch, a property adjacent to Chalone that was owned by Bob Nikkel, a wealthy businessman who loved wine and owned a controlling interest in Mount Eden. He coxed Graff to consult at Mount Eden in 1967. Graff made wine at Mount Eden that year and would be involved in some way with Mount Eden over the next eleven years. Peter Graff, Dick's brother, followed Dick at Mount Eden, and when he left, Merry Edwards was hired as a winemaker. When she departed after three years, Phil and Dick took over the management and winemaking at Mount Eden until the current owner, Jeffrey Patterson acquired Mount Eden in 1981.
In 1972, Nikkel sold the 160-acre Hall Ranch to Phil and John McQuown (Mac) and created Macwood of Monterey. Extensive plantings ensued, including 24 acres in 1972, 26 acres in 1973 and 20 acres in 1974, some of which was Pinot Noir. I assume this vineyard became part of the Chalone property in time.
In 1969, Graff's mother acquired ownership of Chalone Vineyard at auction after the property had years of financial difficulties and this was the first year Graff produced wine at Chalone Vineyard as an owner. Graff had put together a few investors and bought the property from his mother for $65,000. He used French oak barrels for his first vintage, one of the first people in California to do so. When Andre Tchelistcheff visited Chalone Vineyard in the early 1970s and tasted the 1969 Chalone Pinot Noir, he knelt in front of Dick Graff. Tchelistcheff was to say, "That happens not too often. It happened to me two or three times in Burgundy. In California, it happened only once, and that was at Chalone."
Phil Woodward, who was a consulting accountant for the wine business, went to work for Chalone in 1972, raising money and personally selling wine. This would prove to be a long-term mutually beneficial relationship that ultimately led to the success of the Chalone Wine Group. By 1996, Dick Graff was out at Chalone.
Dick Graff's legacy is the consistent use of French oak barrels for Chardonnay and Pinot Noir, fermenting Chardonnay in barrel and aging Chardonnay and Pinot Noir in barrel. He was not the first (Hanzell was), but was very influential because of the popularity of his wines. I was captivated by the Chalone Pinot Noirs around 1980 that led to my passionate interest in Pinot Noir, and became a shareholder just so I could buy the Reserve wines and attend the annual debauchery that was the annual shareholders meeting at Chalone Vineyard.
The Chenin Blanc is still in production at Chalone Vineyard and is the oldest producing vineyard and oldest Chenin Blanc in Monterey County. A 2.2-acre block of Silvear's Pinot Noir was the oldest Pinot Noir in production in California until it was pulled out in 2003.
An extensive vineyard updating program began in 1998 and much of the vineyard was replanted using the latest rootstocks and clones and the entire vineyard was re-trellised. John Haeger reported that in the early 2000s there were just over 100 acres of Pinot Noir among 250 acres of vines. Chalone is the only winery in the Chalone AVA and the oldest bonded winery in Monterey County. The Chalone Vineyard has been owned by Foley Family Wines since April 2016.
Some of the information on Chalone was obtained from the book, Chalone: A Journey On The Wine Frontier authored by W, Philip Woodward and Gregory S. Walter (2000).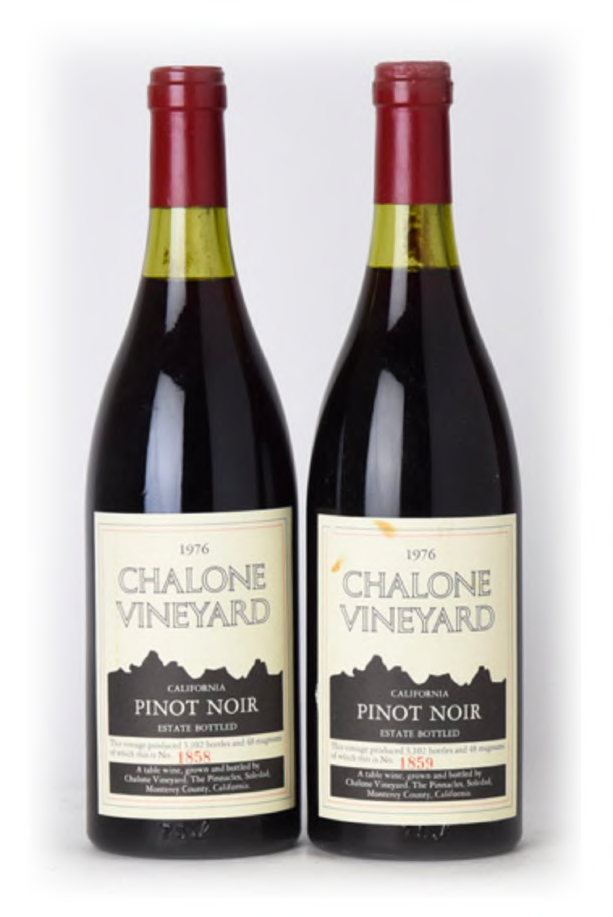 Chamisal Vineyards In 1973, Chamisal Vineyards was the winery to plant vines in the Edna Valley. Currently, there are some "Archery Summit 2" (faux 828) Pinot Noir vines and Wädenswil 2A planted but the date of planting is unknown. Most of the acreage is planted to modern clones.
Cole Ranch Originally planted in the early 1970s by John Cole, this vineyard is the only one in the country's smallest AVA at less than one-quarter square mile. It is located on Highway 253 between Anderson Valley and Ukiah and surrounded by mountains at 1,400 to 1,600 feet elevation. The site is cooler and wetter than surrounding wine-producing areas and the high elevation translates to cold nights and significantly slowed ripening, often a month later than elsewhere in Mendocino County. Esterlina Vineyards bought Cole Ranch in 1954 and replaced the existing Chardonnay and added to the existing 10 acres of Pinot Noir with additional Pinot Noir. I do not know the scion material. Today, there are less than 60 acres of Cabernet Sauvignon, Merlot, Pinot Noir and Riesling. Besides Esterlina Vineyards, Vision Cellars has sourced fruit from this vineyard. The Cole Ranch AVA went on sale in 2019 for $3.3 million.
David Bruce Estate Vineyard David Bruce, MD bought about 40 acres in the Santa Cruz Mountains located at about 2,300 feet elevation among the redwoods in 1961 coinciding with the launch of his dermatology practice in Los Gatos. The following year, he cleared the land and initially planted 25 acres of vines by hand including Pinot Noir, Cabernet Sauvignon, and Chardonnay. His plantings were sourced from UC Davis, probably originating from the Wente Arroyo Seco Mother Plot in Arroyo Seco. The distinctive soils were primarily well-draining sandstone. A winery was built on the site and bonded in 1964 and later expanded in 1968 and thereafter.
Bruce's original plantings were destroyed by Pierce's Disease by 1991 and the Estate Pinot Noir program was not resumed until 1996 when replanted vines had reached maturity. The vines came from cuttings of the original vineyard scion material that had been planted nearby at the Noble Hill Vineyard and at Dick Graff's Chalone vineyard. These cuttings were distributed elsewhere in California and became known as the "David Bruce clone" although there is no such registered clone. Bruce bought another vineyard owned by Joe Locatelli in the Vine Hill subregion of the Santa Cruz Mountains in 1968, pulled out the Zinfandel planted there and replanted the vineyard with the Wente clone of Pinot Noir on its own roots. This vineyard was later sold and became the renowned Santa Cruz Mountain Vineyard. The winery website has not been updated since at least 2013. Terlato Wines became the exclusive marketing agent for David Bruce Winery in 2015 and releases a Russian River Valley and Sonoma County Pinot Noir under the David Bruce label.
DeLoach Vineyard Cecil DeLoach planted his first Pinot Noir in 1976 on land he bought on Olivet Road in the Russian River Valley in 1969. Thirty years after the founding of DeLoach Vineyards in 1973, Boisset Family Estates bought the winery and vineyard out of bankruptcy and replanted the 17- acre vineyard that was part of the property.
Devil's Gulch Vineyard Winegrower and rancher Mark Pasternak planted 3 acres of Martini 15 Pinot Noir on AxR1 rootstock in 1980 with the intention of selling the grapes to a sparkling wine producer. Mark is the heart and soul of Marin County viticulture and has either planted or farmed every vineyard in the AVA. 11 acres of new Dijon clone plantings were added in 1998. The grapes are split 50/50 between Sean Thackrey and Dutton-Goldfield and both bottle a vineyard-designate Pinot Noir containing a mix of old and new plantings. Mark also planted 4 acres of Chardonnay I have reviewed every Dutton-Goldfield Devil's Gulch Vineyard Pinot Noir since 2002: www.princeofpinot.com/ winery/153/. I have reviewed 8 vintages of Sean Thackrey Devil's Gulch Vineyard Pinot Noir since the 2002 vintage: www.princeofpinot.com/winery/345/. Read the entire fascinating history of Devil's Gulch Vineyard at www.princeofpinot.com/article/606/. The ranch is currently for sale.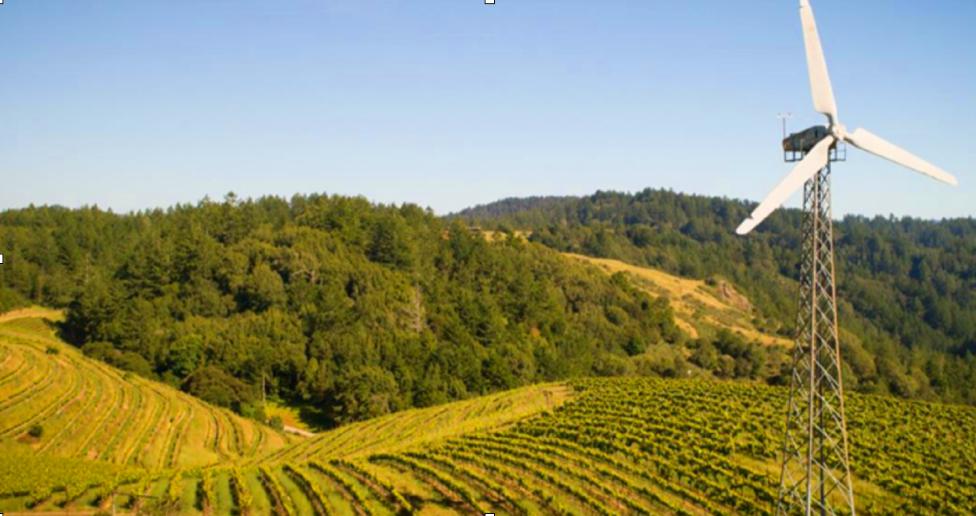 Devils Gulch Vineyard, Nicasio
Domaine Chandon The original plantings, the first of Domaine Chandon's Los Carneros vineyards, date to 1973 and were Martini 13 on St. George rootstock.
El Molino Star Vineyard Founded in 1871, El Molino Winery was one of the first wineries in the Napa Valley. It was operated until Prohibition and then restored by Reginald and Marie Oliver who bought the winery and the surrounding land in 1978. In 1987, a partnership with close friends enabled the purchase of the Star Vineyard in Rutherford, a 66-acre planting of 30 acres of Chardonnay dating to 1978 and Cabernet Sauvignon. In 1991, some vines were pulled out and 2 acres of Pinot Noir planted. Another 4 acres of Pinot Noir was later added. The Pinot Noir vines, located in a unique microclimate ideal for growing Pinot Noir and Chardonnay are between Highway 29 and the Napa River, not far from where the historic BV1 block of Pinot Noir from which Andre Tchelistcheff crafted his acclaimed Pinot Noirs in the late 1940s.
Ferguson Block at Donum Estate Thomas Ferguson planted this vineyard in 1974 to the Martini clone. The grapes were sold exclusively to the Donum Estate and the resultant wine was labeled as "Thomas." The 30 acre-vineyard was located just around the corner from the Donum Estate on Ramal Road. This was one of the oldest vineyards in Carneros and winegrower Anne Moeller-Racke worked with this vineyard for many years until the vines were pulled in 2016. Donum Estate bought the vineyard and replanted it in 2018 and 2019. The Thomas bottling always stood out, and every year in blind tastings it was often seen as the best Donum Estate wine and a true reflection of terroir. My comment on reviewing the 2009 vintage of Thomas in June 2012: "Flat out one of the finest Pinots I have reviewed so far this year." Here is my recent review of a 2009 bottling of this wine.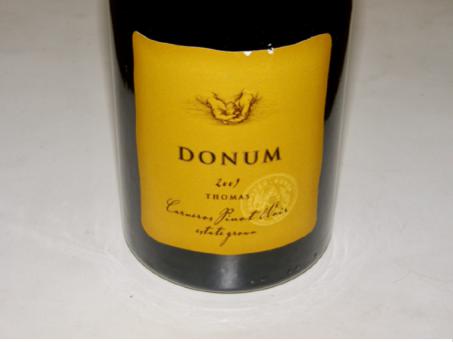 2009 Donum Estate Thomas Carneros Pinot Noir
14.4% alc., 101 cases, $100. This bottle honored Thomas Ferguson's 100th birthday. 100% de-stemmed, native primary fermentation, aged 16 months in 1-year-old French oak barrels. · Moderately dark garnet color in the glass. A terrific wine that defies its 11-year-old age, drinking like a new release but with pliant tannins and oak faded into the background. Bold dark fruits, brown spices, anise and leather are featured on the nose and palate. A robust wine that seduces with a mouthfeel that is smooth as a baby's bottom. An appropriate memorial to Thomas. Score: 94

Escarpa Vineyard This West Sonoma Coast vineyard is located 6 miles inland from the Pacific Ocean on a steep, southeast-facing canyon. Pinot Noir was planted here in 1978 in highly fractured soils comprised of uplifted blue schist chert and quartz intermixed with serpentine/greenstone that provides excellent drainage and a finer clay component that facilitates water retention. This combination of soils is very unique to the Sonoma Coast. Grapes were previously sourced by Ceritas. I could not find out the acreage, scion material, or the current status of the vineyard.
Filigreen Farm This 97-acre vineyard, garden, and orchard in the town of Boonville in Anderson Valley is Demeter-certified Biodynamic property that was donated to the Yggdrasil Land Foundation in 2000 and leased to Filigreen Farm, LLC, a partnership between Lisa Bauer and vintner Alex Crangle. The original head-trained and dry-farmed planting of French Colombard on St. George rootstock was done for Italian Swiss Colony in 1946. In 1990, 8 acres were grafted over to Pommard. The 17-acre vineyard is now home to Pinot Noir, Chardonnay, and Pinot Gris. There are Dijon clones 115, 667 and 777 in addition to the Pommard. Wineries that have produced Pinot Noir from this vineyard include Crosby Roamann, Panthea Winery & Vineyard, Tessier, and Yamakiri.
2018 Crosby Roamann Old Saint George Filigreen Farm Anderson Valley Pinot Noir
14.2% alc., 134 cases, $ not released. Pommard clone grafted onto aged St. George rootstock. Produced and bottled by Sean W. McBride. 50% whole cluster, indigenous yeast fermentation, pressed at 17 days entirely by hand in an old hand-crank press. The wine was aged 12 months in French oak Barrels, 50% new. Bottled unfined and unfiltered. · Moderately light garnet color in the glass. Delicate but seductive aromas of fresh red cherry and berry with just a hint of oak. Light to mid-weight in style featuring a fresh core of red fruits framed by a modicum of integrated oak. The tannins are restrained, showing up only slightly on the long and juicy finish. There is a good acid vibe that adds to the refreshment. Score: 90

Frost Ranch The original plantings at Frost Ranch were 6 acres of Wente selection Pinot Noir (and 6 acres of Wente selection Chardonnay) sourced from Karl Wente"s Livermore vineyards. The Pinot Noir vines, presumably Pommard, were planted on St. George rootstock in 1964 and field budded in 1965 by Helen and Charles Bacigalupi. The only information that the Bacigalupi's knew about Pinot Noir and Chardonnay was that they were varieties grown in France. Paul Heck of Korbel Champagne Cellars and UC Davis farm adviser Bob Sisson suggested that the Bacigalupi's plant Pinot Noir and Chardonnay-based on the heat summation studies of Winkler and Amerine. Most locals at the time thought it was folly to plant grapes that lacked demand. These Pinot Noir plantings turned out to be among the first in the Russian River Valley. The last of the original 1964 Pinot Noir plantings were pulled out in 2018. Newer Pinot Noir plantings at the Bacigalupi Vineyards Goddard Ranch and Frost Ranch have been established with the original Wente budwood such that currently there are 13.16 acres at Goddard Ranch and 9 acres at Frost Ranch. Read more in an article on the Bacigalupi Family 50th Anniversary Celebration at www.princeofpinot.com/article/1545/ and on Charles Bacigalupi at www.princeofpinot.com/article/1436/
Hirsch Vineyard David Hirsch acquired a 1,100-acre property near Fort Ross in Cazadero in 1978. A winegrower friend, Jim Beauregard, suggested that the site's 1,500-foot-high ridges might be ideal for Pinot Noir and that intrigued David who was a fan of Burgundy wines. He planted two acres of Pinot Noir and Riesling in 1980, adding more plantings of Pinot Noir from 1990 through 2002 to bring the total to 64 acres of Pinot Noir and nearly 4 acres of Chardonnay.
Iron Horse The original Iron Horse Vineyard was planted to Pinot Noir and Chardonnay between 1971 and 1973 by winemaker Rodney Strong who established 55 acres each of Pinot Noir and Chardonnay. The property, located in the Green Valley of Russian River Valley, was purchased by Berry and Audrey Sterling in 1976. They had moved to France in 1967 and their travels to various wine regions sparked the idea of living on a vineyard, growing grapes, and making wine. The vision was always a chateau model dedicated to producing estate-bottled wines. Their first Pinot Noir was released in 1979, a date that marked Barry's 50th birthday and coincided with the opening of the winery. Sparkling wines arrived the following year. Iron Horse was named after a railroad stop that crossed the property in the 1890s. The winery is most renowned for its sparkling wines and that is largely related to the accomplishments of the first winemaker and vineyard manager, Forrest Tanzer.
Iron Horse vintage Blanc de Blancs sparkling wine was served at the Reagan-Gorbachev Summit Meetings that ended the cold war, a White House tradition that has continued for 35 years. Currently, there are about 160 acres planted to Pinot Noir and Chardonnay divided into 39 blocks that are farmed individually, harvested separately, and then vinified as a single vineyard. From 2005 to 2012, 82 acres originally planted in the early 1970s were replanted. Barry Sterling passed away on July 26 2020, but his family continues to manage the vineyards and winery.
Lafond Winery & Vineyards Pierre Lafond opened the first winery in Santa Barbara County since prohibition in 1962. In 1971, Lafond planted his first 65 acres in the Sta. Rita Hills. In 1982, Lafond acquired cuttings from the Sanford & Benedict Vineyard and planted the "Martin Ray clone'" on its own roots in the Lafond Vineyard. The 2016 Lafond Vineyard Martin Ray Clone Sta. Rita Hills Pinot Noir ($50) is the final vintage, as production had declined due to nematode infestation and extended drought. Replanting is underway with UCD 37. Visit www.lafondwinery.com
Lee Vineyard Ira and Shirley Lee planted this vineyard in 1967 and formed a relationship with Saintsbury. This relationship was instrumental in the replanting of the vineyard in the 1990s and early 2000s with Dijon and Pommard clones and Swan selection.
Mahoney Ranch Francis Mahoney purchased land in Los Carneros in 1972 with partner Belfour Gibson and spouse Kathleen, and began building the Carneros Creek Winery in 1973, the first new winemaking facility in Carneros since the repeal of Prohibition. He planted about 7 acres of several clones of Pinot Noir as well as an experimental plot of Pinot Noir which became the Carneros Creek Clonal Trial. Francis was unique among Pinot Noir pioneers of the 1970s in that he realized that beyond climate and soil, clones were an important factor in the success of California Pinot Noir. Between 1975 and 1985, experiments were conducted by Francis and UCDavis professor and viticulture specialist Curtis Alley on a 1.5-acre plot planted to various clones. The Trial was meant to compare clones from UCDavis (so-called 'clean-stock') with clones not sourced from UCDavis. Refer to the previous discussion of the Martini clones 13 and 15. Phase 2 and 3 of the Trial followed. During the 1980s and 1990s, Francis planted the Mahoney Ranch Vineyard surrounding his residence and the Las Brisas Vineyard. In 1998, he sold his majority share in Carneros Creek Winery and the winery passed through several hands. Mahoney then founded Mahoney Vineyards Today, Mahoney Vineyards produce Pinot Noir from the Las Brisas Vineyard (multiple clones including UCD 12, 13 23, 18, and 29 as well as Chalone, Hanzell and St. Claire), the Mahoney Ranch Vineyard UCD 12), Swan and UCD 23) and the Haire Ranch Vineyard.
McHenry Vineyard Dean McHenry, the founding chancellor of UC Santa Cruz planted Pinot Noir in 1972 in the Boony Doon subregion of the Santa Cruz Mountains. The site is 5 miles from the Pacific Ocean on a sandy mountain slope at 1,800 feet elevation. Dean's son, Henry McHenry, used the fruit to produce McHenry Vineyard wines. Unfortunately, the 2.5-acre vineyard was devastated by Pierce's Disease and ceased production in 1992. It was replanted in 1997 to Pommard, Martini 13, Dijon 115 and a Swan selection. After the replanting, I reviewed a number of the McHenry Vineyard Pinot Noirs beginning in 2003 and found them very elegant and charming and extremely reasonable in price considering the quality. Today, Henry's daughter Annie McHenry, her husband Brandon Blanchard and her cousin Ian McHenry are in charge.
Mount Eden Vineyard Martin Ray planted Pinot Noir, Chardonnay and Cabernet Sauvignon at this historic vineyard in 1945 and founded his namesake Martin Ray Winery here in the early 1950s. The Mount Eden Pinot Noir original plantings were brought to California from Burgundy in the 1890s by Paul Masson, who reputably was given the scion material from Corton and Corton Charlemagne by Louis Latour's father. The grape scion was probably supplied to Chalone, the HMR Vineyard, and many others.
This vineyard is a viticultural island perched at 2,000 feet above sea level in the Santa Cruz Mountains. The grapes are planted in infertile Franciscan shale on a cool, exposed hilltop. Partners acquired the Martin Ray property in 1972, renamed the property Mount Eden Vineyards, and released their first Pinot Noir from 29-year-old vines. Jeffrey Patterson assumed control of Mount Eden Vineyards in 1981 and has been the winemaker ever since, a remarkable longevity for a California winemaker. Mount Eden's lineage of estate bottled Pinot Noir and Chardonnay is the longest in California.
Replanting of the 34-acre vineyard began in 1984 with about 20% of the vines propagated from the original budwood and the rest planted to Winery Lake, Swan and Calera selections, and Dijon clones 115, 667, 777, and "828." Since 1984, the Estate Pinot Noir has been a mosaic of all of these clones. Merry Edwards, the winemaker at Mount Eden from 1974 to 1976, sent cuttings of a single Mount Eden vine ("Ray selection") to UC Davis where it was registered as UCD 37 in 1977.
Nielson Vineyard Uriel Nelson and Bill De Mattei planted Pinot Noir among more than 100 acres of vineyards on the Tepusquet Bench in the Santa Maria Valley in 1964. This was the first commercial vineyard in Santa Barbara County. It became part of Byron Vineyard & Winery and was replanted to multiple clones by Ken Brown while during his stint as the winemaker at Byron beginning in 1991.
Nobles Ranch Vineyard Owner Marvin Nobles planted this 33-acre vineyard on the West Sonoma Coast in what is now the Fort Ross-Seaview AVA on land that had been lifted up from ancient sea beds to between 850 and 1,500 feet above sea level. The vineyard is on the eastern slopes of the second mountain ridge in from the Pacific Ocean. 3.5 acres were planted nearly 40 years ago to Martini clone and Dijon 777 clone were added 25 years ago. Soils are Goldridge sandy loam. Grapes have been sold to Morlet Family Vineyards (bottled as "Coteaux Nobles" and "Joli Coeur"), Davies Vineyards, and B.Wise Vineyards.
Paragon Vineyard Jack Niven pioneered wine grape growing particularly Pinot Noir and Chardonnay in the Edna Valley beginning in 1973. This region, a mere 5.4 miles from the Pacific Ocean, is one of the coolest growing regions in California. One of the first and oldest continually producing vineyards in the region, early plantings spanned 547 acres and 11 varieties. Phil Woodward of Chalone Vineyard brokered a deal with Niven's Paragon Vineyards as a partner that became Edna Valley Vineyard. Today, the Niven family farms 1,200 acres of continuously updated plantings with two-thirds of production going to Edna Valley Vineyard and the rest to Niven brands including Baileyana. I know of no old vines bottlings.
Poppy Hillside Vineyard was originally established in the Santa Lucia Highlands in 1972 and now consists of 200 acres of old Estate Pinot Noir (60 acres) and Chardonnay (140 acres). Current status of original plantings not available. No old vine Pinot Noir produced.
Rapley Trail Vineyard Dr. Thomas Fogarty purchased 325 acres of land on Skyline Drive in Woodside in the early 1970s and established the Thomas Fogarty Winery. The Damiana Vineyard (1978), the Langley Hill Vineyard (1979) and the Portola Springs Vineyard (1980) were planted to Wente clone Chardonnay on AxR1 rootstock. The 6-acre, less-elevated vineyard, at 1,650 feet, named Rapley Trail, was planted in 1982 with Martini clone on AxR1 rootstock. Longtime winemaker, Nathan Kandler told me that all six acres of the original Rapley Trail Vineyard is producing. Bottlings from this vineyard, including the Rapley Trail Vineyard and the two Rapley Trail Block wines, James Thomas Block (formerly the M Block) and Henry Aryton's Block (formerly the B Block), have been produced and in the past reviewed at www.princeofpinot.com/winery/388/. For availability, visit www.fogartywinery.com
River Ranch Vineyard Camille and Ed Penhoet, owners of Toyon Farm Vineyard in Napa Carneros, planted this vineyard in Carmel Valley in 1982 to "special cuttings of distinguished origin," that reputedly came from a prestigious vineyard in Burgundy in the 1970s and subsequently brought to California. The Ancien Wines website states that the cuttings at both River Ranch Vineyard and Toyon Farm Vineyard in Carneros came from a famous vineyard in Burgundy and also were the original source of Pinot Noir for the Pisoni Vineyard (the so-called Pisoni clone or River Ranch selection). I asked Jeff Pisoni about this history and he told me that Gary Pisoni has always affirmed that he sourced his own wood, whether or not it was as colorful a story as Gary describes, via underwear, so there is no connection to River Ranch Vineyard. Ancien produced a 2018 Carmel Valley River Ranch Pinot Noir in 2018 (second vintage) and is reviewed here. Visit www.ancienwines.com
2018 Ancien Carmel Valley River Ranch Pinot Noir
14.5% alc., 97 cases, $60. Aged 11 months in French oak barrels with a single racking carried this wine gently to bottle. · Dark garnet color in the glass. Ripely fruited aromas of plum, cassis and boysenberry lead to a mid-weight plus styled wine replete with layers of purple and black fruits backed by modest toasty oak. Rich, but not too rich, and velvety in mouthfeel, with easygoing, silken tannins and some finishing length. There is a slight sense of alcohol on the palate. Score: 92

Riverbench Vineyard This 270-acre vineyard is the estate vineyard of Riverbench Winery. Originally planted in the early 1970s to Pinot Noir and Chardonnay, few of the original plantings existed and were economically unproductive, so the vineyard was completely replanted in 2007 and 2008.
Roudon Smith Vineyard Bob and Anna Maria Roudon and Jim and Sue Smith bought this vineyard land in the Scott's Valley region of the Santa Cruz Mountains in 1972. They planted Pinot Noir and Chardonnay shortly thereafter, and built a winery in 1978. The winery was sold in 2005 as the owners retired. The vineyard was sold separately and the owner gave it to his wife in a divorce. She let it go somewhat fallow. Currently, Phil Crew, owner and winemaker of Pelican Ranch Vineyard is leasing the vineyard that is in a "semi-active" state.
Sangiacomo Southern Sonoma, Home Ranch and Palmer Wedekind Vineyards These three vineyards are located in the Carneros and Sonoma Coast AVAs and are all planted to Pinot Noir, Merlot and Chardonnay. All of these sites were fruit tree farms originally managed by the Sangiacomo family. Southern Sonoma Vineyard was planted beginning in 1974, while Home Ranch Vineyard and Palmer Wedekind Vineyard were first planted in 1980. Steve Sangiacomo told me that they do not have any Pinot Noir in the ground planted prior to the 1980s as "viruses were too prevalent so we had to replant the Pinot Noir." The oldest producing Pinot Noir vines were planted in 1997. Sangiacomo Family Vineyards do still have Chardonnay planted in 1969 (the first block they ever planted). Steve noted, "Chardonnay can handle viruses better than Pinot Noir." The Sangiacomo's launched their own Sangiacomo Family Vineyards brand of Chardonnay and Pinot Noir with the 2016 vintage.
Santa Cruz Mountain Vineyard This property in the Vine Hill District of the Santa Cruz Mountains was originally established in 1863 as the Jarvis Brothers Vineyard. David Bruce acquired the vineyard in 1968, pulled out the Zinfandel planted by the previous owners, the Pesenti-Locatelli family, and planted it to the Wente selection of Pinot Noir on its own roots. Ken Burnap acquired the 26-acre vineyard in 1974, renaming it Santa Cruz Mountain Vineyard and founded the winery by the same name shortly thereafter. For years, this vineyard was one of the oldest continuously operating vineyards in California. In 1979 Ken hired Jeff Emery as his apprentice and by the time Ken retired in 2002, Jeff had taken over the day-to-day business operations and winemaking. In the summer of 2004, Ken sold the vineyard property to an investment group that renamed it Vine Hill Vineyard. produced wines under the Vines of Vine Hill umbrella, and replanted the original Santa Cruz Mountain Vineyard. The winemaking operations and inventory of Santa Cruz Mountain Vineyard moved with Jeff to a location on the west side of the City of Santa Cruz where Jeff still produces wines under the Santa Cruz Mountains label. The last vintage from the original plantings was 2004. Although Wines of Vine Hill made a serious attempt to carry on the storied legacy established by this historic property, the winery was forced to close in 2012. Santa Cruz Mountains Vineyard is now named the Union Vineyard and associated with the brand US Grant.
Sarah's Vineyard This vineyard is planted at a unique site on Hecker Pass Highway in Gilroy. The first Pinot Noir was planted here in 1979. In 1989, a "proprietary clone" of Pinot Noir was imported and the original vines grafted over. The original Pinot Noir block was removed in 2012 for replanting but current owner Tim Slater took cuttings and has maintained a small, unmarked, super-secret patch of that proprietary clone among some of the newer plantings. Tim says, "It is a matter of vineyard pride." Those grapes are part of the Estate blend. Tim has added blocks of Pinot Noir from 2001 to 2016 and currently has the following clones planted: 115, 667, 777, "828," 943, Swan, Calera and Pommard.
Schug Carneros Estate Vineyard Schug Carneros Estate Winery has been family-owned and operated since 1980. The first estate-grown Pinot Noir was released in 1983. Walter Schug planted and studied clonal selections of Pinot Noir that had a proven track record in European vineyards as well as some selections from California. He used his vineyards as a laboratory and teamed with UC Davis to do a 12-year intensive clonal research project.
Sierra Madre Vineyard First planted in 1971, this 151-acre vineyard is located near the western edge of the Santa Maria Valley. Varieties include Pinot Noir, Chardonnay, Pinot Blanc, and Pinot Gris established in low vigor sandy loam soil. Farming veterans Jan and Doug Circle and their family were proprietors from 2013 to 2018, then sold the vineyard to an affiliate of E. & J. Gallo Winery who bought all 542 acres of the property. Grapes have been supplied to more than 35 wineries. The vineyard was replanted and is still undergoing replanting.
Sleepy Hollow Vineyard First planted in 1972, this vineyard is one of the first if not the first vineyard planted in the Santa Lucia Highlands. The initial planting of Pinot Noir was Martini 13. This vineyard, one of the most northernmost and coldest in the Santa Lucia Highlands, was acquired by Robb Talbott of Talbott Vineyards in 1994 from Jerry McFarland who had originally planted the vineyard. Today, the vineyard, home to Pinot Noir and Chardonnay, and marketed as a "Grand Cru Vineyard," spans 565 acres divided into three vineyard parcels. About one-third of the vineyard is planted to Pinot Noir clones that include Dijon 113, 114,115, 667, 777, "828," 943, Mount Eden 37, Pommard 4 and FPS 66 (a Martini clone and the same source as Martini 13) and FSP 96 (same source material as Calera clone, originally from Chambertin, France). E. & J. Gallo purchased the Talbott wine brand in 2015. There is no old vines bottling.
St. Clair Vineyard Originally planted in 1973 to a field selection from Los Amigas Vineyard, fruit from this vineyard was a consistent source for Acacia Winery, started by Michael Richmond and winemaker Larry Brooks in 1979. Owned and farmed by Jim St. Clair, this vineyard became heavily virused but was in production until the mid-2000s according to John Haeger (Pacific Pinot Noir - 2008).
Stanly Ranch Vineyard Judge John Stanly's Riverdale Ranch, located south of Napa in Carneros, produced wines from more than 300 acres in the late 1800s. Phylloxera had devastated all the vineyards in Carneros by the 1920s but Stanly Ranch was planted on Vitis riparia rootstock that was resistant to phylloxera and some vines survived. Andre Tschelistcheff and Louis M, Martini both bought grapes including Pinot Noir from the Stanly Ranch in the 1930s. Martini eventually owned 200 acres of the Stanly Ranch and along with Harold Olmo, a UC Davis professor, did extensive Pinot Noir and Chardonnay clonal trials leading to the development of Chardonnay clone 108 and UCD clones 13 and 15 of Pinot Noir. These clones were widely planted in California from the 1970s to the early 1990s. More recently, the Stanly Ranch Estate Vineyard was planted in 2001 on a portion of this historic property and is owned and farmed by Starmont Winery & Vineyards (part of the Merryvale Family of Wines). The vineyard is now planted to Dijon clones 114 and 667.
Three Amigos Vineyard Robert Sinskey Vineyards owns this 15-acre vineyard planted with heirloom selection cuttings from neighboring vineyards, Iund and St. Claire, in 1982. French clones were added later but as time went on they ripened too early and owners had to propagate more of the original heirloom selections (Swan, Pommard, and more).
Torrey Hill Vineyard In 2012, Brian and Kerith Overstreet, founders of Bruliam Wines with the 2008 vintage, acquired the small Two Sisters Vineyard in the Russian River Valley that had old plantings of Martini clone of undetermined age. There are rumors that date the original vines to 1953-1955, but this is highly unlikely and Kerith thinks it is most likely the vines were planted in the late 1960s. The vineyard has been named Torrey Hill paying homage to the Torrey Pine, an endangered tree species found in La Jolla where the couple attended high school. In 2015, major replanting and rehabilitation of the vineyard began, including interplanting 2000 new vines and re-training with guyot canes and tight 3' x 4' spacing. Kerith has told me about 25% of the supposed original vines have been preserved and are still producing grapes. The Adrian Fog Winery produced a Two Sisters Vineyard designated Pinot Noir in the early 2000s. The current release from this vineyard is the 2017 Bruliam Torrey Hill Russian River Valley Pinot Noir.
Ventana Vineyard This vineyard was planted to a Mount Eden selection in the Arroyo Seco AVA of Monterey County in 1974 by Doug Meader who also founded Ventana Vineyards in 1978, one of the pioneering wineries of Monterey County. Today, the vineyard spans 300 acres. Ventana Vineyards owners partnered with the Folktale Wine Group in 2017 to revitalize the property. Ventana Vineyard is tended by Steve McIntyre of Monterey Pacific who has brought innovative sustainable farming practices to the vineyard.
Wiley Vineyard Brad Wiley, owner of Wiley Vineyards, first planted his vineyard in 1972, making it one of the earliest plantings in the Anderson Valley. He ripped the land in 1971 and planted the next year, following the Anderson Valley plantings at Edmeades and Husch and preceding the vineyards at Lazy Creek and Navarro Vineyards. Brad's family started the publishing company, John Wiley & Sons. He owns a total of nearly 200 acres of conifer forest and fruit trees including the vineyard. The vineyard is located on a ridge-top above the fog line at the extreme northern end of the Anderson Valley only 10 miles inland from the coast making it one of the most westerly vineyards in the Anderson Valley. Planting was initiated with the Stony Hill selection of Chardonnay, but the grapes would not ripen and the vines were soon afflicted with leafroll disease. Riesling was added in 1978. Pommard 5 from Erath in Oregon and a David Bruce selection were planted in 1982. Dijon clones and a Colmar clone brought to the US originally by Gloria Ferrer were added as more Pinot Noir was planted in 2000 bringing the total Pinot Noir to 20 acres. Grapes have been sold to numerous wineries including Bravium, Breggo, Briceland Vineyards, Copain, Drew Family Cellars, FEL, Harrington, Harmonique, Phillips Hill, Schramsberg, Skewis Wines, Terragena Vineyard, Witching Stick and Woodenhead Vintners. I have reviewed 28 Wiley Vineyard Pinot Noirs from various producers: www.princeofpinot.com/vineyard/348/