Sun Break Wines: Unique Value-Priced Oregon Pinot Noir
This new Pinot Noir-focused winery in the Willamette Valley has a connection to Lumos Wine Company featured in the last issue of the PinotFile. David Patte, owner and winemaker for Sun Break Wines, wrote me to tell me that he worked in the cellar as an intern for Lumos and the other wineries at their co-op in McMinnville such as Domino IV and Native Flora. David also worked at the Lumos tasting room for four years. He was a long time follower of the Prince of Pinot website.
In the inaugural vintage of 2018, David produced three wines from the Cortell-Rose Vineyard located in the Eola-Amity Hills across the road from Brooks Estate. He wanted Sun Break Wines to focus on one vineyard so he could obtain a variety of clones (five in this case) and vinify using three distinct styles: Colette is 100% destemmed, Marie-Paule is 50% de-stemmed, and Ariane is 100% whole cluster.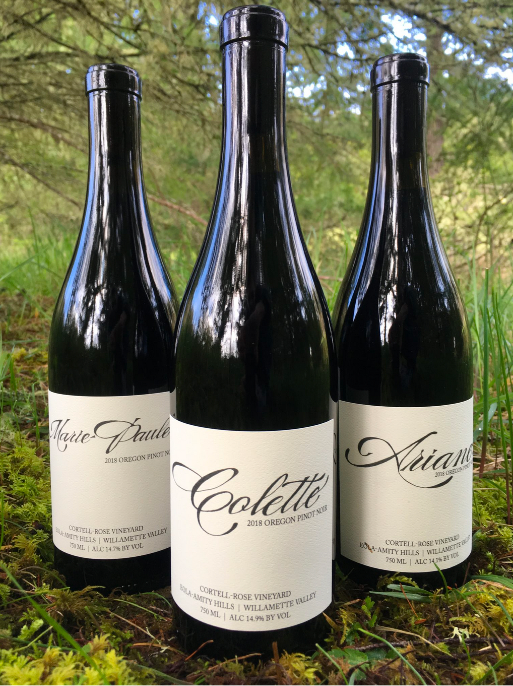 The vineyard is co-owned and managed with organic practices by Jessica Cortell who farms several top-tier organic vineyards such as Seven Springs, Medici and Antica Terra. Jessica chose this vineyard as her own for its location on volcanic Jory soils at 525'-680' elevation.
The three wines reflect the exceptionally warm and dry 2018 vintage and are bold, intense and ripe-fruited examples of Pinot Noir. At harvest, the grapes had a lower-than-average water content that increased the phenolic (fruit) concentration while also increasing the acidity ratio. David chose not to add water as many other winemakers did in 2018, instead he tempered the resulting high ABV of the wines with the high natural acidity.
I found that the wines had the lavish fruit and acidity working in harmony and the relatively high ABV was well integrated. In other words, the wines drank like a Pinot Noir with lower ABV and did not beat down the palate with jammy fruit. The wines are all produced with no added sulfites, but cross-flow filtered to ensure stability and aging potential without spoilage. Some naturally-occurring sulfites may be present. The wines were produced and bottled by Sun Break Wines in Amity, Oregon.
Best of all, each wine is priced at $29. Unfortunately, the small production and low price led those in the know to snap up these wines quickly and the Colette is sold out, the Ariane might be sold out by the time you read this, but the Marie-Paule is still available. More grape tonnage is planned for future vintages to increase production.
The winery is a One Percent for the Planet member, donating one percent of all sales to environmental projects including projects that provide 22 tons of carbon offsets. David offers free wine and cider business and/or wine and cider production mentorship opportunities to black and brown colleagues, students, women and LGBTQ folks.
Visit www.SunBreakWineCider.com for more information and to purchase the wines.
2018 Sun Break Wines Colette Eola-Amity Hills Willamette Valley Pinot Noir
14.9% alc., pH 3.39, TA 0.59, 76 cases, $29. Pommard, Wadenswil and Dijon 667 clones. 100% de-stemmed. No extended maceration. Aged 10 months in older French oak barrels. No sulfites added. No racking until assemblage prior to bottling. Cross flow filtered. · Dark garnet color in the glass. Very shy aromas of blackberry and black currant fruits. Midweight plus in style, offering a flood of purple and black berry fruits infused with a slight hint of oak in the background. Plush on the palate with great purity of flavor, showing unpretentious tannins and good brightness. The finish is modest but satisfying. Score: 90
2018 Sun Break Wines Marie-Paule Eola-Amity Hills Willamette Valley Pinot Noir
14.7% alc., pH 3.50, TA 0.61, 156 cases, $29. Pommard, Wadenswil and Dijon 114, 667 and 777 clones. 50% de-stemmed and 50% whole cluster. No extended maceration. Aged 16 months in older French oak barrels. No sulfites added. Racked once at assemblage prior to bottling. Cross flow filtered. · Moderately dark garnet color in the glass. Delicate aromas of blackberry, black currant and sweet tobacco. Well-endowed with lavish, dark fruits that offer more pop and finishing length than that found n the Colette bottling. There is a little more, but not intrusive, tannic spine evident. Score: 91
2018 Sun Break Wines Ariane Eola-Amity Hills Willamette Valley Pinot Noir
14.1% alc., pH 3.29, TA 0.67, 67 cases, $29. 100% Dijon clone 777. 100% whole cluster fermentation. Aged 16 months in older French oak barrels. No sulfites added. Racked once at assemblage. Cross flow filtered. · Dark garnet color in the glass. Alluring aromas of currant, blackberry, spice, sap and sous-bois. Very juicy and agreeable in a mid-weight style with charming fruits that cascade over the palate. The most tannin of the three 2018 Sun Break Pinot Noirs is evident, yet complimentary. This wine sports mpressive harmony with a very long, black grape-infused finish. Score: 93