Bass Note Sangria: "Wine is Serious, Sangria is Fun"
Sangria is a polarizing wine drink. My wife hates it and won't drink it (she does love Pinot Noir and Chardonnay). I happen to like it, particularly with Mexican food, but equally so as a refreshing cooler during hot weather.
Traditional sangria as we know it did not originate in Spain, a country commonly associated with this wine-based drink, but its exact origins are not clear. It was made in England and France in the 1800s and eventually, sangria became popularized in the United States after its introduction at the 1964 World's Fair in New York. Although sangria is commonly associated with Spain, it is more popular with tourists than locals in that country.
There are many recipes for "traditional sangria" but typically it contains a dry red wine such as a Rioja from Spain, fresh chopped fruit such as apples and oranges, a sweetener such as sugar melted into a simple syrup and a splash of brandy, all served over ice. Club soda and a cinnamon stick are optional. Many white versions of sangria made with white wine are an alternative.
Maryann Worobiec, writing in the most recent October 15, 2020, issue of the Wine Spectator, pointed out the popularity of sangria in the U.S. market. According to Impact Databank, Spanish sangrias accounted for nearly 1.6 million cases by volume in the U.S. in 2018 (16% of all Spanish wine sold here). Maryann's article introduced me to Bass Note, artisanal California sangrias crafted by A.T. Howe. Howe thought that all of the sangrias in the marketplace had the same style and flavor. This led him to found his brand in 2016 featuring sangria based on premium California wines with the added twist of fruit juice and herbal extracts giving his sangrias a unique flavor profile.
There are four NV Bass Note sangrias offered in a screw-capped 750 ml bottle, each with a colorful label: Peach Tarragon (white sangria), Raspberry Hibiscus, Cherry Lime Almond and Blackberry Sage. Checking in at 11% alcohol and invigorating, you will find these wines disappearing in your glass very quickly. SRP is $14.99 but I found them priced at $11.99-$12.99 at Total Wine in Southern California. The sangrias are available for sale on the Bass Note website at www.bassnotesangria.com.
These sangrias are best served straight from the refrigerator or over ice.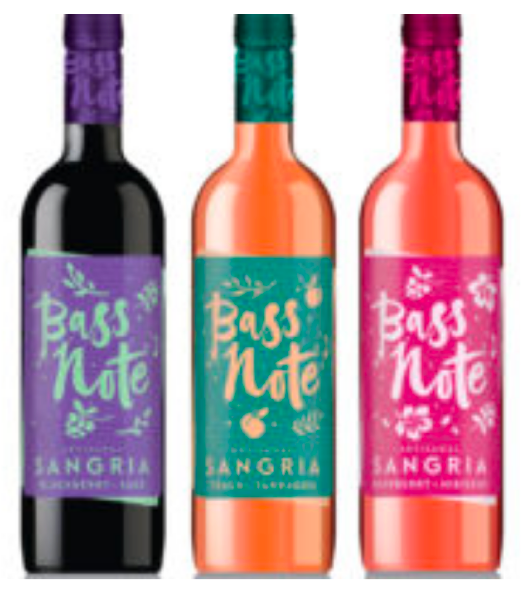 Bass Note Peach Tarragon Sangria 11% alc., $12.99, screw cap. Terrific, intense peach flavor with a hint of herbs. Moderately sweet, with a clean, refreshing attitude. Similar to Pinot Gris infused with peach.
Bass Note Blackberry Sage Sangria 11% alc., $11.99, screw cap. Liberal blackberry and blueberry fruit flavor with dried sage in the background. Less sweetness than the Peach Tarragon Sangria and closest in flavor profile to a traditional sangria.
Bass Note Cherry Lime Almond Sangria 11% alc., $11.99, screw cap. Too flowery on the nose and palate for my taste. Similar to pumped-up rose water. I could not detect lime or almond flavors.