Mayro-Murdick Wines
"What this country needs is a good $15 Pinot!"
Michael Cox, Winemaker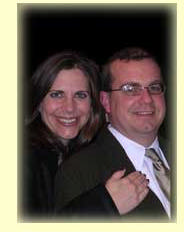 Michael Cox has been in the wine business for twenty hears, the last twelve of which as winemaker at Schug Winery in Carneros. He is a University of California at Davis graduate in enology and viticulture with success in working with multiple varietals, but his professed passion is Pinot Noir. His wife, Tina, is a wine veteran, as well, having worked in marketing at Robert Mondavi. Together, they started Mayro- Murdick Wines. The name Mayro-Murdick comes from the distinctive first names of their paternal grandfathers.
Michael and Tina realized back in 2002 that many wine drinkers needed a go-to decent Pinot Noir that was affordable enough to serve as a daily drinker. Michael's inspiration came from Europe where many gems can be found around the $15 price point. Pinot Noirs that retail for under $20 lack some of the complexity and subtle nuances that make more expensive Pinot Noir so alluring, but good examples can make for fine drinking with meals. The problem has been that it is easy to find Pinot Noir for under $20, but it is difficult to find GOOD Pinot Noir in that price range.
In 2002, Michael was searching for a source of grapes to reach his goal. He was driving around the Santa Lucia Highlands and found a thirty-year old vineyard planted on its own rootstock to the Gamay clone of Pinot Noir , a grape descended from Pinot Noir and Gouais. In the late 19th and early 20th century, there were a number of different "Pinot Noir" selections brought into California. Some of these vines were true Pinot Noir (pinot tordu), but others had a more vertical growth pattern (pinot droit or "upright pinot") and were called Gamay. The Gamay vines were also known as Napa Gamay as nearly all of the plantings were in the Napa Valley.
Once Michael found the source, he drew on his knowledge of wine production practiced in southern Burgundy, where winemakers age their wines in large casks while introducing miniscule amounts of oxygen (micro-oxidation), to soften and mature the wine. In a similar way, micro-oxidation (micro-oxygenation, "microx") mimics the reactions with oxygen encouraged by barrel aging. Fermentation was carried out in stainless steel tanks with pump overs two times daily. The result is a very fruity wine expressive of the true varietal character of Pinot Noir.
Michael also produces a Pinot Noir from the Iund Vineyard (20-year-old vines) in Carneros vinified in a more traditional manner for Pinot Noir. This Mayro-Murdick Carneros Pinot Noir is aged for 14 months in 34% new French oak.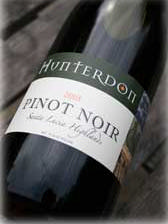 2005 Hunterdon Santa Lucia Highlands Pinot Noir
13.5% alc., 2756 cases, $15. The name comes from Hunterdon County, New Jersey, where the Cox family traces their roots to 1695. · The aromatics feature ripe strawberries, cherries, lavender and hay. The strawberry theme dominates the flavor profile. Very easy to drink, this wine is elegant in style and finishes clean with ample acidity. A thoroughly enjoyable wine that I like to call "Strawberry Fields Forever." This is a step above the many ordinary commercial wines at this price point.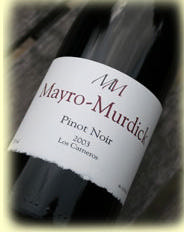 2003 Mayro-Murdick Carneros Pinot Noir
13.5% alc., 484 cases, $35. · This wine is a cherry serenade. Ripe cherries, strawberries and toast on the sensuous nose and herb-tinged cherries in the mouth. Nicely composed and perfectly fine, this is a nice gift from Carneros.
Mayro-Murdick Wines are distributed in 25 states and are available on the website at www.mayromurdick.com. Tina Cox handles marketing, sales, and distribution and contact her for questions or guidance in acquiring the wines (707-996-3023).