Dubakella Pinot Noir
Sometimes good Pinot Noir turns up in the most unexpected places. Andy Carini produces Dubakella Pinot Noir from a vineyard in Hayfork, California, about half way between the cities of Redding and Eureka, in Trinity County (see map next page). Hayfork sits about midway between the best northern coastal Pinot regions of California and the better Pinot regions of Oregon. The wine is named for Mt. Dubakella, the tallest mountain you can see from Andy's winery in Hayfork. It is a Wintu (local Native American tribe) word for "black rock."
Andy began working with this vineyard just before harvest in 2004. The vineyard is in uncharted grape growing territory, but seems to be a natural fit for Pinot Noir. The vineyard sits at 2,500 ft on a south facing slope overlooking the Hayfork valley (valley floor is 2,200 ft). The soils are rocky loam with veins of limestone throughout. The climate is very Burgundian with a short, but intense, growing season with only two months of the year sure to be frost free (July and August). Summer day to night temperature swings of 50 degrees are the norm! Hot days and almost cold nights. The vineyard is planted to clones 115 and Pommard on 8 acres and is certified organic. Andy says, "On paper everything works and sounds nearly perfect. I am just about to the point where I feel I can state with certainty that in practice it is even better than on paper. As my years working with this vineyard pass, and we fine tune our farming to the site, the wines are proving that this is a place for great Pinot Noir, perhaps one of the very best places in the state for it."
Andy notes that he has been a "Cab/Merlot guy" by nature ( he produces Cabernet Sauvignon and Merlot under the Carini label). He moved his winery to Hayfork in 2003. Soon after, he met Bruce Gnad, the owner and farmer of this vineyard. Andy was intrigued about making wine from this vineyard, but the fact that it was planted to Pinot Noir held him back. In 2004, the buyer for the fruit bailed out at the last minute, leaving Bruce few options. Andy ended up with the fruit. "I was forced to deal with my negative feelings about Pinot Noir. Considering how nice the fruit was, it didn't end up being as difficult a task as I thought." Andy thought this would be a one-time shot, but it has evolved into much more. Beginning in the spring of 2005, Andy began working directly with Bruce in the vineyard to refine and improve the farming. Yields were cut in half by careful fruit thinning at three different stages in the growing season. The canopies were managed to give better exposure, and picking was delayed to obtain optimal ripeness. As a result, Andy feels the 2005 and 2006 vintages are far superior to the 2004 vintage and offer only glimpses of the real potential of this vineyard and resulting wine.
Andy's winemaking style emphasizes as little manipulation as possible. The only additions to the wine are yeast and minimal sulfur dioxide. There is no watering down, acidification, spinning cone, copper, color boosters, fining, or filtration. The wine is a true representation of its place of origin and the vintage. 90% of the grapes are de-stemmed followed by a cold maceration. After inoculation, the fermentations last between 10-14 days in small 200 gallon open top fermentors. Multiple daily punch downs are followed by pressing directly to 100% French oak. Typically, aging is for 18 months and the wine is bottled directly off its gross lees.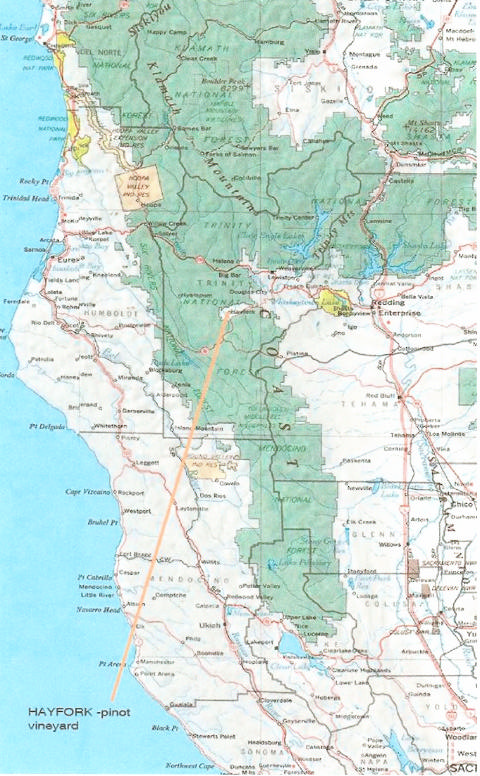 2005 Dubakella Trinity County Pinot Noir
15.25% alc., 500 cases, $45. (Barrel sample) · This wine has a little more stuffing and is even more polished than the 2004. Again, the balance is impeccable. It is still young and not giving all it has. This will improve considerably with time.
2004 Dubakella Trinity County Pinot Noir
14.5% alc., 300 cases, $33 · The aromatics exhibit shy but fine red and dark fruits with a hint of spice. Sumptuous spiced cherry, plum and oak flavors are in harmony and enticing. From start to finish, this is a very clean and balanced wine. Not terribly complex, and nothing hair-raising, but thoroughly satisfying.
Andy appears to be on to something here. These two wines show deft winemaking and the site appears to be one of great promise. The wines will be available through a mailing list and on the website at www.cariniwine.com (dubakella portion of website should be operational very soon - call or e-mail to inquire). The website will offer significant discounts to the retail prices given above. There will also be limited retail and restaurant distribution beginning in May in California, Las Vegas, New Jersey and New York. The phone is 530-628-5258.