Elite California Pinot Noir Vineyards Part I: North Coast - Petaluma Gap
"I think most people underestimate just how true the 'wine is made in the vineyard' statement really is. I think most folks think that a winemaker can can take fruit and make it into whatever they want. But the best wines in the world require the least amount of actual winemaking."
Noah Rowles, winegrower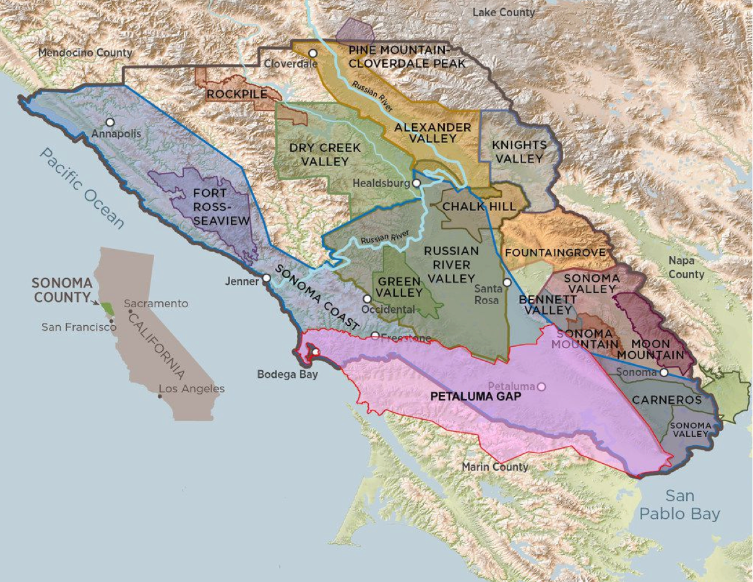 Gap's Crown Vineyard
Owner: Originally owned by Premier Pacific, but sold to Bill Price (Price Family Vineyards) in 2013. The vineyard is an Estate property of Three Sticks Wines, also owned by Bill Price. A section of about 37 acres is leased long-term to Kosta Browne, a winery owned by Duckhorn Wine Co.
Acres: 106 acres of Pinot Noir and 32 acres of Chardonnay (approximately).
Years planted: Four planting phases from 1999 to 2005.
Location: On the western hillside of Sonoma Mountain in the town of Penngrove, east of Rohnert Park. The vineyard is the northeast corner of the Petaluma Gap AVA.
Aspect: A southwest-facing slope at 320-820 feet elevation exposing it to maritime elements. Most of the vines lie above the fog line.
Pinot Noir scions: Dijon 114, 115, 667, 777, and faux 828, and a Rochioli selection and Swan selection.
Soils: Predominantly well-draining, low-vigor, iron-rich, brown clay loam with significant volcanic rock.
Vines: Two-thirds are planted at a density of 2,264 vines per acre and a third are planted at a density of 1,361 vines per acre. VSP trellising. Rootstocks are 110R, 101-14, 3309, 1616, RG and 420A.
Farming: Managed by Atlas Vineyard Management.
Winery clients: Through the years there have been numerous client wineries with most grapes going into vineyard-designated bottlings. Wineries that have sourced Pinot Noir include Black Kite, Bruliam, Chateau St. Jean, Fulcrum, Gary Farrell Vineyards & Winery, Kosta-Browne, Marine Layer, Patz & Hall, Ram's Gate, Sojourn Cellars, Three Sticks Wines and Typicité. Bottlings after the 2016 vintage may show either "Petaluma Gap" or "Sonoma Coast" AVA on the labels.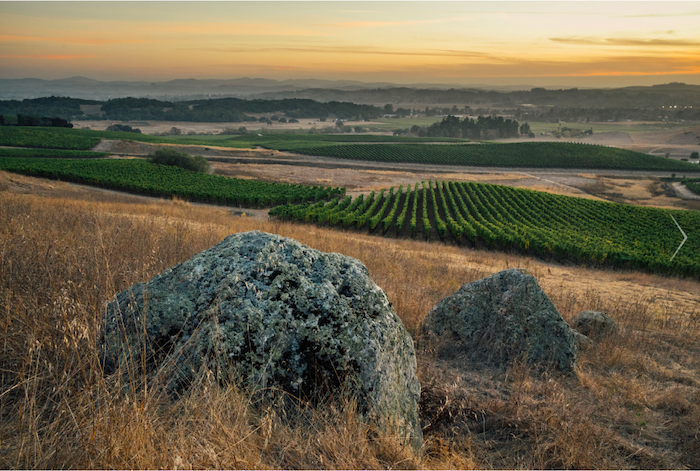 More reviews: www.princeofpinot.com/vineyard/468/.
Terra De Promissio Vineyard
Owners: Charles and Diana Karren
Acres: 50, all Pinot Noir
Years planted: 2002: 32 acres of Dijon 115 and 777. 2012: 18 acres of Dijon 943, 97 (Swan), and a Calera selection.
Location: A short distance east of Highway 116 in the Petaluma Gap AVA.
Aspect: Southwest exposure, 25%-40% slope, 188 feet elevation. The vineyard is always under the fog, not above it like with the vineyards on the West Sonoma Coast. Pinot Noir scions: Dijon 115, 777, 943, and Swan and Calera clones.
Soils: Sandy loam and adobe clay.
Vines: 8' x 4' spacing, cane pruned VSP trellising.
Farming: Sustainably farmed by the Karrens (Donna makes most of the farming decisions). Each row and block is custom-farmed to the winemaker's instructions.
Winery clients: Partner wineries include Castello Di Amorosa, Domaine Della, Dutcher Crossing, Gary Farrell Winery & Vineyards, Lynmar, MacRostie, Metzker Family Estates, Senses, Siduri, SPELL, The Calling, and Williams Selyem. Most clients vineyard-designate their Pinot Noir. The Karren's own label is Land of Promise. The Land of Promise includes four different Terra de Promissio Pinot Noirs. The Karrens taste and approve all the wines made by client wineries before the wines can be labeled with the Terra de Promissio Vineyard designation, a total of 14 wines annually.
Comments: The vineyard name, "Terra de Promissio," translates to "Land of Promise", a name trademarked in 2007. The combination of soil, southwest sun exposure, elevation, and vine density, combined with the f fog and wind from the Petaluma Gap, allow the grapes to mature slowly, yielding extended hang time, and optimum ripeness. These ideal conditions result in intense flavors, ample tannin structure, and nearly perfect natural acidity. Swan clone 97 was submitted to the FPS by Dehlinger Vineyard in the Russian River Valley for certification and was registered in 2001. Typically, clone 97 produces bright and rich Pinot Noir, lighter in color than many other clones, with intense aromatics and an elegant, earthy character. Bottlings from this vineyard may have "Petaluma Gap" or "Sonoma Coast" AVA designation on the label beginning with the 2016 vintage but the Karrens prefer "Sonoma Coast" for consistency reasons. The Karrens do not require winery clients to use the name Terra de Promissio and over the years some have used other names yet contained 100% Terra de Promissio fruit.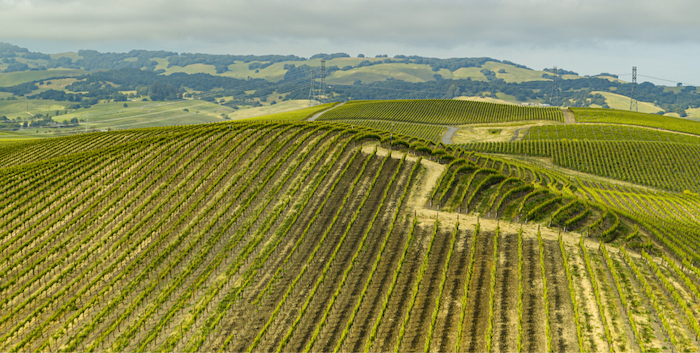 More reviews: www.princeofpinot.com/vineyard/219/.