Kutch: Following His Pinot Dream
Back in May of 2005 (PinotFile, Volume 4, Issue 37, "Following Your Pinot Dream") I profiled Jamie Kutch, a Fordham graduate who held a high-profile Wall Street job and gave it all up to move to California and make Pinot Noir. Upon the urgings of Andrew Vingiello (A.P. Vin) and Brian Loring (Loring Wine Company), Jamie sent an e-mail to Michael Browne of Kosta Browne Winery, located in the Russian River Valley at that time, and detailed his dream to make Pinot Noir. Michael's advice was "Go for your dreams if it is at all possible, otherwise, you might regret it for the rest of your life. A man had once told me that 'the biggest regrets in life are not things that you did, but the things that you did not do.' I thought he was a very wise man." That was all Jamie needed to hear. Michael offered to be his mentor and assist him in making his initial Pinot Noir under his own label. Jamie quit his job, talked his girlfriend into moving west with him, and in a short time was in San Francisco. Jamie's unusual proposal to his girlfriend (PinotFile, Vol 5, Issue 9, "Love Among the Must") was only fitting, since wine has played an immortal role in the seducing, loving and marrying of women by men.
Fast forward two years and Jamie has now released his inaugural wines: a Pinot Noir from the Russian River Valley and a Rosé from the Sonoma Coast. He is still refining his style, but the initial response to his wines has been very favorable and he has become one of the new young hounds in the Pinot race.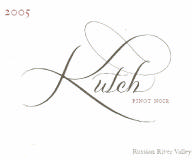 2006 Kutch Sonoma Coast Pinot Noir Rosé
14.1% alc., 125 cases, $15. A saignée of Pinot Noir sur lie aged for l4 months in neutral French oak barrels. Vineyard sources are Kanzler, Umino, John's, and McDougall. · The wine has a pinkorange color. This is a substantial rosé with plenty of substance and viscosity. Strawberry, lavender, and grassy aromas lead to flavors of strawberries, persimmon and citrus. The finish is tangy and I kept wanting to snap my tongue against the roof of my mouth. Although "rosé" is the French term for "pink," this is not a feminine wine. It has plenty of pizzazz to accompany hardy foods and should hold out a couple of years.
2005 Kutch Russian River Valley Pinot Noir
15% alc., 150 cases, $39. The 2005 growing season was long, dry and mild and just about perfect for Pinot Noir in the Russian River Valley. This wine was sourced from the Amber Ridge and Demeo Vineyards. · Very nice finely-spiced and ripe red fruits in the aromas and flavors. The alcohol adds an appealing sweetness to the overall impression. The finish closes with pleasant fruit, herbs and ample oak.
Kutch Wines are sold through a mailing list at www.kutchwines.com. As Jamie acquires more grape sources, production will gradually increase. He is currently honing his winemaking experience at Deerfield Ranch Winery in Sonoma Valley. His phone is 917-270-8180.