2019 Vintage Red Electric Armstrong Vineyard Pinot Noir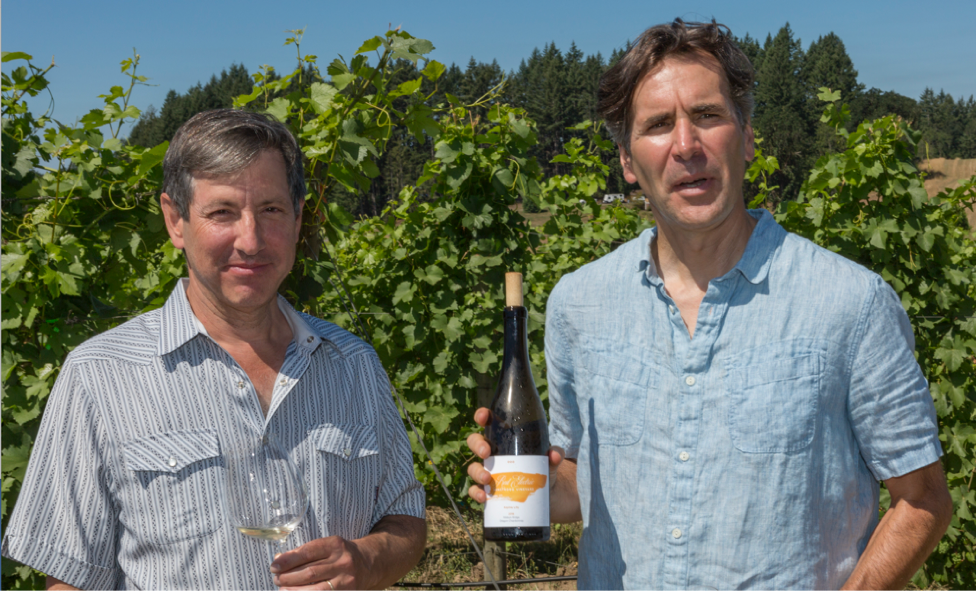 Red Electric Wines is a collaboration between winegrower Douglas (R) and Michelle Ackerman and winemaker John Grochau (L). The name of the winery honors the iconic Red Electric commuter trains that carried passengers from Portland to the communities of the Willamette Valley from 1913-1929.
Armstrong Vineyard is located in the Ribbon Ridge AVA of the Willamette Valley. There is a variety of rolling and fairly steep southwest-facing slopes located at 380 feet elevation at the apex. Soils are 100% Willakenzie series sedimentary type. The soil type is desirable for its ability to retain moisture through spring and summer and then dry out significantly in the fall.
The 16-acre property was originally a horse farm and prior to that a walnut orchard. Douglas Ackerman acquired the property in 2007 from the Ahlberg family. He had no desire to purchase an established vineyard ( although that would have been much easier). Establishing the vineyard turned out to be an adventure fraught with some mistakes but driven by the excitement generated by joining the vibrant Oregon wine community. As Douglas would say, "What a long, strange trip it has been!"
90% of the property was planted in 2007 and the rest the following year. Phylloxera-resistant rootstocks 101-14 and 3309 were chosen Dijon clones 667, 777, 115, 114, Pommard and Wädenswil clones. Vine spacing is 4' between the vines and 7' between the rows at a density of 1556 vines per acre. Trellising is bilateral canes with vertical shoot positioning (VSP). Chardonnay is planted as well and it turns out that this is an exceptional site for Chardonnay.
From 2007 to 2012 the vineyard was farmed according to LIVE specifications and beginning in 2013 began organic farming (not certified). The vineyard has been exclusively dry-farmed since 2015 except for re-plants.
In 2017, an acre of clone 777 was converted to Wädenswil and 114 as these clones seem to do well at this site and an acre of clone 667 was converted to Chardonnay.
Red Electric wines are available at www.redelectricwines.com.
Winery clients include Ayres, Four Graces, a side project of Project M, and Vincent Wine Company, Red Electric keeps one-third of the fruit and all of the Chardonnay.
Previous reviewed 2018 vintage wines still available: 2018 Interurban Armstrong Vineyard Pinot Noir 93, 2018 The Pulse Armstrong Vineyard Pinot Noir 92, 2018 TGV Armstrong Vineyard Pinot Noir 95.
2019 was an exceptional vintage characterized by more precipitation, cooler temperatures with no heat spikes. Red Electric was able to pick at different times with a relaxed harvest. Douglas told me, "We have a natural density to our fruit offering classic Ribbon Ridge bramble, blackberry, orange peel and lavender.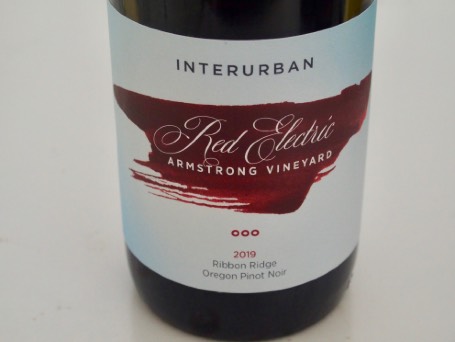 2019 Red Electric Interurban Armstrong Vineyard Ribbon Ridge Pinot Noir
13.7% alc., pH 3.62, TA 0.55, 670 cases, $28. A blend that reflects the entire Armstrong vineyard composed of every block and clone of Pinot Noir in the vineyard. The wine is intended to be more open and immediately enjoyable than the other blends. Aged 18 months on the lees in French oak barrels, 9% new and 20% one-yearold with the remaining 4-years-old or older. · Moderately dark garnet color in the glass. Instantly gratifying in a mid-weight plus style offering inspired aromas of dark red cherry, Marionberry and classic RR bramble. A wine with gracious power, offering flavors of dark cherry and purple and black berry with welcome spice. Easygoing, with tame tannins, wellintegrated oak, and a clean lengthy finish. Still superb when tasted the following day from a previously opened bottle. (Note: this is one helluva value in premium Pinot Noir!) Score: 94
2019 Red Electric TGV Armstrong Vineyard Ribbon Ridge Pinot Noir
13.8% alc., pH 3.65, TA 0.52, 140 cases, $70. A selection of barrels that changes composition every year. It is created through many blending trials. In this vintage, the Dijon clones were the most compelling and this wine is predominantly clone 114 (47%) with the remainder from clone 777 (28%), clone 115 (14%), and small amounts of Wߐdenswil (9%) and Pommard (2%). 11% whole cluster. Aged 18 months exclusively in French oak barrels, 17% new, 19% oncefilled and the remaining barrels neutral. · Moderate garnet color in the glass. This wine is more red fruit toned than the Interurban. Aromas of red cherry pie from the oven with added hints of strawberry, spice and lavender. A very cohesive wine with more tannic backbone for aging than the Interurban bottling. Elegantly composed, with bright acidity and a very long cherry-driven finish. Still a little tight when sampled the following day from a previously opened bottle indicating some cellaring is advised. May deserve a bigger score over time. Score: 93