A Brief Fling with St. Innocent Pinot Noir
It has been quite some time since I had a fling with St. Innocent Pinot Noir. This well-established (1988) winery based in Jefferson, Oregon was founded by winemaker Mark Vlossek. The winery's focus is on vineyard-designated Pinot Noir from leased, heritage vineyards along with several white varietals and sparkling wines.
The winery's longevity is impressive. The first Pinot Noir was produced in 1988 with fruit primarily from Seven Springs Vineyard. In 1989, the first vineyard-designated Pinot Noir was offered from O'Connor Vineyard, now named Zenith Vineyard. Other special vineyards were added in time, including Freedom Hill, Temperance Hill, Shea and Momtazi. St. Innocent contracts for specific blocks that are grown specifically for the winery on a long-term basis.
In 2018, St. Innocent purchased a 47-acre property in the South Salem Hills and 15 acres of Pinot Noir and Chardonnay was planted in a newly established estate vineyard named Enchanted Way. A new winery and tasting room was completed in 2019. the tasting room is open Thursday-Tuesday with different experiences offered. For more winery information and to access the wines, visit www.stinnocentwine.com.
The name, St. Innocent, honors Mark's father, John Innocent Vlossak, who first introduced his son to the pleasures of fine wine.
After de-stemming, the winemaking relies on natural fermentation using larger 4-8 ton stainless steel and French oak fermenters to allow better control of the temperature of the ferments and tone down the fruitiness that accompanies cool fermentations. Pinot Noir is aged in new and used oak barrels for 11-16 months with a modest emphasis on new barrels (30% maximum). The Pinot Noirs typically have a desirable backbone of acidity and are known to be age-worthy.
2016 St. Innocent Temperance Hill Vineyard Eola-Amity Hills Pinot Noir
13.5% alc., 920 cases, $45. Grapes were 100% de-stemmed, fermented in large stainless steel and French oak fermenters with no SO2. Aged 16 months in French oak barrels, 29% new and bottled without fining. · Moderately dark garnet color in the glass. Aromas of bramble, dried herbs, roasted coffee beans and black cherry. Mid-weight flavors of blackberry, cassis, boysenberry, oak spice and grilled beef. Modest tannins with a boldly-fruited and very long finish. The core of fruit is delightful but there is too much oak overlay for my taste. Score: 90
2017 St. Innocent Shea Vineyard Yamhill-Carlton Pinot Noir
13.5% alc., 923 cases, $60. Released October 2021. Pommard and Dijon 115 clones. Aged 16 months in French oak barrels, 21% new. · Moderate garnet color in the glass. Nicely appointed aromas of red fruits, baking spices and cracker barrel. Very appealing, reaching new heights over time in the glass. Mid-weight flavors of black cherry and raspberry framed by gentle tannins and a lively acid spine. Impeccable harmony and a lingering finish. Score: 94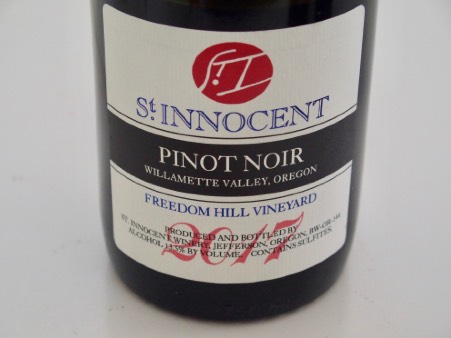 2017 Innocent Freedom Hill Vineyard Willamette Valley Pinot Noir
13.5% alc., 826 cases, $45. Released December 2021. Pommard, Wädenswil and Dijon 777 clones. Aged 16 months in French oak barrels, 28% new and bottled without fining. · Moderate garnet color in the glass. Deep and delectable aromas of blackberry, Hoisin sauce and woodland spice. Discreetly concentrated yet offering an onslaught of vivid black cherry and blackberry fruit flavors with a compliment of satisfying spice. Well-managed tannins and bright acidity frame the fruit harmoniously. Teasing oak is complimentary. The finish is gloriously persistent. A very special wine at this modest price. Score: 94