General Wine Briefs —Newsletter 12.27
Wine and Headaches A team of researchers at UC Davis and the University of California, San Francisco Medical Center is crowdfunding a new study to determine what components in red wine causes headaches in some people. The goal is to create lists of wines that cause headaches and wines that do not. A sensitive analysis of the chemical makeup of both kinds of wines may reveal the headache-causing chemicals and consumers can avoid red wines that contain those chemicals.
Wine May Provide Covid-19 Protection A recent study released in the journal Frontiers of Nutrition studied the health of an aging population in the UK. They found that red wine, white wine and Champagne may reduce the risk of getting Covid-19, but especially red wine. Drinking beer and cider may increase your risk of getting Covid-19, as well as drinking too much alcohol of any kind. The research did not pinpoint causative factors although the authors of the study speculated that it might be polyphenols.
Link Between Alcohol and Exercise Researchers at the Cooper Institute in Texas found that active, physically fit men and women are more than twice as likely to be moderate or heavy drinkers as people who are out of shape. The causal link is uncertain although it may indicate the more addictive personalities of those who exercise more or be due to the "licensing effect", where people who feel they have done something good such as run are more inclined to reward themselves with a drink.
Viability of California Vineyards at Risk The 2022 State of the U.S. Wine Industry report predicts that an increasing number of California vineyards will need to be removed as wineries are faced with the possibility that they will be making more wine than consumers can drink. Simply put, there are not enough young consumers becoming wine drinkers. An additional factor is climate change that threatens the viability of vineyards to grow Pinot Noir.
Bracelet to Monitor Alcohol Level As reported January 28, 2022, at www.thedrinksbusiness.com, and published in Alcoholism: Clinical and Experimental Research researchers at Penn State have developed an ankle bracelet to measure intoxication by transdermal measuring alcohol concentration from sweat. This wearable sensor can help people learn when their drinking has reached a dangerous level. The concentration of alcohol in sweat is close to the concentration in blood. No product is available at this time as research continues.
The 'Sideways' Paradoxical Effect I read an interesting article at www.axios.com/pinot-noir-wine-demand-sideways-514b39bd-38ee-4dd0-b577-33353fef59f4.html, "How the movie 'Sideways' may have made pinot noir worse." Research published in the Journal of Wine Economics looked at agricultural data and found that pose-'Sideways' vineyards produced more Pinot Noir grapes in the valley areas of California that are not suited to growing Pinot Noir. Inferior grapes were then blended with wine produced from premium grapes grown in coastal regions so as to stretch production to accommodate the higher demand.
Into Wine Porn? Check out the ' Cult and Fine Wine Drinkers & Appreciators' Facebook group. I found out about this group through Tom Wark's blog Fermentation. Apparently, there are at least 1,500 wine geeks, mainly males, who lust over photos of rare and valuable wine bottles.
New Wine Search Engine Pix, now in startup Beta development, is similar to Wine-Searcher that I use regularly but attempts to be a newer, better version. I had a phone conversation with the CEO Paul Mabray last year about participating my licensing my content. There have been no follow-up discussions. Check out the site at www.pix.wine.
Ice in Your Pinot Noir? OnePoll conducted a survey for Woodbridge Wines and found that 67% acknowledged that they do not adhere to traditional wine etiquette. Nearly 50% admitted to drinking white wine at room temperature and 40% are guilty of filling their wine glasses to the top. 43% claimed they put ice cubes in their glass of wine. Many wine lovers feel guilty about pouring water or ice into wine. Besides the fact that the French do it, there are several good reasons to try it. If you are on a picnic and it is warm outside, the wine will taste too sweet so add some ice cubes to it. After a workout, mix four parts of water to one part white wine for a thirst-quenching tonic. If you are drinking a wine that is massive and hard (think Cabernet Sauvignon), thin it out with water, titrating the water until it tastes perfect. If the wine was expensive and you can't bear to impugn the pedigree of the wine, use a little Sauvignon Blanc instead of water.
Change in Alcohol Consumption in the US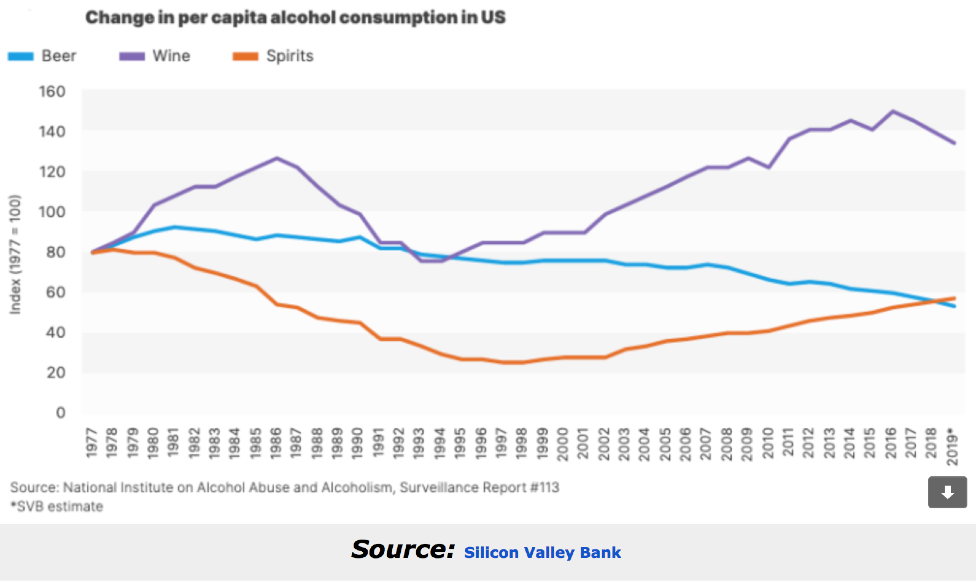 New Winemaker for FEL Wines FEL Pinot Noir and Chardonnay wines are sourced from vineyards in the Anderson Valley, but the winery is part of the Lede Family Wines in Yountville. Sarah Green has been promoted to winemaker after serving joining FEL as associate winemaker in 2017. Her experience includes stints working harvests in New Zealand, the Sonoma Coast and Western Australia and most recently as an assistant winemaker at Donelan Family Wines in Santa Rosa.
Pinot Noir has the Most Seductive Aromatics Jamie Goode has said that aromatic compounds in wine are actually present in grapes, survive fermentation, and make it into the wine. But grape juice does not smell much like wine. Other aromas are made by the yeasts during fermentation, some come from the oak barrel, and some from microbes that grow in the wine. Around 800-1000 smells are available to the human nose but not all of them are above the threshold level where suddenly we are able to smell them or identify them. Sensory scientist Vincente Ferreira says that wine has a palate of different aromas that are difficult to define and are perceived differently by different people. As the alcohol level goes up, many of the aroma compounds are less likely to leave the wine and so higher alcohol wines tend to be less aromatic. Fruity compounds such as esters are effectively masked by higher levels of alcohol. In summary, the aroma of wine is based on a complex interplay between the nose's olfactory molecules, all working together in concert with each other, but also with components of the wine. My experience is that the most seductive aromas of Pinot Noir are very difficult to achieve in a finished wine and present foreplay to drinking that is highly unique to Pinot Noir. In addition, Pinot Noir is a chameleon and the aromatic profile may change from week to week, making Pinot Noir is so evasive yet so alluring.
2021 Grape Crush Report The 2021 Preliminary Grape Crush Report for California published this month revealed a harvest of 3,858, 841 tons of wine grapes, up from 2,016,959 tons in the smoke-affected 2020 harvest (up 10.70% from 2020).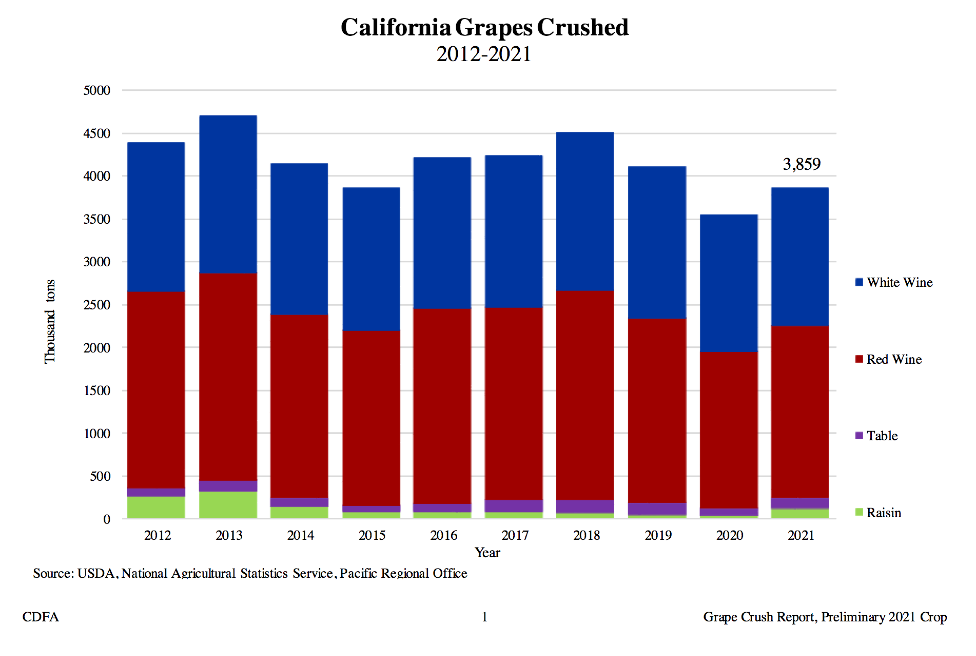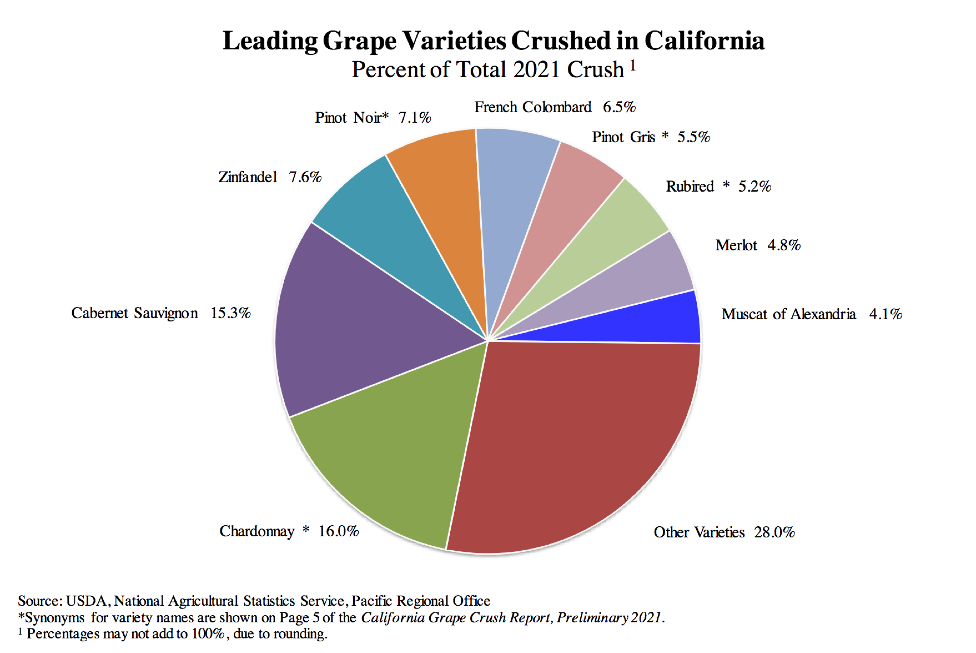 Nicholas Molnar Died January 11, 2022 Molnar was one of many Hungarian athletes who defected after the Soviet Union defeated the nation's revolt in 1956. Molnar's wife was an Olympic gold medal winner in gymnastics and was invited by Sports Illustrated to the United States to tour the country. Molnar became very good in this country at selling life insurance. One of his contacts was Robert Mondavi who told him in the late 1960s that Napa Valley was destined to become a major wine-producing area. Molnar began buying land and one of his best acquisitions was a 100-acre plot acquired in 1973 near San Pablo Bay in the Carneros district where he planted Poseidon Vineyard. At the time, the area was considered too cold and foggy for viticulture and was mainly used for sheep grazing, but it eventually proved to be an excellent place to grow Pinot Noir and Chardonnay grapes. Over the subsequent 30+ years, Molnar supplied grapes to many notable wineries including Joseph Phelps, Heitz Cellars, Sterling, Pride Mountain, Acacia and Mumm Napa Valley. The Molnar family also owned Hungarian cooperage producer Budapest Kadar Tokaj. There is a rumor that local Carneros legend, Boonfly, is buried in Poseidon Vineyard.
Taste of Sonoma Mark your calendar for the annual celebration of all things wine and food in Sonoma County. Taste of Sonoma, produced by Sonoma County Vintners with Presenting Partner Vintec, will be held live and in-person on June 25 on the grounds of Kendal-Jackson Wine Estate & Gardens. There will be more than 100 participating wineries offering more than 60 varietals, numerous food trucks, live music, guided wine seminars, a beer garden and themed lounges. Tickets will go on sale in March and range from $180 to $210 per person on the Taste of Sonoma website.
World of Pinot Noir Last call for this annual event that originated in 2001 and is to be held this year on March 3-5 in Santa Barbara at the Ritz-Carlton Bacara. Well over 200 Pinot Noir producers from around the globe will be present. Tickets are still available for many of the 20 events - visit www.worldofpinotnoir.com/ tickets. All attendees must show proof of vaccination or a negative COVID-19 test. If you can't attend, a silent auction will be held online beginning at the end of February on the World of Pinot Noir website.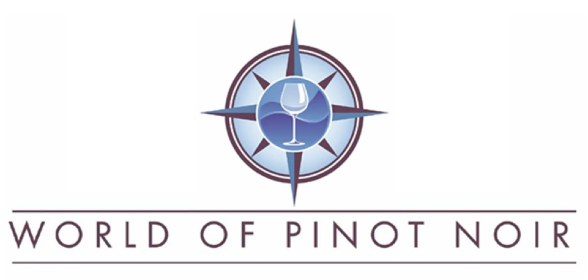 National Drink Wine Day was February 18 I discovered a few interesting facts about wine at www.nationaltoday.com. 42% of Americans surveyed prefer red wine. 16% of Americans do not know anything about the different types of wine. When asked which type of wine was their favorite, respondents said Merlot (18%), Zinfandel (16%), Chardonnay (13%), Riesling (9%) and Pinot Noir (8%) with Pinot Gris and Cabernet Sauvignon tied (6%), and Syrah, Malbec, Sauvignon Blanc (all 3% or less). Almost 75% of Americans agree that 2 glasses of wine is plenty but 6% drink an entire bottle at one sitting (37% have finished a bottle of wine by themselves).