None.

Of interest: Jimmy Leyden's granddaughter writes, "After my grandparents acquired their property, a local building contractor who was bidding on a new home construction at the site, said, ' You folks are building on my old courtin' hill.' Back in the olden days courting couples would come up this hill for the beautiful view and a little 'privacy.'" Jimmy Leyden was a colorful character whose background included music teacher, musical arranger for the Glenn Miller Orchestra, marine flight instructor, and jingle master (wrote short jingles for television advertisers).



Freedom Hill Vineyard

Owners: Dan and Helen Dusschee.
Location: In the foothills of the Oregon Coast mountain range about 5 miles northwest of the small town of Monmouth and just south of Dallas in an area mostly planted to prunes when the vineyard was established. Technically located in the Eola Hills but lies just outside the southwestern border of the Eola-Amity Hills AVA but in the Mt. Pisgau of Polk County AVA.
Planting: The vineyard was established in 1981 and the Initial plantings of 13 acres of own-rooted Pinot Noir were in 1982. Most of the first harvest in 1985 went to Amity Vineyards. Beginning in 1995, the phylloxera- infected vines were replaced with grafted rootstock. The vineyard now consists of 92 planted acres of which 76% is Pinot Noir, 16% is Chardonnay and the remainder is Pinot Blanc and Tempranillo.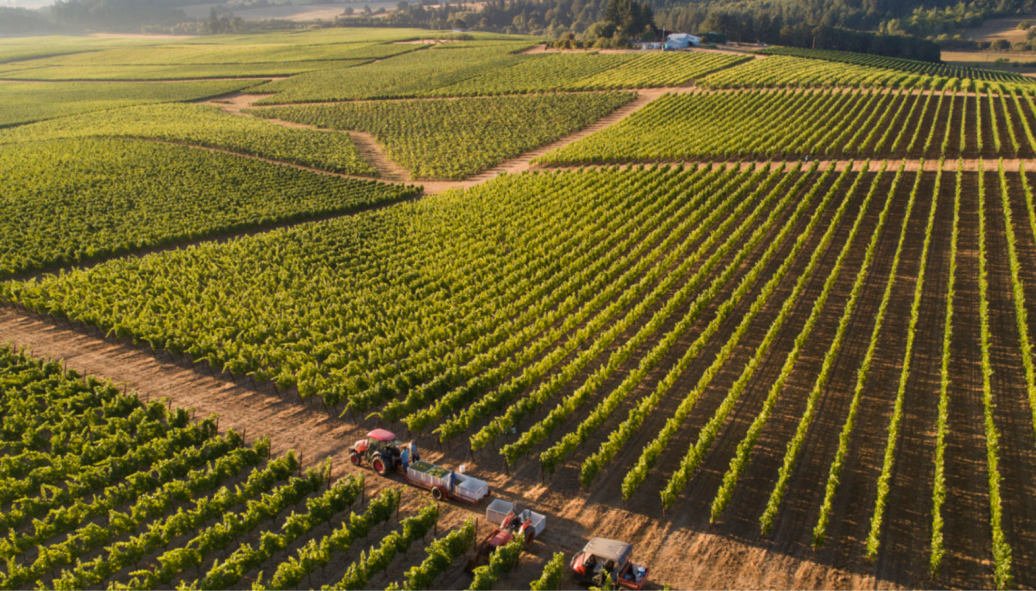 Freedom Hill Vineyard

Pinot Noir scion: Original scion unknown.
Soil: Marine sedimentary (Bellpine).
Farming: Don and Helen's son, Dustin, took over farming responsibility in 2015 and transitioned the vineyard to organic farming.
Winery clients: Devona, Evesham Wood, Ken Wright Cellars, Kelley Fox Wines, Lange Winery, Mark Ryan Winery, Purple Hands Wine, Silvan Ridge, St. Innocent, Walter Scott, and Patricia Green Cellars (9 acres sourced planted to Pommard, Dijon 115 (2004) and Coury clone (2000).
Old Vine bottlings: None. The Patricia Green Cellars Perspicacious Cuvée Freedom Hill Vineyard Pinot Noir is not an "old vine" bottling per the definition in this article but is a special wine worth pointing out.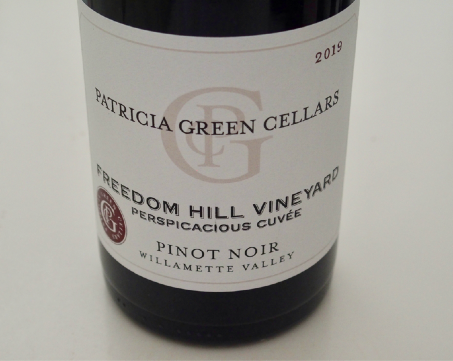 2019 Patricia Green Cellars Perspicacious Cuvée Freedom Hill Vineyard Willamette Valley Pinot Noir
13.3% alc., $150. One fermenter of Dijon 115 from the Heritage Block. First effort for this wine. 100% whole cluster fermentation. Aged in 25% new French oak barrels. · Dark garnet color in the glass. Waves of ripe fruit perfume including black cherry and blackberry along with woodsy spice and floral lift. Richly fruited in a mid-weight style sporting flavors of black plum, boysenberry and blackberry with a rare beef, umami tone. There is quenching acidity and wholesome tannins, and a very long finish with trailing tannins. The whole cluster blends seamlessly into this wine. Spectacular when tasted the following day from a previously opened bottle. An excellent reflection of the terroir of Freedom Hill Vineyard based on my experience in tasting many wines from this vineyard. Score: 96
Temperance Hill Vineyard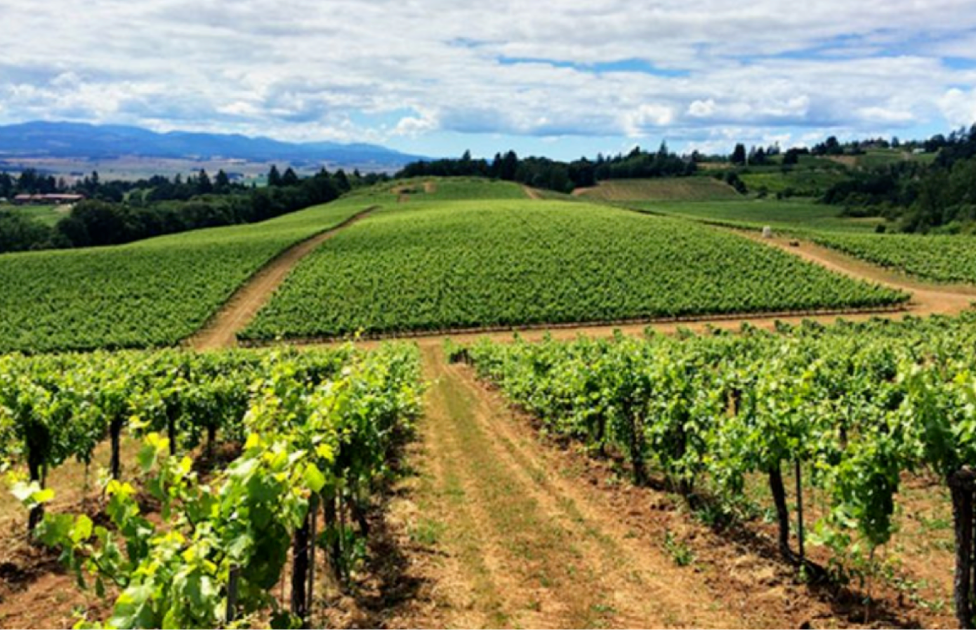 Temperance Hill Vineyard

Owners: Dr Edward Koo and his wife Lin Shen.
Location: 15 miles north of West Salem in the Eola-Amity Hills AVA.
Planting: The original Pinot Noir plantings, established between 1981 and 1983, are in three blocks: Front Block, The Flats Block, and The West Field Block. West Field is planted to own-rooted Wädenswil and the other two blocks are own-rooted Pommard. All of these plantings are suffering from grapevine trunk disease (ESCA) and phylloxera and both replanting and interplanting of grafted vines were performed in the 1990s and early 2000s. About 20 acres or roughly 40% of the original own-rooted Pinot Noir vines are still producing. Dijon clones 113, 114, 115, 667, 777 and 943 and the Swan clone have been added so that currently there are 80 acres of Pinot Noir and 20 acres of Chardonnay, Pinot Gris, and Aligote. The original plantings of Gewüztraminer have been replaced.
Pinot Noir scions: Own-rooted Wädenswil and Pommard.
Soil: Nekia, Rittner and Jory. The site is believed to be the remnants of an ancient volcano.
Vines: The original Pinot Noir vines have 12' x 8' spacing on a high wire hanging trellis. Grafted vines have been added at 4' in-between. The 1990s plantings that are mostly grafted are on 10' x 5' spacing on upright vertical trellis. Replanting that began in 2000 is all 8' x 4.6' and 4' in-row vine spacing, 1550 vines per acre, with a single arm Guyot upright vertical trellis. The vineyard is planted on many different slopes of varying exposures, overlooking the Van Duzer Corridor at 660'-860' elevation.
Farming: Certified Salmon-Safe and certified organic. The vineyard has been managed by Dai Crisp, who has farmed organically for 35 years, since 1999. The vineyard is dry-farmed.
Winery clients: Bergström, Brooks, Division, Elizabeth Chambers, Evesham Wood, Goodfellow, King Estate, Lavinea, Love & Squalor, LUMOS, Pike Road, St. Innocent, Vincent, and Walter Scott.
Old Vine bottlings: There is some old vine block fruit in the LUMOS Rosé. The oldest plantings are coveted by long-term contract holders but I know of no winery client that produces a Temperance Hill Vineyard Pinot Noir that only includes fruit from the original plantings. I have included a review here of a stellar 2019 Goodfellow Temperance Hill Pinot Noir sourced from 1994 plantings known as the Pumphouse Block.
Of interest: The name of the vineyard came from the horse with the same name that won the 1980 Belmont Stakes where he defeated Kentucky Derby winner Genuine Risk and Preakness Stakes winner Codex at odds of 53-1.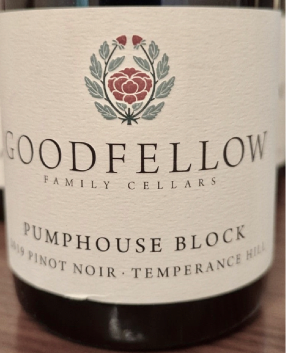 2019 Goodfellow Pumphouse Block Temperance Hill Vineyard Eola-Amity Hills Pinot Noir
12.7% alc., 100 cases, $52. · Moderately light garnet color in the glass. A complex woodsy perfume with aromas of tilled earth, Herbs de Provence, cherry and rose petal. Striking purity of well-spiced black cherry fruit in a mid-weight style with exquisite balance predicting age ability. The added flavors of spice and peppercorns embellish the experience. A giving wine initially, but improves in the glass over time. A complete wine with an exceptionally long and uncommonly gratifying aromatic finish. Score: 96
Seven Springs Vineyard
Owners: Al MacDonald and Joni Weatherspoon founded this vineyard over the years 1982-1984 (all three years have been cited as the initial plantings). For a brief period following the divorce of the vineyard's founders, the Seven Springs Vineyard was cleaved in two. Joni retained the vineyard's upper half and the name Seven Springs, while Al christened his lower half "Anden," a linkage of their children's names Andrew and Kristen. The entire vineyard was reunited as Seven Springs Vineyard when Evening Land Vineyards obtained an exclusive lease for the property in 2007 and became the sole producer of Pinot Noir, Gamay Noir, and Chardonnay from this vineyard.
Location: On the eastern side of the Eola Hills range in the Eola-Amity Hills AVA, 10 miles north of Salem. The picturesque site is nestled against a forest of Douglas fir with views eastward toward Mt. Hood.
Planting: The oldest, own-rooted Pommard vines were planted in 1982 although 1984 has also been cited and became the backbone of the winery's Seven Springs Estate Pinot Noir bottling labeled "Anden." This block was pulled out after the 2017 vintage due to phylloxera. The vineyard had been devastated by phylloxera and the Evening Land owners began revitalizing and replanting of the vineyard in 2007. The plantings of Pinot Noir since 1984 were as best as I can determine as follows: own-rooted Pommard in 1988, Pommard and Dijon 115 both on 3309 rootstocks in 1996, Clos de la Foret Block of Dijon 777 and Pommard on 3309 rootstocks in 2002, East Ridge Block B was planted by Dominque Lafon of Comte Lafon in Burgundy that is a unique mixture of many variations of the Dijon clone intermixed (selection massale) to mimic the diversity found in Burgundy in 2007, and Dijon on Riparia rootstock mix and Wädenswil in 2008. There is a 3-acre block of Gamay Noir (Upright Pinot) that dates to the original plantings and is among the oldest Upright Pinot vines in North America. The vineyard is also well-known for Chardonnay including wines from the 1995 plantings of Dijon clone 76 Chardonnay.
Original Pinot Noir scions: Own-rooted Pommard and Wädenswil clones.
Soils: Volcanic Jory and Nekia.
Vines: East-facing moderate slope at 350'-650' elevation.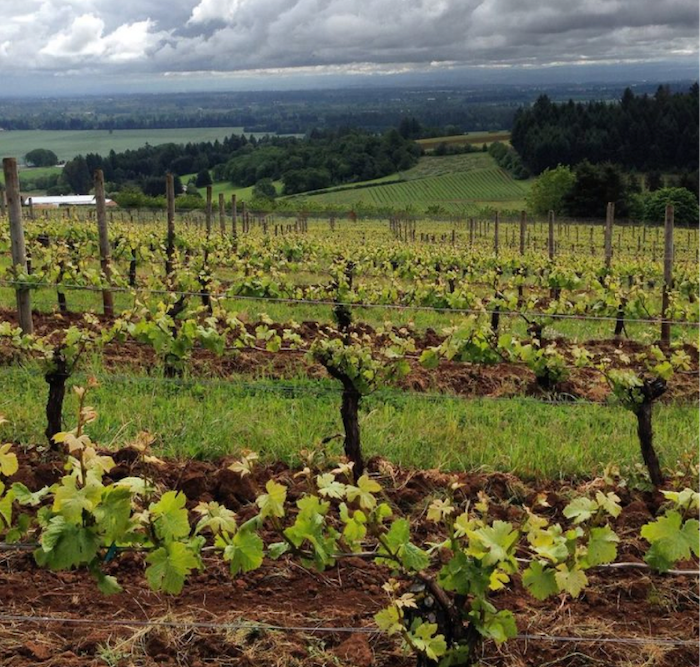 Seven Springs Vineyard

Farming: Starting in 2007, vast sections of the vineyard were replanted and biodynamic farming was begun. Dry-farmed and LIVE certified.
Winery clients: In the early years, the fruit was shared among some of the best wineries in the Willamette Valley. More recently, the clients have been limited including Failla Wines, Lingua Franca, and Walter Scott Wines (from selection massale plantings of Dijon clones).
Old Vine bottlings: Evening Land Anden Seven Springs Vineyard Eola-Amity Hills Pinot Noir (last vintage 2017). Evening Land Seven Springs Vineyard Eola-Amity Hills Gamay.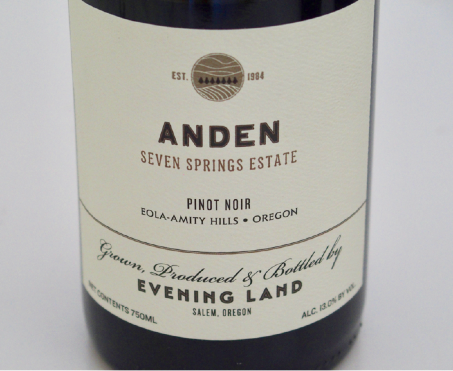 2017 Evening Land Anden Seven Springs Vineyard Eola- Amity Hills Pinot Noir
13.0% alc., 159 cases, $100. This wine celebrates the history of Seven Springs Vineyard's original 1984 plantings of own-rooted Pommard and Wädenswil clones. 100% whole cluster, indigenous fermentation in open-top concrete fermenter. Aged 16 months in neutral Ermitage oak barrels. · A fitting sign-off for a wine composed of fruit from 33-year-old vines. Moderately light garnet color in the glass. Welcoming aromas of black cherry, red rose petal, pine sap and beguiling spice. Crisp, clean and sleek, featuring a mid-weight core of luscious dark cherry fruit subtlety spiced and revealing understated power. The wine brings a harmonious composure tendered by gossamer tannins and good verve, with a lengthy, cherry-infused finish that urges another sip. Score: 94
Other Notable Vineyards Planted in the Early 1980s
1981 - Resonance Vineyard (20 acres, massale selection, Pommard and Wädenswil, and 777)
1982 - Broadley Vineyards, Cristom Marjorie Vineyard, Rex Hill, Ridgecrest Vineyard, Van Duzer Estate
(1982-1984), Witness Tree (Lower Vineyard has 30 acres of own-rooted Pommard clone).
1983 - Caldwell Hill, Canary Hill (owned by Ken Wright, Pommard clone), Elton Vineyard, Leland Vineyard (A 5-acre own-rooted vineyard near Canby tended by Bruce and Virginia Weber since inception. Early on, the fruit went to Dick Erath and more recently to Erath/Ste. Michelle). (Prince Hill Vineyard, Yamhill Valley Vineyards (second oldest vineyard in the McMinnville AVA)
1984 - Clos Electrique (estate vineyard of Cameron Winery with multiple clones of own-rooted Pinot Noir)