Joe Rochioli Jr., the Humble Patriarch of Russian River Valley Pinot Noir
"Possessing an indefatigable devotion to his vineyard, Joe's personal history is marked by numerous notable achievements that inseparably link him to the history of Pinot Noir in the Russian River Valley."
Joe Rochioli Jr. was the quintessential dedicated Italian winegrower whom I greatly admired. I met with him on three occasions (2005, 2011, and 2015), usually in one of the rows of his historic West Block Pinot Noir vines, when he was very generous with his time. We did not discuss his wines, but rather his life story and the farming of wine grapes which was his passion. I wrote an extensive biography on him in 2020, www.princeofpinot.com/ article/2237/, referring to him as "no ordinary Joe," not realizing until recently he had suffered a stroke later that year that eventually led to his demise at age 88 on August 18, 2022, nearly on my birthdate of August 19. My obituary of Joe Rochioli Jr. (referred to as "Joe") follows.
The history of the Rochioli family begins with Joe's grandfather, born in Northern Italy and left at a very young age on a doorstep in town. The family that initially cared for him was extremely poor and eventually sent him to an orphanage. Since he had no sir name, he was given the sir name "Rochioli" (Ro-kee-o-lee) at the orphanage, a word in Italian that had no meaning. Joe's father, Joe Rochioli Sr. was also born in Northern Italy. He immigrated to the United States in 1912, following in the footsteps of many notable Italian-American families that became legends in the Sonoma County winescape.
Joe was born in Sebastopol in 1934. His family moved to the Wohler Ranch adjacent to the Russian River Valley in Healdsburg in 1938. Joe's family leased land from the Walters family who owned the ranch and grew hops, grapes, prunes and vegetables. The Rochioli family was very poor but Joe Sr. was able to buy portions of the Wohler Ranch he had been leasing until he eventually owned 162 acres.
Joe's family only spoke Italian so when Joe entered school at a one-room schoolhouse two miles up the road from his home, he was ridiculed for his lack of English and his homemade lunches. Life was very hard with Joe working daily on his father's farm after school in his formative years. Joe grew to be 6-foot-tall and weighed 180 pounds, and was very athletic, starring in football and baseball at Healdsburg High School although he had not played those sports growing up. After college at Cal Poly San Luis Obispo and a stint in the U.S. Army, he was a key player for the semi-pro baseball team, the Healdsburg Prune Packers.
By the time Joe returned home after leaving the service in 1959, Joe Sr. had replaced 50 acres of grapevines that dated to the 1890s consisting mainly of a field blend which was popular with Italian winegrowers with French Colombard (high quality and sold to large wine companies like E.& J. Gallo) and Cabernet Sauvignon (a wrong choice for the region's climate as it failed to ripen). Grapes provided little income so Joe Sr's primary crop had been hops. When the hops business declined in 1953, Blue Lake string beans were planted and Joe Sr. became one of the largest string bean growers in California. Interplanting of string beans (two rows of string beans between two rows of grapevines) continued until the beans were all pulled out in 1963.
Joe's father turned over the wine grape growing to him but resisted Joe's interest in planting grape varieties suitable for the Russian River Valley terroir. Varieties such as Pinot Noir produced less crop and did not attract money in those days so it was less profitable. However, Joe knew that the ranch land, which had seven feet of fertile soil over Yolo sandy loam and a compatible climate, was ideal for certain grape varieties. He finally talked his father into planting Sauvignon Blanc in 1959.
Joe took budwood from a row of Sauvignon Blanc vines at UC Davis that he deemed best and planted 10 acres on the Rochioli property. The vines were so vigorous that he had to trellis them on a Double Geneva Curtain configuration. The original vines are still producing today and the wines from these vines have won more awards for Rochioli Vineyards & Winery than any other wine produced. The clone will forever remain a mystery as the sourced vines at UC Davis were pulled out.
Joe begged his father to plant Pinot Noir. Joe was aware of the quality of French red Burgundy and had a hunch that the Pinot Noir grape would do well at the Rochioli ranch. After Joe Sr. died in 1968, Joe bulldozed the 8 acres of the Colombard and Cabernet Sauvignon vines and planted Pinot Noir. Many locals thought he was crazy but the local farm advisor was supportive.
Joe wanted to concentrate on French Burgundy varietals, specifically Pinot Noir. He believed the future of grape growing in the Russian River Valley was in varietal wines rather than bulk wine blends that were the norm of the 1960s.In neighboring Napa Valley in the 1960s, practically every maker of premium wines produced a varietally-labeled and often vintage-dated Pinot Noir, but good examples were rare and often underwhelming but to warm, misplaced vineyard sites and winemaking that was inappropriate for the Pinot Noir paradigm. By the early 1970s, with rare exception, California Pinot Noir was deemed unsuitable by many wineries as a stand-alone varietal and those wineries ceased production of Pinot Noir. Nevertheless, Joe was resolute in his vision.
Pinot Noir budwood was scarce at the time but Joe was able to locate a Frenchman in Napa who reluctantly gave him some "suitcase" budwood that was likely French Pommard. Joe planted 4 acres of East Block Pinot Noir in 1968, one of the earliest plantings of Pinot Noir in the Russian River Valley. (The first well-documented planting of Pinot Noir in the Russian River Valley was by Charles and Helen Bacigalupi, who, upon the advice of Sonoma County farm advisor Bob Sisson, planted Pinot Noir in 1964 at their Healdsburg home ranch using presumably Pommard budwood obtained from Karl Wente's vineyard in Livermore.) In 1970, 4 acres of West Block Pinot Noir was planted using budwood from Karl Wente. Most likely, this was a form of UCD 4 Pommard. Chardonnay vines were first planted on the ranch in 1972.
Joe's first viable crop of Pinot Noir was in 1971 and was sent to a co-op crush facility in Windsor for E.& J. Gallo, the only buyer at the time. Joe recalled, "I was sick sending my beautiful Pinot Noir grapes from East Block and West Block to Gallo who then threw the grapes in with other varietals, mainly Zinfandel and Petite Sirah from Sonoma and the Napa and Central Valleys ("Gallo garbage"), to make his highly successful Hearty Burgundy. It wasn't until later that Joe had acquired contracts for his grapes.
In 1973, Davis Bynum, a San Francisco newspaperman, bought the 84-acre River Bend Ranch on Westside Road, converted an existing hop kiln into a winery and launched Davis Bynum Winery. He purchased all of Rochioli's Pinot Noir from the 1973 vintage and put the name Rochioli on the bottle's labels. The Davis Bynum Rochioli Pinot Noir was the first contemporary Pinot Noir wine from the region labeled as originating in the Russian River Valley.
In 1976, Joe made 1,000 cases of Pinot Noir and Chardonnay at Davis Bynum under the Fenton Acres label. Beginning in 1979, he sold some West Block Pinot Noir to Williams Selyem who made it famous. Since 1997, when the winery was sold, Williams Selyem has only received Pinot Noir from newer and old plantings in the River Block.
Gary Farrell, the winemaker at Davis Bynum, made 50 cases of 1982 Rochioli Pinot Noir from West Block and Allen Vineyard which launched his Gary Farrell label. That same year, he crafted 150 cases of Pinot Noir at Davis Bynum Winery using grapes sourced from Joe to launch the J. Rochioli Vineyards & Winery wine brand (label below). The 1983 and 1984 vintages of J. Rochioli Pinot Noir were also vinified by Gary Farrell at Davis Bynum winery.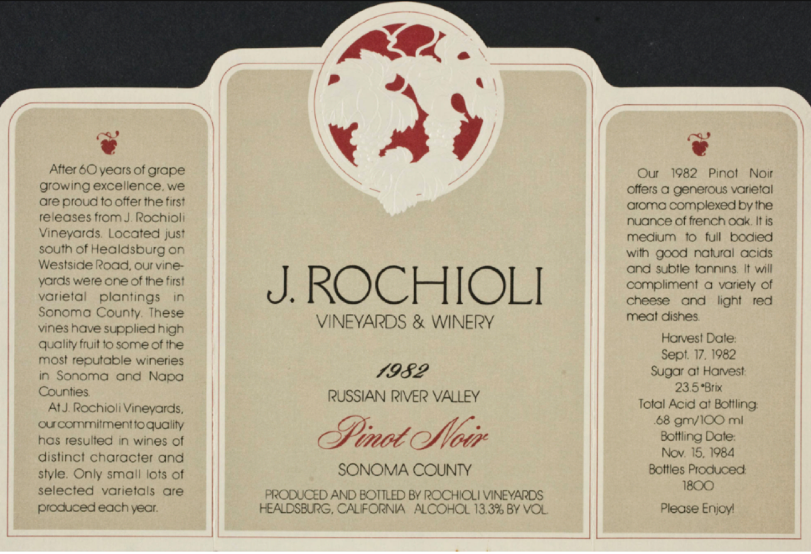 In 1982, Joe's son, Tom, became disenchanted with his job in the banking business world and decided to join his father. He utilized his business acumen to build a 10,000-case winery that was constructed on the Rochioli ranch in time for the first crush at Rochioli in 1985. The J. Rochioli Vineyards & Winery brand name was suggested by Tom initially to imply a family operation.
Tom made his first wines in 1985 at the new Rochioli winery with the supervision of Gary Farrell. He completed the 1986 Estate wines on his own and has been the only winemaker at Rochioli ever since. Tom had an intuitive sense of how the Rochioli fruit should be handled and achieved instant success. In addition to wine production, Tom has controlled every aspect of the winery business. He lives on the property in a house on the hill above the Rochioli estate that Joe built entirely himself over a two-year period. Tom became very involved with Joe in the vineyard management as well and has supervised the vineyard planting over the past twenty years. Joe (left) and Tom are pictured below.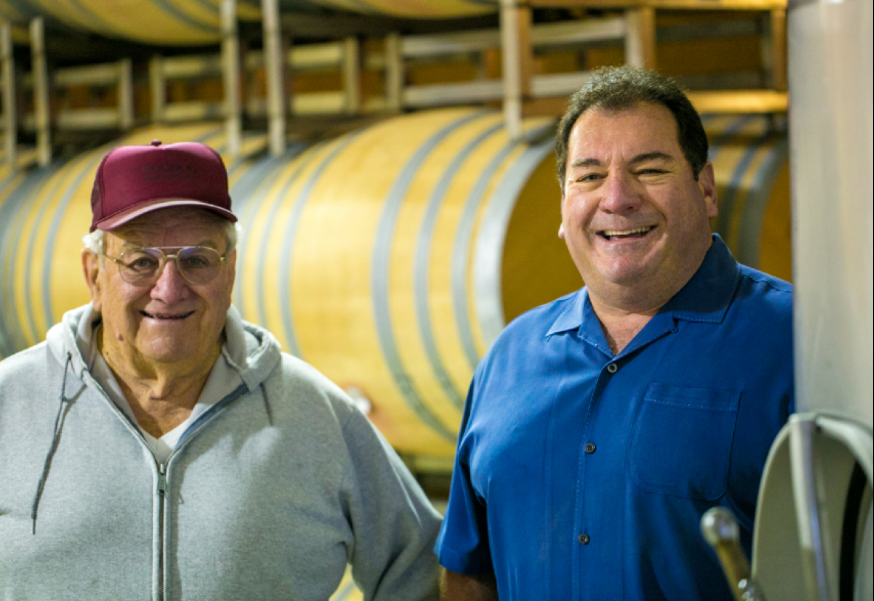 The demand for Rochioli fruit really took off when the 1985 Williams Selyem Rochioli Vineyard Russian River Valley Pinot Noir won a Double Gold Medal and the Sweepstakes Award at the 1987 California State Fair Competition, surpassing 2,316 other wines submitted by 416 wineries. The wine was sourced from the original West Block plantings (this was not evident on the label) and was the first vineyard-designated Pinot Noir produced by Williams Selyem. 295 cases of this wine were made and it sold for $16 a bottle! Further recognition came in the same year when the Wine Spectator named the 1985 J. Rochioli Vineyards & Winery's first estate Pinot Noir the "Best Pinot Noir in America."
Joe was soon able to demand premium prices for his grapes. He continued to sell fruit mainly to Williams Selyem and Gary Farrell Vineyards & Winery (and Alysian Wines when Gary Farrell founded that label) and for years these two wineries were the only ones permitted to put "Rochioli Vineyard" on the label. Today, the permission has been extended to Miura, Ramey Wine Cellars and Terry Bering for his Castalia label. Terry has been at J. Rochioli Vineyards & Winery since 1990. and Cellar Master for the past 28 years.
Currently, about 50% of grapes harvested at Rochioli and declassified bulk wine each year are sold to other wineries but not named as a source by the receiving winery. There are many other notable small prestigious producers of Pinot Noir in California who have begged for fruit but have had to settle for a place on a long waiting list. Cuttings from Rochioli vines are no longer sold or given away.
Joe was the epitome of a hard-working farmer who had no interest in money. For most of his life, he rose at 4:00 am and worked 10 hours a day, 6 days a week. Joe performed almost all the equipment repairs required on his farm including welding. He crafted most of his own implements, rebuilt engines, restored plows and cultivators, and designed farming tools like cane cutters.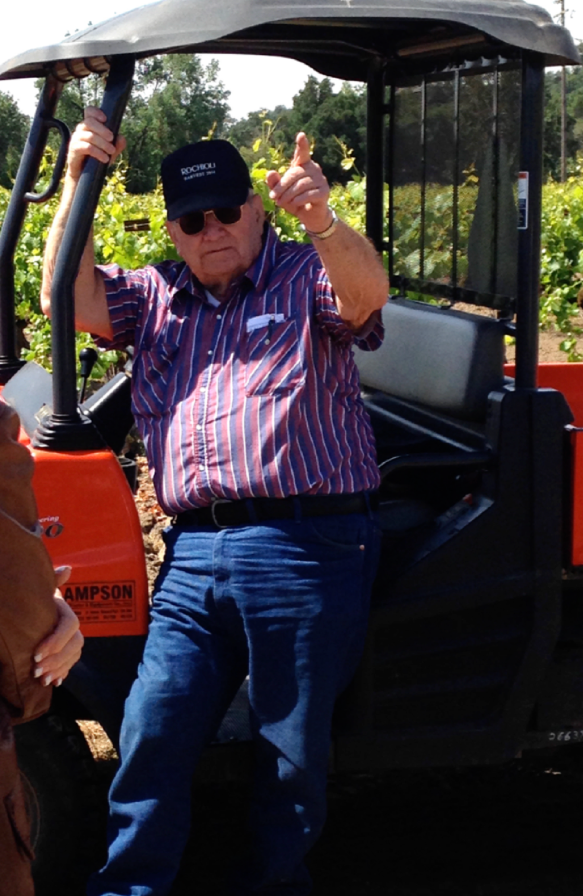 With time, Joe developed numerous physical problems caused by the years of hard labor and required at least ten surgeries including ones on his back, knees and shoulder. Throughout his life, he spurned vacations, but when I saw him in 2005, he was leaving for Hawaii with his extended family for a hard-earned rest.
Joe is responsible for a number of important innovations in grape growing that originated from his acute intuition and common sense as well as a number of awards for his viticultural acumen:
(1) Joe knew early on the importance of limiting yields to improve the quality of the resultant wines. He found, for example, that the Pommard vines in his vineyard could produce five or six tons per acre when young but the ripened grapes lacked color and flavor. Keeping yields well under four tons per acre greatly improved grape quality. Today, yields are often more like 1.5 tons per acre.
(2) Joe was one of the first winegrowers to pull leaves on the west (sunny) side of vines to reduce vigor and expose the grape clusters to sunlight. He first began performing this with his Sauvignon Blanc vines and found that it resulted in better quality wines. He then began pulling leaves on his Pinot Noir and Chardonnay vines. Leaf-pulling is now an industry-wide viticultural practice.
(3) Up until the 1970s, all grafting was done in nurseries by so-called bench grafting. With the increasing demand for vines, field grafts became the norm. Joe was able to field graft an extraordinary 500 vines per day and was in such demand that he budded practically every vineyard in the county through the years. He would travel the county in his 1947 International pickup that had a top speed of 35 mph to work in other vineyards. Vineyard owners simply would not trust anyone else to do the field grafting.
(4) In recognition of his innovative farming practices, he was awarded the prestigious Copia Wine Grower of the Year Award in 2003. In October 2009, he received the Lifetime Contributor to Sonoma County Agriculture Award. In October 2017, Joe was given the "Methuselah Award" for his lifetime contributions to Sonoma county's wine industry.
(5) Despite his devotion to his vineyard, Joe found time to give back to his community. He was a member of Healdsburg Future Farmers Fair Board of Directors, was one of the founding members of the Healdsburg Fair that is dedicated to supporting youth in agriculture, and was a member of the California Farm Bureau for over fifty years.

Joe was divorced in 1969 and married Vivienne Sioli, the girl he adored in high school (pictured below). Joe had two previous children, she had three, and between them, they have eleven grandchildren. In the Italian tradition, Joe and Vivienne hosted frequent family dinners on weekends with nearly forty family members in attendance.
Joe preserved much of his history including his father's horse saddles and horse carriage, a restored Model T truck, and his prized restored 1941 Chevrolet that he drove in college (pictured below).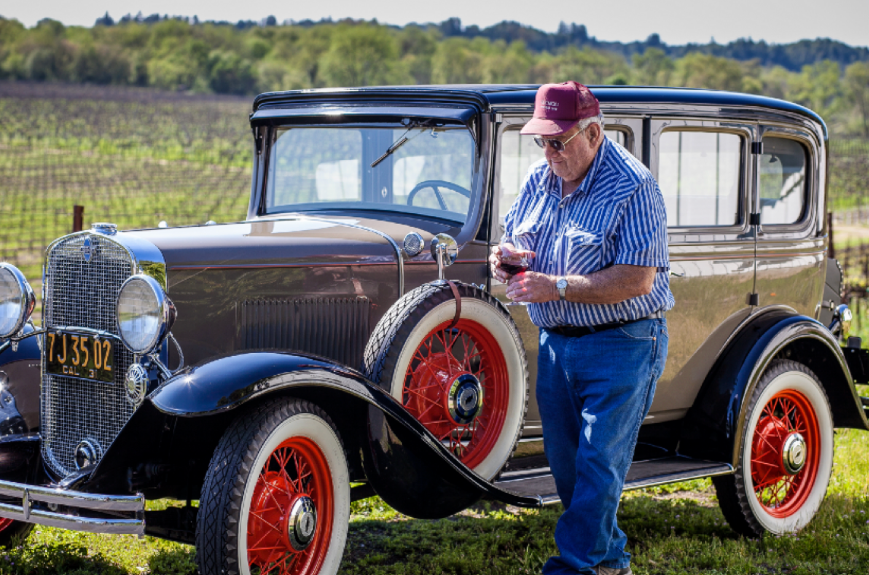 Joe was certainly no ordinary Joe and he leaves behind a history of superb wines that reflect his years of devotion to winegrowing. I have never met anyone like him and have never discovered another winegrower with such a remarkable story to tell. When asked how he produced such remarkably good wine grapes, Joe replied, "It's the combination of soil, climate, clones, instinct, and farming practices.
Joe's legacy is best summarized in his own words: "My father taught me the ethic of hard work. You work hard to eat and put a roof over your head. I used to dream about living to be 65 and becoming a millionaire. I've ended up with a great winery and good friends, and I am proud of what I've accomplished as a shy, little Italian boy who spoke no English."
Joe's funeral services were held on Wednesday, September 7, with full military honors and a big turnout.

References:
Multiple interviews with Joe were published previously in the PinotFile
Personal communications with Tom Rochioli
Healdsburg's Immigrants: An Anthology of 24 Local Histories, collected and edited by Shonnie Brown 2015
A Wine Journey Along the Russian River Valley, Steve Heimoff, 2005
"I'll Drink to That," interview with Joe Rochioli, Jr., www.vinography.com, episode 466
Joe Rochioli, Jr. on VIMEO, www.vimeo.com/22572188
Stewards of the Land (Russian River Valley), GrapeRadio Webcast, January 14, 2008 (James Beard Award)