Visiting Santa Cruz Mountains
For assistance in planning winery visits, maps, and a listing of the wineries in the Santa Cruz Mountains as well as a schedule of special events in the appellation, consult the Santa Cruz Mountains Winegrowers Association website at www.scmwa.com or call 831-685-8463.
To purchase Santa Cruz Mountains wine, contact the winery websites. There is a Santa Cruz Wine Club called Pinot Only! at www.santacruzwineclub.com. Four bottles of Pinot Noir from a variety of Santa Cruz Mountains Vintners are delivered to you twice a year (each shipment approximately $100 plus shipping and tax). There is a wine store in downtown Santa Cruz, vinocruz, which specializes in the wines of the Santa Cruz Mountains. They stock 150 wines from 60 wineries within the Santa Cruz Mountains including wines from several prominent wineries I did not discuss in this issue such as Cinnabar, Mount Eden, Salamandre, Savannah Chanelle, Soquel Vineyards, and Varner. Vinocruz has a tasting room as well. The website is www.vinocruz.com.
For very personalized trip planning and winery appointments, contact Laura Ness at www.higherf@got.net. She is a resident of the area and is a representative of the Santa Cruz Mountains appellation. She can advise you on places to stay, restaurants, and things to do in the region as well. You can read her features on the region at AppellationAmerica.com.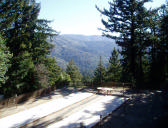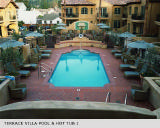 On my recent trip to the Santa Cruz Mountains I stayed at two different options for travelers to the area. The Villa Generosa (left) is a large, three bedroom home with gourmet kitchen, outdoor Jacuzzi, bocce ball, and gorgeous views located on Summit Road close to several wineries (www.villagenerosa.com). The Hotel Los Gatos is a very classy Spanish-style lodging in downtown Los Gatos within walking distance of many shops and restaurants (www.hotellosgatos.com). Both are highly recommended and both can now say "The Prince slept here."