Mayacamas Pinot Noir
Mayacamas Vineyards is one of California's heritage wineries. Known for its longlived Chardonnays and Cabernets, Mayacamas was one of the original artisan wineries and developed quite a cult following beginning in the 1970s.
The Mayacamas Mountains that divide the Napa and Sonoma Valleys were originally the home of the Wappo Indians who were stone age hunters. The first white settlers came to the future site of Mayacamas Vineyards on Mt. Veeder in the 1860s and built a barn which still stands. Years later, a German immigrant and pickle merchant in San Francisco, John Henry Fisher, planted a vineyard and built a stone winery here The winery had multiple uses including a summer home for his family and a ranch to raise and care for the horses he used to deliver pickles to his clients in San Francisco. His wines were loaded into barrels, driven by horsedrawn wagons 15 miles to the Napa River, and put onto ferry boats for the trip to San Francisco where the wine was bottled and sold.
In the early 1900s, the Fishers declared bankruptcy and the winery quickly fell into disrepair. In 1941, Jack and Mary Taylor purchased the land, restored and lived in the old stone winery, and renamed the estate, Mayacamas Vineyards.
The current owners, Robert and Elinor Travers, purchased the winery in 1968. They enlarged and improved the aging facilities, purchased adjacent land, and planted and replanted vineyards. Under their direction, the winery became famous for it's rich and tannic mountain-grown Cabernets. Today, there are 53 acres of vineyards planted on mountain slopes ranging from 1,800 to 2,400 feet above sea level. Production is about 2,000 cases of Cabernet Sauvignon (blended with a little Merlot and Cabernet Franc), 2,000 cases of Chardonnay, 600 cases of Sauvignon Blanc, and a small amount of Pinot Noir. The location yields small crops (less than a ton per acre) and small grapes resulting in wines of intense flavor and character. The winemaking style is intended to make wines that are not always flattering when young and benefit from aging, an old-fashioned concept in today's instant gratification world.
An insightful interview with Bob Travers by Alan Goldfarb was posted on Appellation America (www.appellationamerica.com) November 15, 2006. Travers calls himself a traditionalist who shuns high-alcohol wines. "The highest and best use of wine is with food. When they finally get there (mature), they (my wines) have a depth of character that high-alcohol wines don't have." Travers is one of the last in the Napa Valley to release his wines and notes, "It's always been my belief, and my findings have confirmed this, that the wines I like the best are also the ones that take substantially longer to age and mature. If they do live a long time, they develop different characteristics. If you have a good vineyard, its best to take it slow."
Wine writer, Matt Kramer, is a big fan of Mayacamas wines, citing their ability to "convey a sense of somewhereness," and "profound expressions of high-elevation Mount Veeder place." He continues, "Really, you can't do better than Mayacamas Vineyards for California wine profoundness."
I must confess that I have never drank a Mayacamas Pinot Noir. In James Laube's book, California Wine, he derides Mayacamas Pinot Noirs, saying the Pinot Noirs are "very light and herbal in style." Based on my singular experience described below, I could not disagree more.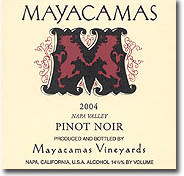 2004 Mayacamas Vineyards Napa Valley Pinot Noir
14.5% alc., approx 200 cases, $32, Winemaking at Mayacamas is unique for Pinot Noir. Fermentation lasts two weeks at 72-75 degrees. The wine is racked several times while aging for its first half year in 1000 gallon American oak casks, then spends a year in 60 gallon French oak barrels. Only 10% new oak is used and after the barrels are five years old, Travers shaves out the insides. The wine is bottled at 18-20 months of age and usually released for sale when four years old. Travers recommends savoring his Pinot Noirs between 7 and 12 years. The 2004 vintage was drinking well early so it was released in September, 2006. · This Pinot Noir is medium in body with a dark ruby color. The nose is alluring with dark fruits, herbs and anise. On the palate, there is a complex array of ripe Pinot fruits enhanced by plentiful earthy mushrooms. The texture is rich. The persistent finish reveals an attractive touch of oak and dusty tannins. A heady Pinot Noir with great charisma.
Mayacamas Vineyards is located at 1155 Lokoya Rd, Napa, CA 94558. The phone is 707-224-4030 and the website is www.mayacamas.com. There is a mailing list for the semi-annual newsletter. Visitors are welcomed Monday through Friday by appointment.