Lion's Pride RRV Pinot Noir
The Russian River Valley Winegrowers Foundation (RRVWF) have collaborated with El Molino High School to make and market the inaugural Pinot Noir from the school's one-acre vineyard in Forestville. The winemaking was directed by Merry Edwards who was assisted by the viticulture students at El Molino High School. Grapes were harvested in 2004 and crushed at Taft Street Winery. Only 6 barrels of this wine were made.
Half of the proceeds of the sale of the Pinot Noir will go to the agriculture and viticulture program at El Molino High School to help educate future vintners and growers. A good cause and a good Pinot Noir.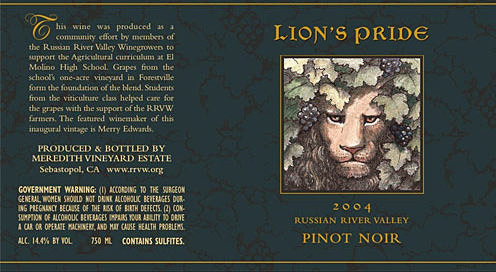 The wine may be reserved at $275 half case or $500 full case through the website: www.rrvw.org or email at info@rrvw.org. Wine pick up and payment are only allowed between 2/30/07 and 3/20/07.