Time of the Year for Champagne
The end of the year is often the time where thoughts turn to Champagne. Whether it be sitting watching a football game with a good blanc de blancs snacking on potato chips or buttered popcorn, or celebrating the New Year with a special prestige cuvee, Champagne is the wine of the season.
Champagne is unique among French wines in that it is named after the houses or marques that produce them. Styles can vary depending on the grape makeup. Blanc de blancs are made entirely from white grapes, specifically Chardonnay. Blanc de noirs are made entirely from dark grapes, either Pinot Noir and/or Pinot Meunier. Rosés are made from blending in some red wine or by a small amount of red grape skin contact. Most Champagne is a blend of Chardonnay, Pinot Noir, and Pinot Meunier in varying amounts, each of which has been fermented separately. Brut refers to a dry Champagne with 1.5% residual sugar; Demi-sec is medium-dry with 3.3%-5% residual sugar.
Champagne is full of lore and here are a few bits of trivia you can use over the holidays to impress your friends. Epernay was burned, sacked, or pillaged at least twenty-five times in the thousand years before the 17th century. Napoleon fought his last battles in Champagne. The day before Epernay fell to Russian and Prussian troops in 1814, Napoleon bestowed his own cross of the Legion of Honor on the mayor of the city, Mean-Remy Moet. Then he left for Paris and abdicated the throne. The term "beheading," which dates from the time of Napoleon, refers to the way Napoleon's officers opened Champagne bottles with their sabers. Moet & Chandon is the largest Champagne house, with 90 million bottles of wine aging in its cellars at any given time. Ruinart is the oldest Champagne house, dating to 1729. The pressure in a bottle of Champagne is 90 pounds per square inch, about three times that in an auto tire. The speed of a popped Champagne cork has been estimated at anywhere from 35- 100 miles per hour when it leaves the bottle.
For reading on Champagne, I recommend the following three books: Champagne. How the World's Most Glamorous Wine Triumphed Over War and Hard Times, written by Don & Petie Kladstrup (William Morrow, 2005, $24). 4000 Champagnes, written by Richard Juhlin (Flammarion, 2005, $40). Uncorked: The Science of Champagne authored by Gerard Liger-Belair (Princeton University Press, 2004, $15).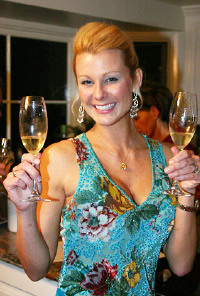 An impressive lineup of Champagnes was tasted on December 11, 2006. I am omitting detailed tasting notes as the event was rather informal in an afternoon of social conviviality. I think the value here is noting the top wines chosen by a consensus of the twenty members of the group. This can be used as a guide in your future purchases. Favorites are listed by ranking in red.
1985 René Collard Cuvee Speciale Rosé Brut (#3)
1988 Fleury Pére et Fils Siécle d'Or (#5)
1990 Le Grand Dame
1990 Perrier-Jouet Fleur de Champagne Brut
1990 Drappier Grande Sendrée Brut (corked)
1995 Charles Heidsieck Blanc des Millenaires Brut
1995 Nicolas Feuillette Millésimé Cuvée Spéciale Brut
1996 Jean Laurent Millésimé Brut
1996 Lenoble Grand Cru Blanc de Blancs
1996 Duval Leroy Brut (#2, $40)
1996 Laurent Perrier Brut
1996 Le Grand Dame (#4, $110)
1996 Henri Abele Millésimé Brut Reserve
1996 Lean Laurent Blanc de Blanc Millésimé
1996 Nicolas Feuillette Cuvee Palmes D'Or
1996 Comte Adoin de Dampierre Grand Vintage Brut
1996 Taittinger Comtes de Champagne Blanc de Blancs (#1, $110)

Taittinger was established as a company in 1734 by Jacques Fourneaux. After World War I, the company moved to the 13th century historical residence located on Rue de Tambour known as "The House of the Counts of Champagne." In 1932, Pierre Taittinger acquired the great residence. He decided that Chardonnay was to be the dominant grape for the brand. Along with his two brothers, Jean and Claude, they oversaw a period of remarkable growth and began operation in the cellars of the 13th century Saint-Nicaise Abbey in Reims where the 1996 Taittinger Comtes De Champagne was produced. Today Champagne Taittinger has acquired the status of Grande Marque house. 1996 was a remarkable year for Champagne. Records indicate you must go back to 1928 to find a potential alcohol-acidity combination of this level and of this quality. Comtes De Champagne is only produced when all of the conditions, essential to its unique style, are met including:
* The harvest must be of exceptional quality and worthy of vintage Champagne
* It is made exclusively from Chardonnay grapes (100% Grands Crus) from the most renowned vineyards of the Cote des Blancs.
* Only wines from the first pressing (La Cuvée) are used.
* 5% of the wines used in the blend are aged in new oak barrels.

The second place Champagne, the 1996 Duval-Leroy Brut, is a terrific value ($40). The Wine Spectator rated many of the newest Duval-Leroy releases very highly when tasted against some of the Grand Marques. Duval-Leroy is under the direction of Carol Duval-Leroy who took over as president upon the death of her husband in 1991. The house currently has 175 hectares of vineyards with presence in all villages of the Cote des Blancs with classified Grand Cru vineyards. The 1996 Brut is 65% Chardonnay and 35% Pinot Noir.