Look to Dujac for Burgundy Epiphany
I am no expert on Burgundy, but I know great Burgundy when I find it. Domaine de la Romanee-Conti, Comte de Vogue, Leroy, Rousseau, and others have their following, but Dujac really makes my tastes buds stand erect. I have sat in on several Burgundy tastings over the last year, and every time, it is a Dujac wine that is the diva. In the puzzling and confusing maize of Burgundy producers, Dujac is one domaine that you can single out as a consistent star whose wines, although difficult to come by and not inexpensive, are priced sensibly considering the quality.
If you really want to know Burgundy, you need to memorize about 4,000 domaine names, take a course in French pronunciation, and expect to get lost in the maze of appellations (120) and soil types (59) beneath the Cote d'Or. The Cote stretches only about 31 miles, but it seems like more because it is so fragmented. After you get your bearings, you then must prepare yourself to part with a good chunk of change. Buying Burgundy is like buying designer wine - you pay for the name. The smaller the appellation, the rarer the wine, the higher the price.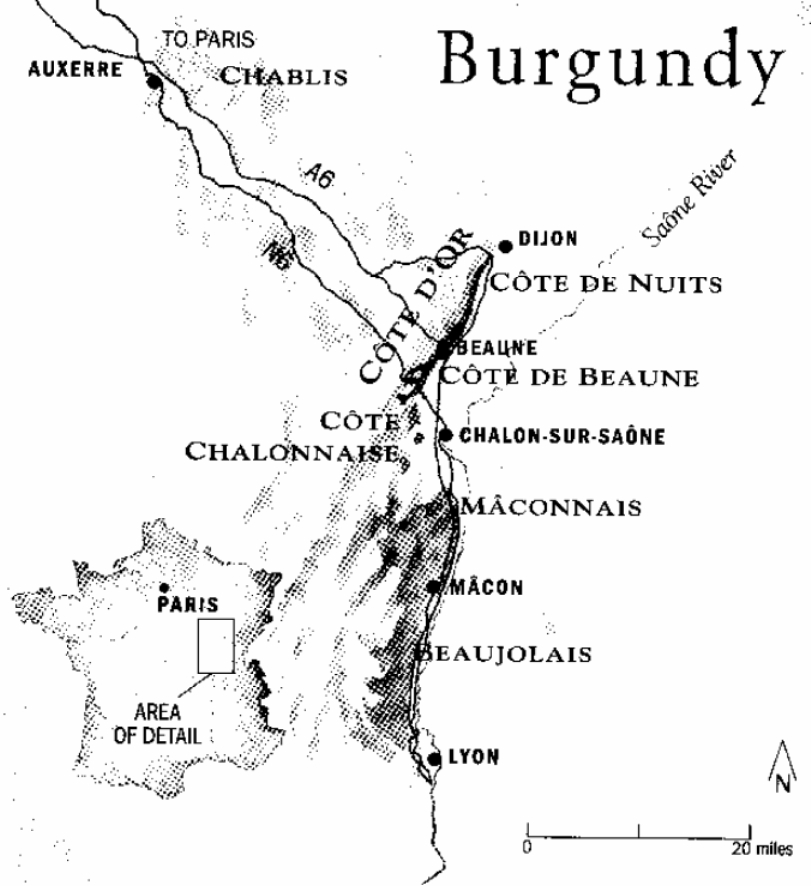 There are actually five main growing regions in Burgundy (from north to south they are Chablis, Cote d'Or, Cote Chalonaise, Maconnais, and Beaujolais), but for Pinot Noir enthusiasts, the Cote d'Or ("coat door") is the hallowed land. The name Cote d'Or stands for the "Golden Slope" that extends south from Dijon to Chagny. The gentle southeast facing slope captures considerable sunlight from very long summer days. The best vineyards are half-way up the slope, like meat in the middle of a sandwich. The lower vineyards have too much clay in the soil and the upper vineyards are too windy.
The Cote d'Or is divided into the Cote de Nuits in the north and the Cote de Beaune in the south. The Cote de Nuits has 24 Grand Crus, 138 Premier Crus, and 462 producers. 90% of the wine is red, 10% white. The Cote de Beaune has 8 Grand Crus, 228 Premier Crus, and 903 producers. 70% of production is red, 30% white. The historic division is not due to differences in the character of the wines. For example, Pommard, which is in the Cote de Beaune, shares a commonality with Chambertin which is in the Cote de Nuits (both are rich, robust, rustic and require aging), and Chambolle-Musigny in the Cote de Nuits has more in common with Volnay in the Cote de Beaune (both are softer, silkier).
In Burgundy there are two red grapes (Pinot Noir and Gamay) and three white (Chardonnay, Pinot Blanc, and Pinot Beurot). Gamay may be included in Bourgogne wines from the Cote d'Or and is the grape of Beaujolais.
In Burgundy, the land, not the producer is classified. Quality is based on geographic possibility, not the quality in the bottle. In Bordeaux, in contrast, the chateaux names are brand names and the top names are classified. In Burgundy, the appellations dictate the classification and labeling. The appellations from lowest to highest: General (Bourgogne rouges and blancs from grapes grown anywhere in Burgundy; 2/3 of Burgundy production); Regional (ie Cote de Nuits); Regional plus the word villages (grapes from one or more designated villages, ie Cote de Nuits Villages); Villages (ie Pommard; there are 8 villages in the Cote de Nuits and 20 in the Cote de Beaune; 20% of Burgundy production); Premier Cru (label contains name of village and a vineyard with recognized official status; ie Vosne- Romanee Les Suchots ; there are 426 Premier Cru vineyards in the Cote d'Or; 10% of Burgundy production); and Grand Cru (a vineyard with recognized official status of the highest quality that need only use the name of the vineyard since it is assumed you know where the vineyard is; ie La Tache; there are 32 Grand Cru vineyards in the Cote d'Or; 1% of Burgundy production).

The most expensive agricultural real estate in the world is the 5 mile stretch from Vosne-Romanee north to Gevrey-Chambertin. This stretch has more Grand Cru vineyards than any other comparable land in Burgundy. Vosne-Romanee is considered the greatest Pinot Noir village on earth. There are 8 Grand Crus (La Romanee, La Tache, Romanee- Conti, Romanee St.-Vivant, Echezeaux, Grands Echezeaux, and La Grand Rue). There are 13 Premier Crus (11 are outstanding and 2 - Les Rouges and En Orveaux are actually in neighboring Flagey-Echezeaux - Les Suchots, Les Chaumes, Les Brulees, Clos-de-Reas, Aux Malconsorts, Les Petits Monts, Aux Reignots, Les Beaux-Monts, Cros-Parantoux, Les Gaudichots, En Orveaux, La Croix-Rameau, and Les Rouges).
The vineyards in Burgundy do not have single owners like in California and Oregon. The vineyards in Burgundy are "climats," land divided among a number of individual owners. Some owners may have only a few vines in a row. None of the vines are marked out - owners know which are theirs. There are very few monopoles (a vineyard owned solely by one owner). The fact that there are several owners in a single vineyard means you must pay attention to the owner/producer more than the vineyard name. The vineyard name only indicates potential.
Nothing is for sure in Burgundy. The spellings of vineyard names may take several forms. The number of Premier Cru vineyards is not certain and several Premier Cru vineyards make better wine than some Grand Cru vineyards. Because vintages in Burgundy vary wildly due to fluctuations in climate from year to year, it is important to pay attention to the vintage. But it is equally vital that you know the producers. Top producers, like Dujac, make quality wines at all appellation levels and in most vintages.
Learning about Burgundy is a challenge since there are few comprehensive references available. The two published standard texts are valuable sources of basic information but are outdated: The Great Domaines of Burgundy by Remington Norman (1998), and Cote D'Or by Clive Coates M.W. (1997). For more current information, I would recommend Allen Meadows' website and newsletter, www.Burghound.com, and the website, www.burgundy-report.com. The best education comes from tasting the wines of Burgundy.
One comment on prices. The price of Burgundy at auction has shot up 370% in the past decade according to figures reported in the Wine Spectator. Many wealthy collectors are now favoring Burgundy over Bordeaux because of its rarity. Obtaining older vintages of Burgundy at auction is pretty much hopeless for all but the most wealthy wine enthusiasts. Because of the devaluation of the American dollar in recent years, prices for Burgundy have skyrocketed. We have saved the French in two World Wars, given them McDonalds, Coke, Mickey Mouse and Jerry Lewis, and what do they do for us? They charge us ridiculous prices for their wine. The key is to look for village vines and Premier Crus from good vintages from good producers. There are many good wines to be found in the $35-$85 price range.

The story of Jacques Seysses and Domaine Dujac is well detailed in Clive Coates' excellent book. Jacques Seysses' wealthy father (he owned Biscuits Belin) bought Domaine Marcel Graillet in Morey-Saint-Denis for his son in 1967. A new domaine was essentially created from scratch and was of high promise from the beginning. Immediately Seysses looked to acquire vineyard land to expand the initial 4.5 ha. The first vintage was in 1968, which he sold off in bulk. The next vintage, 1969, was one of the finest ever at the domaine. He married in 1973, and decided to leave the family business permanently for a career in winemaking. By 1997, the domaine owned 11.5 ha in 11 appellations. Besides village Chambolle- Musigny and Vosne-Romanee, the Premier Crus include Gevrey-Chambertain Les Combottes, Chambolle- Musigny Les Gruenchers, Vosne-Romanee Les Beaux Monts, and Grand Crus Clos-de-la Roche, Clos-Saint-Denis, Charmes Chambertain, Bonnes Mares, and Echezeaux. More recently, Allen Meadows reports that Seysses, in partnership with a number of investors, has purchased 30+ ha of vineyard land from Domaine Thomas-Moillard including some Chambertin, Romanee St.-Vivant, Malconsorts (still uncertain), and more Bonnes Mares and Les Beaux Monts. The first vintage from the new vineyards will be in 2005. There is also a small negocient operation, Maison Dujac Fils et Père, which is managed by Jacques' son, Jeremy. The wines are made from purchased grapes from various village level appellations and are also of high quality.
What makes Domaine Dujac wines so special? Jacques Seysses was one of the first to recognize the importance of clones which he prefers over selection massale. Early on, he did considerable replanting with newer clones. He employs fastidious green harvests. His vineyard manager has been Christophe Marin since 1987. He vinifies with 100% stems and whole bunches, low-temperature fermentations, cultured yeasts, and nearly all new Allier French oak. Maybe it is what he doesn't do that matters. He says, "I see myself as a doctor. I'm there in case of trouble. But I am not there to change nature."
At a tasting of 1990 Burgundies last year, with many Grand Crus present, the Dujac Chambolle- Musigny Les Gruenchers was clearly the finest wine. More recently at a tasting of 15 Burgundies from 1996 to 1999 vintages, the 1997 Dujac Gevry-Chambertain Les Combottes (Premier Cru) and the 1999 Dujac Clos de la Roche (Grand Cru) were the standouts. My notes on Les Combottes say "drinking beautifully, especially notable lingering finish featuring sandalwood and caramel." On the Clos de la Roche I said, "gorgeous nose, makes me want to dive in, big, young, intense but silky smooth, perfect balance, infanticide." More recently I attended a tasting organized by Greg Saunders, winemaker at White Rose Vineyards in Oregon. We tasted blind 3 vintages of DRC Richebourg (2000, 2001, 2002) and 3 producers of Clos de la Roche from the 2002 vintage (Drouhin, Dujac, Laurent). The tasting was part of an ongoing project of Greg's to follow the development of Grand Cru wines over their evolution through the years. The Dujac Clos de la Roche was an outrageous wine that clearly overshadowed every other wine in the tasting by my measure (and the opinion of several others). Some of the comments on the wine were, "voluptuous nose of cherry, spice, cinnamon, rich structure of red and blue fruits, impeccable balance, taste lingered, iron minerality, plentiful ripe tannins, delicious, perfect.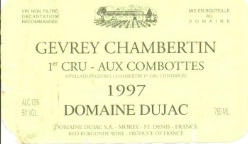 Domaine Dujac wines are distributed in the United States by Wilson-Daniels Ltd and Chambers & Chambers (Southern California). The 1999 and 2002 vintages were unrivaled. For the 2004 vintage, which Jacques Sessyes characterizes as "good but not great," Morey-Saint-Denis and Chambolle-Musigny Villages are priced around $50, the Premier Crus from $110 to $150, and the Grand Crus $150-225. Do not ignore so-called off years like 1997 and 2000 where the wines are considerably less expensive but still charming and more approachable now. Finding the wines can take some research and a good wine retailer can be invaluable. Internet search engines such as www.winecap.com and www.wine-searcher.com can be very helptful.