Wine Books that will Lighten You Up
The latter part of every year brings a plethora of wine books. These books make excellent gifts for your pinotphile friends. Let's face it, they already have too much Pinot. Everyone can learn something from a book on wine, even the most basic beginner publications.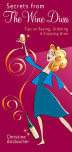 Secrets from The Wine Diva Paperback, 216 pp, Sterling (2006), $15. Author Christine Ansbacher is a noted wine educator and entertainer whose corporate and social wine events are known for their theatrics as well as educational value. Her clients include American Express, Merrill Lynch and many prestigious private clubs on the East Coast. She is a Certified Wine Educator (CWE) who goes by the non deplume "The Wine Diva." Her motto (credited to Benjamin Franklin) is "Wine should be a laugh, not a lecture." This book is an attempt to demystify wine by giving the reader practical information that can be used in wine stores and restaurants. She devotes chapters to navigating restaurant wine lists, matching wine and food, avoiding the purchase of wine by price rather than quality and taste, and developing wine savvy for most any social occasion. The book is directed at the inexperienced wine consumer and is a great stocking stuffer for wine newbies. The cover may turn away many macho male wine drinkers, but they will find real humor and enjoyment here once they open the pages. The book is currently being promoted with offers of many bonus gifts upon purchase at www.bestsellerpromotions.com.
The Cork Jester;s Guide to Wine Paperback, 240 pp, Clarisy Press (2006), $15. Still another humorous guide to tasting and enjoying wine. The author, Jennifer Rosen, says she, "can't make wine simple, but I can make it fun and beautiful, instead of esoteric and intimidating." There are many wine anecdotes, jokes and one-ups in this book which is directed at the intimidated wine drinker.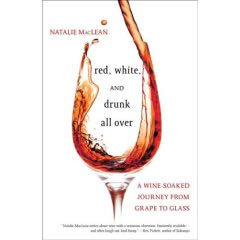 Red, White, and Drunk All Over: A Wine-Soaked Journey from Grape to Glass Hardcover, 288 pp, Bloomsbury (2006), $18. Well-known Canadian wine writer, Natalie MacLean, weaves interviews of wine personalities from Burgundy grape growers to California's Randall Grahm of Bonny Doon in a humorous journey through the wine world. She has been referred to as the "George Plimpton of wine writers."
Marilyn Merlot and the Naked Grape Paperback, 256 pp, Quirk Books (2006), $17. Author Peter F. May resides in England and in addition to writing and lecturing on wine, he runs the website, www.winelabels.org. This book has snippets of over 100 of the oddest wines ever produced. The original labels are reproduced in full color and the pictures are accompanied by stories of the wines and tasting notes. Included are wines like Cleavage Creek, The Dog's Bollocks, Fat Bastard, and Love My Goat.
A Hedonist in the Cellar Hardcover, 243 pp, Alfred A Knopf (2006), $24. Author Jan McInerney has written seven novels including the recent The Good Life. He is the 2006 recipient of the James Beard Foundation's M.F.K. Fisher Distinguished Writing Award. He has been praised by Robert M. Parker, Jr. and The New York Times for his wine books. This book is a collection of five years' worth of essays about what's new, what's enduring, and what's surprising in the world of wine. He covers the globe from the Finger Lakes of New York to Chile. There is keen insight about wine personalities such as Michael Broadbent and Randall Grahm and the so-called Ghetto Boys, Greg Brewer and Steve Clifton of California. The book ends with an epilogue on "What I Drank on My Forty-eighth Birthday."