Radio-Coteau: Rare & Special
Radio-Coteau is deservedly a true "cult" Pinot Noir. A "cult" wine is one produced in very small quantities by a very skilled and experienced winegrower and winemaker, sold and tightly allocated through a mailing list, distinguished by unique and special wines, and known only to the most dedicated wine geeks..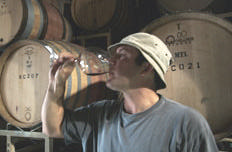 Owner Eric Sussman developed an interest in wine while studying agriculture at Cornell University in Ithaca, New York. He ventured to Washington's Yakima Valley where he spent several years managing the vines and cellar of a small artisan producer. He then moved on to France and spent the 1995 vintage in Burgundy at Comte Armand in Pommard and Domaine Jacques Prieur in Meursault. After returning to northern California, he worked one year at Bonny Doon and from 1988-2001 as the associate winemaker at Dehlinger. He crossed paths with Bill and Joan Smith, former owners of La Jota, and current owners of W.H. Smith Wines. They formed a partnership that became Radio-Coteau Wine Cellars.
"Radio-coteau" are two conjoined words derived from the northern Rhone region of France. The colloquial meaning is "word of mouth," but the literal translation is "broadcasting from the hillside." Eric first heard this expression from a friend while living and working in Burgundy. It refers to a commitment to community, to growers found by word of mouth, tradition handed down in the cellar, and friends helping at harvest.
The inaugural Pinot Noir releases in 2002 focused on vineyards in the true Sonoma Coast and Savoy Vineyard in the Anderson Valley. The wines were received by the wine press with considerable praise and quickly sold out. Andy Tan, noted sommelier and wine retailer said, "This estate is making the most exciting Pinot Noir from California." After tasting through the 2003 lineup (PinotFile, Volume 4, Issue 44) I noted that all of the wines were superb: "A lot of Pinot and ton of Noir."
I recently tasted through the 2004 lineup of Pinot Noirs which were released in March, 2006. Once again, I came away very impressed by the complex array of flavors, the voluptuous textures, and the sensuality of the wines.
Radio-Coteau is a virtual winery with an excellent website: www.radiocoteau.com. There is a mailing list signup on the website, but at this point, do not be disappointed by very limited allocations.
The W.H. Smith Wines 2005 Pinot Noirs have just been released. There are two wines: 2005 W.H. Smith Wines Sonoma Coast Pinot Noir ($28) and 2005 W.H. Smith Wines Maritime Ridge Sonoma Coast Pinot Noir $52. The Smith's first vintage of W.H. Smith Wines was 1992. In 1994, they purchased 260 acres above the town of Cazadero on the Sonoma Coast. The first vintage of Maritime Ridge Vineyard from this property was 2002. The wines from this vineyard have been rich, plush and complex and highly touted by the wine press. I recently drank the 2003 W.H. Smith Wines Maritime Ridge Sonoma Coast Pinot Noir. A superb wine with ripe fruit aromas, a velveteen texture, coating tannins, and a long and intense finish. The wines are sold to a mailing list in six bottle increments only. The website is www.whsmithwines.com and the phone is 707-965-9726.