Gundlach Bundschu: Six Generations of Vintners
The history of California wine is an interesting tale of immigrants who survived earthquakes, Prohibition, and multiple other insults to succeed in the wine business. Gundlach Bundschu can date its origins to a time when buffalos roamed the plains, and today they are producing wines of superb quality from their Rhinefarm Vineyard in Sonoma Valley. Gundlach Bundschu is the oldest familyowned and operated winery in California. The sixth generation of vintners at Gundlach Bundschu (try saying that after a few glasses of Pinot) is committed to remaking their estate in the image of the world's greatest estate wineries.
The story of Gundlach Bundschu is interesting. Bavarian-born Jacob Gundlach immigrated to San Francisco in 1851 and developed a successful business known as Bavaria Brewery. He was also winesavvy, and in 1857, purchased 400 acres in Sonoma and named it Rhinefarm. The following year he traveled to Europe and brought back rootstock as well as his new bride, Eva. His first vintage at Rhinefarm was in 1961. Charles Bundschu, from Mannheim, Germany, married Jacob Gundlach's daughter Francisca in 1875. His accomplished business sense steered the J. Gundlach & Co. to considerable success for the next 30 years. Rhinefarm wines were distributed from the firm's San Francisco headquarters that spanned two city blocks.
After Jacob passed away in 1894, the company was renamed Gundlach Bundschu. All of the family including Jacob's sons Carl and Heini and Charles' sons Walter and Carl E. Bundschu, participated in the continued success of the firm until the 1906 San Francisco earthquake caused a sudden halt to the momentum. Company offices and wine vaults were destroyed. Despite the damage, the Bundschu family continued limited production and distribution from Rhinefarm. With the passage of Prohibition in 1919, the winery closed its doors and pear trees were planted on Rhinefarm.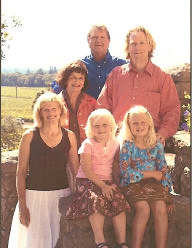 After the repeal of Prohibition, Walter Bundschu's son, Towle, and Towle's wife, Mary, continued to farm grapes and sold them under the name of Vineburg Wine Company. Jim Bundschu, Towle's son, devised a plan to restore the family winery to its previous status. In 1969, he began a four year replanting of Rhinefarm Vineyard to premium varietal grapes. Gundlach Bundschu Winery was resurrected by 1973. Since then, fifth and sixth generation Bundschus have worked together to restore the success of this historic Sonoma Valley property (Fifth generation Jim, upper left, and sixth generation Jeff, upper right, pictured with family.)
Gundlach Bundschu was known primarily for their red wines - Merlot, Cabernet, and Zinfandel - which were respectable, but Pinot Noir was an afterthought. A pivotal moment came in 1997, when the winery acquired 140 acres adjacent to their existing vineyard. Jim and son Jeff agreed at this point that they needed to raise their wine quality ambitions as they began the development and integration of this new property. Phil Freese and Zelma Long were hired in 2000 to assist in development of a master transition plan for the vineyard. In 2001, the vineyard and cellar management practices were overhauled. More than 150 acres of the estate have been planted over the last 10 years, including 25 acres of Pommard 5, Dijon 115, 667, and 777 clones of Pinot Noir on the valley floor. Rhinefarm Vineyard now has 320 acres under vine, farmed in more than 50 distinct blocks.
Total production at Gundlach Bundschu has been reduced from 75,000 cases to approximately 45,000 cases (25,000-35,000 cases of estate wine and the rest under the winery's second label, Bearitage).
This is part of the new commitment to quality estate wine production and the desire to leave behind wines whose quality no longer meet the winery's standard. Gundlach Bundschu has partnered with Wilson Daniels to enhance distribution and marketing.
Jeff Bundschu has a colorful background and his full story is told on the winery's website: www.gunbun.com. In 1993, he founded Wine Brats with two friends to promote wine to new wine drinkers ages 21 to 36 ("Xoomers"). There are now 60 chapters nationwide and a book titled Wine Brats Guide to Living has been published. He is also the driving force behind the humorous posters that the winery is known for: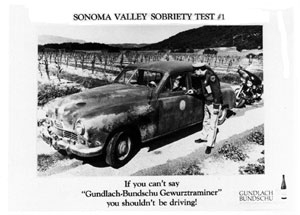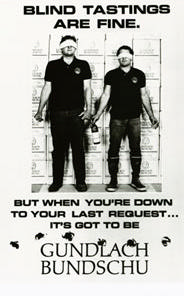 The winemaker at Gundlach Bundschu is Linda Trotta, a Southern Californian of Italian heritage. She attended University of California Davis intending to be a math major, but her travails with calculus led her instead to the department of fermentation science. After graduating, she gained her winemaking experience in Italy and in California at St. Francis and Sebastiani. She joined Gundlach Bundschu and became winemaker in 1990.
The Pinot Noir grown on the Rhinefarm Vineyard is located on the lower portion of the vineyard, a section that is across the street from the Carneros appellation border and therefore shares the cooling benefits of the wind and fog from San Pablo Bay. The Huichica clay-loam topsoil is only 22"-30" in depth, beneath which is compacted Carneros Bay sediment that naturally restricts vigor. The climate and soils combine to produce maximum hang time and tiny berries.

2004 Gundlach Bundschu Rhinefarm Vineyard Sonoma Valley Pinot Noir
14.8% alc., 3,318 cases, $32. The 2004 vintage, the 146th harvest on Rhinefarm, was the earliest on record. Two-thirds of the fruit came from vines planted in 1970 (one of the oldest Pinot Noir vineyards in California) consisting of Wente and Hanzell clonal selections. The other third came from vines planted in 1999 consisting of Dijon 115 and Pommard 5 clones. Winemaking included pre-fermentation cold soak, twice-daily gentle pumpovers, and aging for 11 months in 40% new Tonnellerie Remond oak barrels. · There is noticeable, but not obtrusive, oak influence in this refreshingly crisp Pinot Noir. Scents of cherries and herbs are accompanied by tastes of savory berries, black cherry and clove. Sleek and balanced, the wine finishes clean with fine dusty tannins and uplifting verve.
Gundlach Bundschu is located five minutes south of downtown Sonoma at 2000 Denmark St. The tasting room is open 7 days a week, 11:00 - 4:30. It is built around the original winery structure, with stone walls dating to 1870. A picturesque picnic terrace is adjacent. The winery's caves can be visited by appointment. The phone is 707-938-5277 and the website is www.gunbun.com.