Jekel Vineyards Pinot Noir
The Jekel Vineyards Monterey County Pinot Noir carries the theme of value Pinot Noir quite proudly. Bill Jekel , who founded Jekel Vineyards in 1972, was a tireless advocate for the potential of Monterey County to produce world-class wines. Now owned by Brown-Forman, Jekel Vineyards has a really credible 2005 Pinot Noir made in large quantities and readily affordable.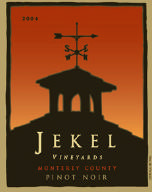 2005 Jekel Vineyards Monterey County Pinot Noir
13.5% alc., 15,000 cases, $15. Winemaker Charlie Gilmore has taken fruit from well known vineyards like Jekel's Gravelstone Vineyard and blended in a touch of fruit from the Sonoma Coast. The wine is fermented primarily in neutral barrels. The website is www.jekel.com There is widespread retail distribution. · The theme for this Pinot is dark stone fruits, both in the nose and palate. There are some attractive spice and herbal notes as well. The wine is well-endowed and rich. Surprisingly, there are detectable smoky oak flavors despite the frugal use of new oak. The finish is lacking in some intensity and length but at this price it is hard to be picky. The wine was released in September and is widely available in the retail market. A solid daily-drinker.