Martinborough Cult Wine : Dry River
Much of the excitement about New Zealand Pinot Noir has been wines from Central Otago and Marborough, both in the South Island. But many enthusiasts feel the Martinborough region in the southern portion of the North Island shows the most potential for delivering Burgundian character in Pinot Noir. Several notable producers have released impressive Pinot Noirs from here in recent years including Ata Rangi, Craggy Range, Hidden Valley, Margrain Vineyard, Martinborough Vineyard, Martinus Estate, Pallisar Estate, Stratford, Te Kairanga, and Voss Estate. The approximately 900 acres of Pinot is small in comparison to the amount of acreage in Central Otago and Marlborough, but the quality is high. In the Aussie wine magazine, Gourmet Traveller Wine, of the top 2003 New Zealand Pinot Noirs tasted and rated, four of the top six wines came from Martinborough, Not all who taste them, however, are applauding. The style is typical rich, dense and fruit-driven and often veers more toward a big red wine than a Pinot Noir in character. Michael Steinberger notes, "For the moment they suggest the New World more than Burgundy; they are, in other words, fruit-driven and high in alcohol, extract and oak."
I try to sample as much New Zealand Pinot Noir as I can get my hands on. This is a difficult task, for although exports are rising quickly (the United States will become the #1 export market for New Zealand within five years), the number of Pinot Noirs reaching our shores is quite spotty and often less than 100 cases of a wine shows up here. I recently ran across a Dry River Martinborough Pinot Noir, referred to as a "cult" wine by at least one writer in the United States and priced accordingly ($70).
Dry River was the name of one of the oldest Wairapa sheep stations in New Zealand, dating to 1877. It was later renamed Dyerville, and it was near here in 1979 that Neil and Dawn McCallum planted a vineyard. This area has come to be known as the Martinborough Terrace, located just across the Huangarua River from Te Muna. The Martinborough Terrace appellation has the lowest rainfall on the North Island, a cool-climate appropriate for growing Pinot Noir, and free-draining gravelly soils. There are now more than twenty-five labels originating from this special terroir. In 2002, the winery and 30 acres of vineyards were sold to New York businessman Julian Robertson and California winegrower Reg Oliver who owns El Molino Winery in St. Helena, California. The new owners have infused cash into the operation for expansion and updated equipment. Neil McCallum continues as Chief Winemaker with Katie Hammond assisting.
Two features of vineyard management at Dry River contribute to the style here. No irrigation is employed, despite the low rainfall, causing roots to go very deep for nutrients, stressing the vines, and producing small berries with concentrated flavors. Secondly, crop thinning at veraison is employed to severely limit yields. Neil McCallum makes no apologizes for his resulting style: "My suspicion is that New Zealand and cool maritime climates could have a large impact on the world perception of what Pinot Noir is capable of, although it will take some time before the new styles are completely accepted because Burgundy has been center stage for so long. Our own terroir can yield a predominance of plump, exuberant fruit flavors - to a fault in some instances, but they can also be rich and complex varietal statements. Add concentration and longevity to this, and great wines are possible."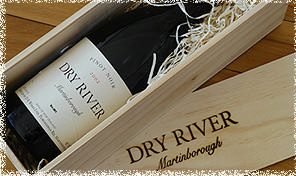 2003 Dry River Martinborough Pinot Noir
13% alc., $70, numbered bottles. The 2003 vintage at Dry River was very dry and yields were small. The fruit for this wine was harvested at 1.2 tons per acre. McCallum notes that in a recent vertical tasting of Dry River Pinot Noirs, the 1989 through 1991 vintages were still showing extremely well. Proper cellaring will be rewarded. Bob Campbell, MW, said it best: "This wine is not a fruit bomb - it's a time bomb." · The color is a strikingly dark violet. A deep, rich nose features ripe cherries, raspberries, vanilla and smoke. The mouth feel is very big and plush with generous amounts of sweet fruit. The finish is clean and lengthy and echoes licorice, dark stone fruits, and pleasing oak. The wine has a great backbone of acidity and tannins. This Pinot noir has a very powerful charisma.
The wine is imported by RO Imports, LLC, St. Helena, California (www.rowines.com). The winery's excellent and informative website is www.dryriver.co.nz. My source was www.winex.com.