Pinot Rage vs Pinot Envy
If you had to bet money, would you put it on sommeliers or winemakers to see who could craft the best wine? A year ago, the Carneros Wine Alliance brought some of the Bay Area's most notable sommeliers and wine and food professionals to Carneros for a day to harvest and process Pinot Noir. The grapes came from the vineyards of Gloria Ferrer and the Sangiacomo Family Vineyards. The group of sommeliers and wine and food professionals made their wines at Acacia Vineyards and Mac- Rostie Winery and Vineyards. These two wineries also made their own Pinot Noirs from the same grapes under the supervision of their winemakers. The inaugural "Cru Carneros" event was intended to show young wine professionals what was involved in making fine wine. The fledgling vintners were divided into two groups and after harvest, followed their wines through the winemaking process for a year until bottling.
Wineries providing support viticulturists and winemakers for the event included Bouchaine, Buena Vista Carneros, Ceja Vineyards, Cuvaison, Etude, Saintsbury, and The Donum Estate.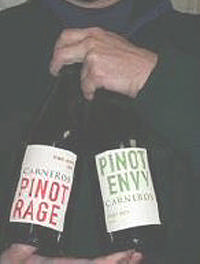 The wines made by the two sommelier and wine and food professional teams were labeled "Pinot Rage" and "Pinot Envy." This month, a panel of wine professionals, including Peter Marks, MW, Director of Wine, Copia, Sean Foster, winemaker at Merryvale Vineyards, and Anne Moses, Patz & Hall co-winemaker blind tasted and judged the wines made by the sommelier and wine and food professionals as well as the two wines made by trained winemakers. The event was held at Domaine Carneros.
The spirit of the event was educational. There were no actual numerical scores, rather a discussion of the structure and qualities of each of the wines. The wines were all enjoyed during the dinner that followed the tasting. The wines made by the group from Cru Carneros I were distributed to those who made them, each receiving a three-pack.
The Cru Carneros Class Two will focus on cool climate Merlot and will draw sommeliers, wine directors, and food and beverage professionals from all over the United States.