Fine Wine Auctions Take Different Forms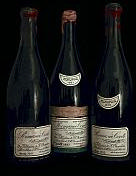 On October 20-21, 2006, Acker Merrall & Condit held a record-breaking auction of rare wine in New York City. Over 94% of lots were sold for a gross of $24.4 million dollars, easily breaking the previous auction world record of $14.4 million dollars. The wines were from an incredible cellar of a personal collector and represented probably the greatest cache of rare wine in the world. 24 lots went for over $100,000! Examples: 4 magnums 1962 La Tache DRC $101,575.00, 12 bottles 1947 Chateau Petrus $101,575.00, 12 bottles 1959 Musigny G. Roumier $107,550.00, 1 Methuselah 1978 Romanee Conti DRC $125,475.00, 6 magnums 1962 Musigny Vielles Vignes Comte de Vogue $149,375.00, 6 magnums 1945 Chateau Mouton Rothschild $155,350.00 and 12 bottles 1990 Romanee Conti DRC $161,325.00. These amounts do not include an 18.5% Buyer's premium as well as a 1% insurance premium to cover the wines while in storage. A full listing of realized prices of the auction are at www.ackerwines.com.
At the other end of the auction spectrum is CellarExchange.Com. This internet auction site was started by North Carolinian Doug Parsons, an advertising sales executive and long time wine enthusiast. This unique site allows buyers and sellers of fine and rare wines to match up without any buyer's or seller's fees. This is a nonprofit venture so far for Doug, but is fueled by his love of the hobby of wine collecting. Over 2,200 buyers and sellers are registered in his database. Bidding is similar to that conducted on eBay and Wine Commune. If you are outbid on a lot before the auction is over, you are notified by e-mail so you can enter a higher bid if you wish. The site also offers swapping capability. If you have some wine that you are tired of drinking, you can post your offerings and your preferences for wines you are willing to trade for. The site also offers free wine appraisals and free hammer price searches. The website is www.cellarexchange.com.