Pinot Nero
Italians are well known for their classic wines from grapes like Barbera, Dolcetto, Nebbiolo, Sangiovese, Cabernet Sauvignon and Merlot. Pinot Nero (Pinot Noir) in Italy has never achieved the same distinguished status. Although Pinot Noir plantings are scattered throughout many parts of Italy, most of the grapes have been used in spumante or blended with other varietals such as Barbera, Merlot and even Cabernet Sauvignon! Very few mono-varietal examples of Pinot Noir reach American shores and even less is known here about the producers.
A fine article appeared in Wine Business Monthly, June 28, 2001 written by Franco Ziliani titled "Pinot Nero in Italy." There were some interesting factoids from that article:
The first mention of Pinot Nero in Italy appears in Edmund Mach's La Viticultura e I Vini del Tirolo Tedesco of 1884.

Until the mid-1980s, Pinot Nero was never thought to be a major varietal in Italy. It was considered difficult to grow and less important than other varietals.

The Frescobaldi estate at Pomino, near Florence, has some of the oldest vines of Pinot Noir in Italy. 10 ha of Pinot Noir are planted with vines from five to fifty years of age. The wines are currently blended with Sangiovese and not bottled as a mono-varietal although it is said that the Pinot Noir here has well defined varietal character.

Some recent studies conducted at the Faculty of Agriculture of Vienna University indicate Pinot Nero is probably a product of a cross between Pinot Meunier and Gewürztraminer. Because of its tendency to natural mutation, there is great ampelographical diversity of Pinot Noir in Italy.

Most authorities concur that the only Pinot Noirs that bear some resemblance to Burgundy come from the Alto Adige region of Northeast Italy. Leading producers here include Hofstätter (whose Villa Barthenau Sant'Urbano is considered Italy's best Pinot Nero), Haas, Niedrist, Stroblhof, Gottardi, Lageder, Haderburg, and a group of co-operatives known as Cantine Produti. Seven percent of planted red varietals in Alto Adige are Pinot Nero.

Depending on the region in Italy, Pinot Noir is called Pinot Nero or Blaubürgunder.
I recently came across a Pinot Noir from the Alto Adige (South Tyrol) or Suüdtiroler DOC: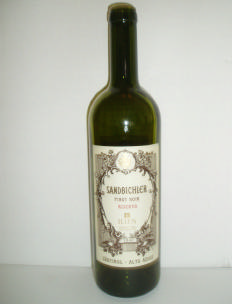 2003 H. Lun Sandbichler Vineyard Pinot Noir Reserva
13% alc., $26. H. Lun is the oldest privately owned winery in South Tyrol, established in 1840. It was owned by the Bracchetti family from 1976 to 1998 and then sold to a winegrowers cooperative where it is now run as an independent enterprise. The vineyard is located on the southern slopes of the Italian Alps where mountain breezes, warm sun and cool nights allow full maturation of Pinot Noir. Imported by Vinifera Imports Ltd, Ronkonkona, N.Y.. · The wine was bottled in a Bordeaux- style bottle (right). There was nice cherry fruit in a delicate nose. The wine was very light, more akin to a rosé than a Pinot Noir, but showing some nice red fruits, spice, oak and decent acidity. Those looking for effusive fruit and/or Pinot Noir's higher qualities would be disappointed in this wine. A curiosity, but not something I would stock my cellar with.