Blush Pinot Noir is a REAL Wine
Pink-hued wines made from Pinot Noir go by many names including rosé, blush, and vin gris. Rosè is the French word for pink. Vin gris (van GREE) is French for gray wine. The French refer to darkskinned grapes as black or noir and grapes that are somewhere between black and white as gris. There are no pink grapes (grapes with pink skins) per se, but red-skinned grapes can produce wine that is dark red, pink or white. Rosés can be made from any red grape, but along with the rising popularity of Pinot Noir, has come increased numbers of rosé Pinot Noir from respected vintners in California and Oregon.
Rosé is produced in a manner that makes it charming to drink immediately, although serious examples may improve over a year or two. There are basically three methods of production. The first, taking a white wine and adding some red wine to it, has fallen out of vogue. The second approach involves lightly crushing the grapes, chilling them, and cold macerating them for up to 48 hours. The juice is then drained off and fermented in stainless steel in a manner similar to the production of white wine. The third, or saignée method, eliminates the cold soak. Whole or crushed grapes go to a fermentation vat. The color is periodically checked, then the free run juice is drained or bled off to finish fermentation in a separate tank. In the last two methods, fermentation is completed without further skin contact, leaving the color and flavor compounds of the skin behind. The juice is typically bottled shortly after fermentation with no oak barrel aging. Think pure Pinot Noir juice without woody enhancement.
In some cases, producing a rosé can actually enhance the quality of a Pinot Noir since removing some of the clearer juice concentrates the color and flavor compounds from the skins in the remaining juice.
Rosé wines are nothing new and, in fact, they have introduced many neophytes to wine over the last fifty years. Slightly sweet Mateus and Lancers rosés were a favored quaff of young people of my baby boomer generation and more recently white Zinfandel, which is the highest-volume wine produced in California, has filled the role. These sweet rosés appeal to the American soda pop palate, but often lead to interest in bone-dry versions which have become increasingly de rigueur in restaurants in Paris (often Pinot Noir versions from Sancerre), Spain (where it is called rosado), Italy (rosato) and barbecue tables here in the United States. Once considered summer sipping wines only, dry rosés have become one of the world's most versatile food companions. Best when served slightly chilled, they are not meant to be contemplated, but to be enjoyed for their refreshing charm.
The social stigma attached to rosés has finally abated. According to The Nielsen Company, rosés priced $8 and up grew 53.2% on dollars and 49.1% on volume over the 52 weeks ending February 9th, 2008. When looking at the overall market, rosé sales grew nearly eight times faster on dollars and 17 times faster on volume than total table wine sales. Sales of sparkling rosé showed similar trends, increasing 40 percent, compared to just 4 percent for all sparkling wines. Geri Tashijian of Burgundy Wine Company in New York gives credence to rosé wines noting that in the 1500s, pink suggested the "embodiment of perfection."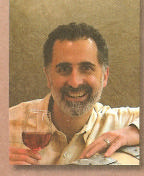 One of those most prominently responsible for spreading the gospel of dry rosé wines in the United States has been Jeff Morgan. Hi preaches against wine racism, pleading for the wine drinker to "stop judging wine by its color." Jeff has worn many hats including former musician, winemaker in New York, West Coast Editor of the Wine Spectator, contributing wine writer to several publications, and wine program director at Dean and Deluca in Napa Valley. In 200, Jeff had moved to Napa Valley and made one barrel of Sangiovese dry rosé. The next year, he started his own rosé winery, SoloRosa, with a friend and fellow winemaker, Daniel Moore. The name SoloRosa means "only pink" in Italian. The brand took off and Jeff has become known as the "King of Rosé."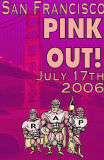 He wrote the only book published on rosé wines, Rosé, A Guide to the World's Most Versatile Wine, in 2005. The same year he founded Rosé Avengers and Producers (RAP) along with Daniel Moore, Jim Kopp, Carol Shelton and Paige Poulos. The organization is dedicated to advancing knowledge and appreciation of fine rosé. Since 2005, RAP has held an annual PINK OUT! Celebration in San Francisco. The most recent PINK OUT! drew forty-five international producers and sold-out crowds of consumers, winemakers, media and trade. Details of RAP membership, which is free, are available on the website, www.rapwine.com.
I recently tasting several rosé wines made from Pinot Noir. The quality was very high. In several cases, the packaging was quite alluring. The prices of the nine wines ranged from$16 to $25 with an average price of $20. Although not inexpensive, the cost reflects the time and expense incurred by seriously commited wineries dedicated to making this style of wine. I chose these rosés because most of them are widely available in retail channels in this country. What food to serve with these wines? Just about any summer fare will work including hamburgers, sausages and hot dogs, poultry, seafood and spicy dishes. Rosés do have enough tannins to stand up to savory food. The color of the wines ranged from an apricot to a deep pink, reflecting the amount of time allowed for the wine to remain in contact with the skins of Pinot Noir grapes. The aromas were in general shy and not particularly complex. Unlike Pinot Noir where much of the enjoyment comes from smelling the wine, rosés' pleasure come from the flavors more than the perfume. One nice feature of rosés is that an unfinished bottle may be recorked and kept in the refrigerator for several days without significant loss of flavor. I just returned from the Anderson Valley Pinot Noir Festival and I had a rosé moment. My wife and I had flown and driven much of the day to arrive in the Valley on a very warm evening. We attended a barbecue featuring locally-made sausage, local mustards, and a simple green salad. There were many wines available to choose from, but I went directly for a chilled glass of Toulouse Anderson Valley Pinot Noir rosé. It was a marvelous accompaniment to the simple, but thoroughly enjoyable fare, and a perfect drinking companion as the sun continued to exert its unseasonally strong influence on the fading daylight.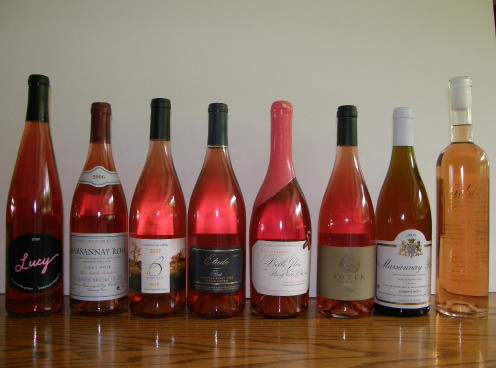 I have listed the rosés in order of my preference.
Many of California's prominent and ultra-premium Pinot Noir producers are now releasing a rosé of Pinot Noir and they are snapped up quickly. Two notable examples are the Pink Fiddle from Fiddlehead Cellars in Santa Rita Hills and Vincent Vin Gris from Saintsbury in Napa Carneros.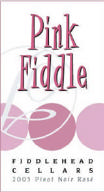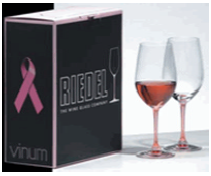 Last year, Riedel created a special, limited edition Vinum Pink Rosé glass to benefit Living Beyond Breast Cancer. The Pink Vinum Rosé glass has a soft pink stem and clear bowl. In order to determine the right shape for the Pink Vinum Rosé glass, Georg Riedel, CEO of Riedel Crystal, convened a special rosé glass tasting panel led by Jeff Morgan. Six rosé wines from California and France were sampled from sixteen different glass shapes to determine which presented the wine to its greatest advantage. The first-ever Riedel rosé glass was preceded by the Pink "o" wine tumbler (2005) and the Pink "O" Champagne glass (2006). The Pink Vinum Rosé glass is a machine-blown crystal glass that is sold in sets of two for $39.99.
A complete step up in quality and sophistication are the sparkling rosés. These are the wines of romance par excellence since they resemble the most romantic flower. In the 1963 bawdy comedy, Tom Jones, based on Henry Fielding's novel about the wild life of a handsome young stud in 18th century England, the narrator says: "It's widely held that too much Champagne will dull a man's desire. Indeed it will - in a dull man." Blanc de Noirs are made only from red grapes, are pale or light gold in color with barely visible pink reflections and may deepen in color with aging. Rosés are more full-bodied wines often darker in color, fruitier, and some are 100% Pinot Noir. Rosé Champagnes are made in one of two ways: either by macerating the skins and juice of Pinot Noir and/or Pinot Meunier grapes (saignée method), or by adding still red wine to the base wine. It is very difficult to tell in blind tastings which method has been used although the former is the more traditional method.

$240. Tasted during a recent program on Krug at Grape Radio studios. · Very slight pink in color. An ethereal Champagne that offers a seductive perfume of strawberry, orange peel, yeast, smoke and exotic roses. Coats the palate with intensity and leaves lingering memories of nobility. Revs up the appetite.
Sparkling wines from Burgundy, the so-called Cremant de Bourgogne, are beginning to show up on our shores. These are fine, inexpensive sparklers of all colors made from any of the Burgundian varieties (Gamay may not make up more than 20%). Many are priced around $10.