2006 DLM Pinots Rock!
Over the years I have reviewed several vintages of Pinot Noirs from De La Montanya. It has been easy to do as the wines have shown consistent excellence. Owner, winegrower and winemaker, Dennis De La Montanya professes to enjoy big, bold wines, but he has a soft side as well , showing itself in his Pinot Noirs which deliver plenty of finesse.
Dennis represents the seventh generation of a farming family, some of whom had dubious second careers as outlaws and smugglers. Dennis, himself, is a bit of a character and is the kind of winemaker you like to hang out with. He likes to talk baseball (both of his sons pictured below play). On the surface he is unpretentious and humorous, with a dry wit and a twinkle in his eye, but his wines are quite seriously rendered with the utmost care and attention. He is an ambitious sort, producing multiple varietals in small lots in addition to Pinot Noir as well as a number of special bottlings including the "Pin-Up" series of wines featuring attractive ladies in pin-up poses on the front labels and wines made for charitable purposes signed and endorsed by a number of his rock musician friends (including the band Journey and Eddie Money). Currently a 2005 Sonoma Coast Pinot Noir, "Wanna Go Back," is offered for sale signed by all members of Eddie Money's band ($75) with the proceeds going to the Elizabeth Glaser Pediatric Aids Foundation.
Dennis farms over 160 acres in Sonoma County and founded his winery in 1995. The tasteful barn-inspired tasting room and winery is but three miles from downtown Healdsburg. Dennis has a wood-burning pizza oven on the premises, a bocce ball court, and a picnic area shaded by mature apple trees. He rents out an adjacent lodging known as the "Little Yellow Cottage," which has all of the comforts of home and overlooks the Felta Creek Vineyard on the property. His wife Tina (pictured) manages the Cottage as well as the three guys in the family.
I recently tasted through four of the 2006 vintage lineup of De La Montanya Pinot Noirs. Every one of these wines were top shelf and Dennis's best lineup ever. They are notable for their easy drink ability made possible by impeccable balance and harmony, a reflection of deft winemaking. All are perfect food wines.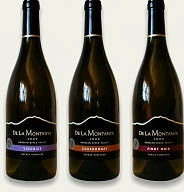 Dennis is on a roll here. His 2005 Christine's Vineyard Sonoma Coast Pinot Noir won the award for Best Red Wine at the 2005 Sonoma Harvest Fair, which is a big deal in Sonoma County.
De La Montanya Vineyards & Winery is located at 999 Foreman Lane, Healdsburg. Check the website for directions to the winery - it can be tricky. The tasting room is open Friday thru Sunday from 11:00 to 5:00, but call ahead to see if Dennis is behind the bar. Tasting on other days is possible by appointment. The informative website is at www.dlm.com. For information and reservations for the Little Yellow Cottage, contact Tina De La Montanya at tina@dlmwine.com or consult the website. The wines are all sold through the tasting room and the website. The phone is 707-433-3711. See the striking photo below of the frozen vines in April of this year at DLM.