Black Ridge Vineyards
Black Ridge Vineyards is a new boutique winery in the Santa Cruz Mountains, three miles outside the town of Los Gatos off Highway 17. 21 acres of vineyards have been planted on the 80-acre estate which sits just above the Lexington Reservoir. The property has been through several transformations,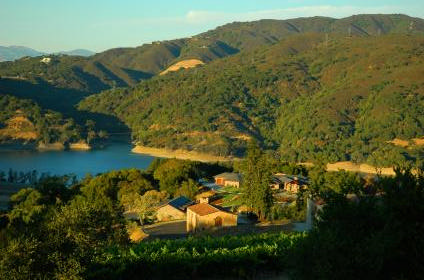 beginning as a vineyard during the mid-1800s, then a prune tree farm during Prohibition, and later a Christmas tree farm. Cheryl and Jim Landes along with Fred Faltersack formed a partnership and purchased the property in 1999. With the re-planting of grapes in 2002, the land has come full-circle. Multiple varieties are farmed including Pinot Noir, Cabernet Sauvignon, Syrah, Cabernet Franc, Malbec, Merlot, Petit Verdot, Viognier, Chardonnay and Pinot Gris. Winegrower Ruben Balderas oversees the vineyards.
Director of Operations and co-winemaker along with Bill Brosseau, Ashley Dubois, informed me that their 2006 Pinot Noir, released March 1, 2008, is their second commercial wine. The winery plans to specialize in Pinot Noir, Viognier, and a "San Andreas Red" Bordeaux-style blend. Planned production is 1,2000 cases annually.
2006 Black Ridge Vineyards Santa Cruz Mountains Pinot Noir
14.7% alc., 183 cases, $39. · Moderately deep ruby color. The aromatics are dominated by alcohol, but there are some nice black cherry and medicine cabinet notes. The spiced cherry core is enticing and the bright acidity creates a tangy finish. Definitely needs food. A respectable inaugural release for this new winery, but plenty of work lies ahead to bring this up to the standards of the California Big Dogs.
Black Ridge Vineyards wines are sold through the website at www.blackridgevineyards.com. The address is 18550 Black Road, Los Gatos and the phone is 408-399-6396. I have not visited, but this beautiful setting looks very appealing.