Paul Lato: Paul Lato Wines
Paul Lato is a winemaker with quite an international background. He grew up in Poland, pursued professional training as a sommelier in Canada, studied through the Wine and Spirit Education Trust based in London, took a course at the German Wine Academy, and ended up in the Central Coast of California where he arrived to pursue his winemaking dreams. He had no formal training in wine making per se, but worked two harvests as an intern during his years of study to be a sommelier. He was mentored by Jim Clendenen at Au Bon Climat and Bob Lindquist at Qupe during those two harvests, and they became his inspiration. His "distant" mentors have been the late Henri Jayer for Burgundy and the Chave family for the Rhone varietals. Although he never met either of his "distant" mentors, he seriously studied their winemaking and personalities, and drank as many of their wines as possible. It is primarily his tasting experience with their wines that spurred him to use them as role models. One constant among all of the mentors has been his realization that "true artisanal winemaking is based on intuition, sensitivity and passion."
Starting with the 2002 vintage, Paul made six barrels of wine (three barrels of Pinot Noir and three barrels of Syrah). By 2006 he had increased his output to 300 cases total, and currently has 24 barrels of wine from 2007 in this cellar. His quantities remain purposely small. He declassifies up to half of his production that fails to meet his high expectations. He has grown slowly and carefully, limited by his own resources (he spurns investors) and by his insistence on doing every step of the winemaking process himself. Chardonnay has been added to the mix in 2007. His emphasis is on Burgundian varietals with Rhone wines limited to 20% (only Syrah now) of production.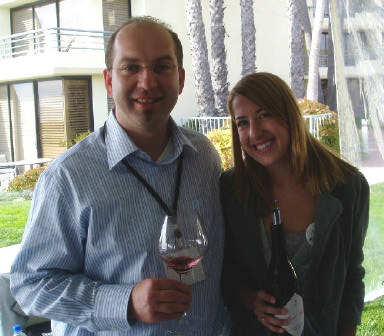 Although Paul is European in birth and upbringing, he strives to make wines that show "the full potential of California which is blessed with an abundance of sun and proximity to the ocean." He works with very good vineyards that have a strong personality. Almost all contracts are per acre so he can work intimately with the vineyard managers to achieve his goals. Sorting is done both in the vineyard and in the winery. Paul employs long cold soaks, quite warm fermentations, gravity racking only when necessary, gentle fining and no filtration. He "tries to combine elegance and intensity, always remembering that harmony and balance are most important." To this end, he has been influenced by the older styles of Williams Selyem Pinot Noir.
I have met and talked with Paul on a number of occasions and have always been impressed by his passion. In a past PinotFile I wrote, "Paul Lato bleeds Pinot Noir. He is a rare individual of great passion who is humble, yet aristocratic, both humorous and charming, and with a smile that shows a zest for wine and the good life. Paul told me I was smart to be a Prince, because 'Kings sit around doing nothing with their clothes off, and Princes actually run the show. They are the most knowledgeable about everything that is going on.'"
I recently tasted through the 2006 vintage of Paul Lato Pinot Noirs. I really admire these wines for their purity and refinement. They are all elegant and beautifully balanced. Perhaps their best feature is what they don't have - what I like to call NOTT (not too much of anything).
At the recent Fiddlefest held at Fiddlestix Vineyard (June 22, 2008), a barrel sample of the 2007 "Sine Cera" Pinot Noir was sampled and it was ready for action now, straining to get out of the blocks. It will be a stunning wine. In 2009, Paul will be sourcing grapes from the renowned Pisoni Vineyard in the Santa Lucia Highlands. Paul Lato Wines are sold primarily through a mailing list at www.paullatowines.com. There is limited retail distribution. Look for Paul at the annual World of Pinot Noir.