Thomas Brown: Rivers-Marie
Thomas Rivers Brown and his wife Genevieve Marie Walsh have quietly developed one of California's most cherished Pinot Noir labels. Thomas hails from South Carolina and was educated at the University of Virginia. In college he majored in English literature and game theory, two subjects about as distant from enology as possible. He arrived in California in 1996, loving wine and wanting to play the game, but with no leads or connections whatsoever. He started knocking on doors and finally Aaron Jordan hired him at Turley. This was to become a very fortuitous hire as Aaron subsequently introduced Thomas to Scott and Joan Zeller, the owners of the 6 acre Summa Vineyard in the Occidental region of the true Sonoma Coast. Early on (2002 was the first Rivers-Marie Pinot Noir release), Summa Vineyard was the only source of Pinot Noir for Thomas, but led to other grape acquisitions in the area.
Today, Rivers-Marie produces very small amounts of Pinot Noir from three vineyard sources in the true Sonoma Coast, specifically the Occidental-Freestone area. Besides Summa Vineyard, grapes are sourced from the Occidental Ridge Vineyard (owned by Richard and Darla Radcliffe) which debuted in 2005, and the Willow Creek Vineyard (2 acres owned by Raleigh and Patricia Wilson-Juckett) which debuted in 2006. Total production for Rivers-Marie in 2007 is 650 cases. Its no wonder that there are 4,000 people on the waiting list hopelessly bidding their time for a spot on the mailing list. Managing allocations is a lot more difficult than crafting the wines.
Thomas also has a hand in crafting wine for fifteen different wineries in Napa, processing 300 tons of grapes annually, primarily Cabernet Sauvignon. He plans to move his own production to the Black- Sears Winery on Howell Mountain in Napa that Ted Lemon is leaving behind (Ted's new winery opens later this year). He also has a second Pinot Noir project, Aston Estate, sourcing Pinot Noir from the Annapolis region of the true Sonoma Coast (see comments and reviews at the end of this feature).
I met up with Thomas at the end of June, 2008. He warmly welcomed me into his home to taste barrel samples of the 2007 lineup of Rivers-Marie Pinot Noirs. Thomas had finished the blends and was planning to bottle the wines in August. He noted that in 2007 there was no problem with frost in the Occidental- Freestone area with perfect set (as in 2004). The lineup was quite impressive and at the end of my tasting notes my final words were "beautiful pinotypicity." All of the wines had fresh, bright aromas and vibrant acidity. Alcohols were moderate and oak treatment unobtrusive (new oak can vary from 50% to 100% depending on the grape sources). These are truly artisan wines of exceptional breeding.
Rivers-Marie wines are sold exclusively through a mailing list which has been full for some time now. You can add your name to the waiting list at www.riversmarie.com, but you might be better served to seek out a few bottles on the secondary market. A Chardonnay from Thieriot Vineyard located in the true Sonoma Coast will be available in 2007. There is also a Rivers-Marie Cabernet Sauvignon from Howell Mountain.
Releases to date: 2002 Summa and Summa Old Vines, 2003 Summa and Summa Old Vines, 2004 Sonoma Coast, Summa and Summa Old Vines, 2005 Occidental Ridge, Summa and Summa Old Vines.
Aston Estate was launched in 2004 by three partners including Thomas Rivers Brown and Frederick and Carol Schrader of Schrader Cellars. Schrader Cellars specializes in Cabernet Sauvignon which is vinified by Thomas Rivers Brown and has been highly praised by the Wine Spectator. Grapes are currently sourced from a 14-acre site in Annapolis that is warmer than the Occidental-Freestone area. The Aston Estate style is different than the Rivers-Marie Pinot Noirs and is largely dictated by Frederick Schrader's palate. The grapes are picked riper, the wines are fruit-driven and are less acid-driven, and they exhibit a blacker fruit profile. Thomas describes it as "an old Central Coast style ." The clones used are Dijon 115, 667, 777 and Swan Selection. Yields are small, less than 1.25 tons/acre. A new vineyard is now being planted in Cazadero to California heritage clones.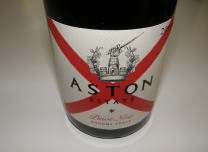 2005 Aston Estate Sonoma Coast Clone 777 Pinot Noir
14.7% alc., $70. · Dark reddish-purple. Clean aromas of Chinese plum sauce, blackberries and fresh oak. Tart black cherry and anise flavors with a citrus note on the finish. Acidity is a little too much now. Needs food.
2006 Aston Estate Sonoma Coast Clone 777 Pinot Noir
14,7% alc., $70. · Subdued nose showing demure black cherry and wild herb aromas with a whiff of alcohol. Substantial dark red fruit core with a hint of chocolate. The wine is quite withdrawn at present. Nicely balanced with a clean finish. This shows good potential and will benefit from another one to two years in bottle.
2006 Aston Estate Sonoma Coast Clones 115, 777 Pinot Noir
14.6% alc., $70. · Intriguing perfume of underbrush, forest floor and dark red cherry with a nice hint of oak. The wine shows a soft core of tannin wrapped in layers of luscious cherry and raspberry fruit, providing a fullness that envelopes the tongue. Everything is in beautiful balance and the combination of two clones provides more interest than the single clonal wines described above. This was downright terrific the next day when sampled from an opened, re-corked bottle.
Aston Estate Pinot Noirs are currently in limited retail distribution. The Aston Estate website is not operative and I am assuming an offering was sent out to current mailing list members of Schrader Cellars.