Augie Hug: Hug Cellars
Augie Hug was raised in Northern California, graduating from Ponderosa High School in the small town of Shingle Springs in 1974. Right out of high school, he began working in the oilfields, drilling natural gas wells, oil wells, and geothermal wells in California. He continues in this profession to this day, now acting as a supervisor and consultant in the oilfields. Since 1998, he has worked in China, Alaska, Australia/East Timor, as well as California. Because the oilfields business has been historically cyclical, Augie has pursued many other jobs during the lulls. In 1986, he became the chef and owner of a small restaurant in the mountains north of the Napa Valley. It was here that he developed a love for wine and an interest in the partnership of wine and food.
His wine epiphany was clear. At a dinner with some of his associates from the oil business, he tasted his first Heitz Martha's Vineyard Cabernet Sauvignon. It was the famed 1974 vintage and he says, "it was as if someone turned on a light for me." That single bottle of wine has sent him on a life-long vinous journey.
In 1993, along with his wife Raquel, he purchased a wine shop and tasting room in the artists' hamlet of Harmony, in California's central coast. It was called the "Central Coast Wine Room." Together, they focused on small artisan producers and through the wine shop met and became friends with many of those winemakers. One winemaker in particular was John Alban of Alban Vineyards. One night at dinner, John graciously offered to assist Augie in making wine. In 1994, Hug Cellars was launched with a mere 87 cases of Syrah made from grapes purchased from Alban Vineyards. John became a valuable mentor and Augie made his wines at Alban Vineyards for nine years. In 2003, Augie moved his winemaking to a shared facility with Mat Garretson of Garretson Wines in Paso Robles, California. In 2004, Augie leased a building next door to Garretson Wines and now has his own winery.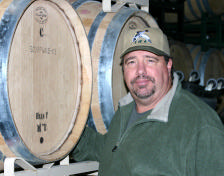 The first Hug Cellars Pinot Noir was crafted in 2001. Current total production is 1,700 cases with about a third of that being Pinot Noir from four different sources (Rancho Ontiveros in the Santa Maria Valley where Augie is currently planting three acres of Pinot Noir, Cedar Lane Vineyard in Arroyo Seco, Casa Torres Vineyard in the Santa Maria Valley, and the organically farmed Boulder Ridge Vineyard in Cambria).
There have been many winemakers who have framed Augie's winemaking style. Besides John Alban, these include Paul Wilkins, Steve Rasmussen, Bob Lindquist, and Ted Lemon. Augie strives to make wines that "are unique and express a sense of place." He describes his winemaking style as a "nonstyle," meaning he tries not to interfere too much with the vineyard so that the purity of fruit can speak for itself. His wines are not over-stylized, and what he terms "trendy." Rather, they represent attempts to create something classic and elegant. He follows the traditional winemaking path for Pinot Noir, fermenting the wines with indigenous yeasts, and utilizing a good percentage of whole cluster.
I had the pleasure of sampling the 2006 Pinot Noirs from Hug Cellars. The theme of all the wines was a very admirable harmony, and a pleasurable, but not imposing, oak flavor touch.
Hug Cellars wines are sold primarily through a mailing list at www.hugcellars.com. There is some retail distribution (check www.vinquire.com). The winery and tasting room is located at 2323 Tuley Rd, Paso Robles. Tasting is available from Thurs-Mon, 11-5 and by appointment. The phone is 805-226- 8022.