William Hunter: Chasseur
Bill Hunter is one of the "Wild Men of West County," the band of winemakers interested in the Pinot Noir grown in the true Sonoma Coast region around the towns of western Sebastopol, Freestone, and Occidental. Hunter developed an early interest in wine working as a wine steward at the Chronicle Restaurant in Pasadena, California. The Chronicle Restaurant was famous for its wine cellar and some of its rarest bottles had come from the acquisition of the private collection of Alfred Hitchcock. I went to this restaurant on a number of occasions and probably ran into Hunter during my formative wineloving days. He went on to enroll and graduate from University California Davis (1987), and gained his early winemaking experience at Rombauer, Bonny Doon and Chauffe-Eau Cellars. In 1994 he began making some wine on the side, starting with two barrels of Dutton Chardonnay and one barrel of Carneros Pinot Noir. Soon he started his own label, Chasseur, the French term for Hunter. In 2002, he brought on Alex P. Barhtolomaus, Managing Director of Billington Imports as an investment partner, and Hunter was able to devote himself fully to winemaking. He now produces 5,000 cases of Pinot Noir and Chardonnay at his winery in Sebastopol, located inside the old apple processing plant on Gravenstein Highway.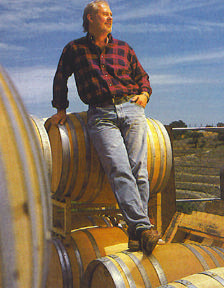 The lineup of Pinot Noirs is quite impressive, particularly the single vineyard bottlings which are all quite distinctive, complex, and blessed with appealing charisma.
Chasseur wines are highly allocated and sold primarily through a mailing list. The two appellation Pinot Noirs are produced in larger quantities and are available in the fine wine retail market throughout the United States. The informative website is www.chasseur.com. Chasseur operates under the LLC, Hunter Wine Cellars. The phone number is 707-829-1941. Note: After tasting the four vineyard-designate Pinot Noirs, I blended an equal part of all four together (don't try this at home). The resulting wine was quite good, with an intensification of dark fruit and noticeably more full-bodied. Not surprisingly, however, the blend lost the many subtleties of the individual wines. Obviously, this is why the winemaker bottles the wines separately.