Kent Humphrey: Eric Kent Wine Cellars
Kent Humphrey's interesting story has been told in previous issues of the PinotFile (see Volume 6, Issue 43). Just to recap here I would say that he is another of the modern group of talented Pinot Noir winemakers who have learned by experience rather than through a formal enology education. His initial life path was in the advertising field which he pursued over a ten year period, finally deciding to depart due to the disdain for big corporate business tactics. Those ten years were not without a plus side, however, Kent sampled, savored, collected, and delighted in wine. When he finally chose to leave the advertising world, his family and friends encouraged him to seek a career in winemaking. He considered entering University California Davis for formal training, but realized that many of the wines he most admired were crafted by people who had no academic training in winemaking. Kent embarked on some hands-on experience at two different winery facilities. After a few years, he was offered some top-notch Pinot Noir fruit and the Eric Kent label was founded. He chose to make Pinot Noir, Chardonnay and Syrah, since these were the varietals that gave him the most drinking pleasure. He released 375 cases in the inaugural 2003 vintage. Kent has grown slowly, planning to stay small, and stopping somewhere between 3,000 and 4,000 cases annually.
Kent and his wife, Colleen, an accomplished artist, decided over dinner one day to showcase artists on their bottle labels. The two work in harmony, she assisting him in making blending decisions, and he helping her in choosing the individual art works that are chosen to grace the bottles of Eric Kent wines. The works of art that grace the front label of every Eric Kent wine are unique for every vintage. The art is from deserving, but as yet undiscovered talents. Each artist brings a unique vision to the label that compliments the spirit behind the wines. The art work brings an added dimension to the wine by providing a basis for discussion as the wine is imbibed.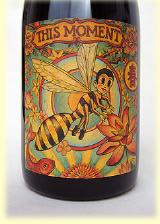 2006 Eric Kent Wine Cellars Windsor Oaks Vineyard Russian River Valley Pinot Noir
14.7% alc., 220 cases, $39. Label artist is Sabrina Ward Harrison. · Demure scents of dark red berries, cherries and hay. Clean and bright flavors of redder fruits and savory herbs. Brisk acidity on the tangy finish.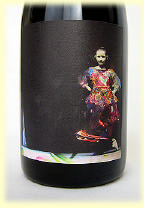 2006 Eric Kent Wine Cellars Stiling Vineyard Russian River Valley Pinot Noir
15.1% alc., 374 cases, $42. Label artist is Tony Speirs · Black cherry, plum, buttered toast and forest floor aromas lead to a mouthful of rich, dark stone fruits that wrap around the tongue and leave a little warmth in their wake. Velvety texture, commendable oak integration, and a decent length to the finish. The darker side of Pinot Noir. This wine will have fans.
Eric Kent Wine Cellars is located in Santa Rosa, California. The wines are crafted at a Santa Rosa custom crush facility. Members of the winery's E/K Direct Club receive 20-25% discounts. Join the Club at www.erickentwines.com. 707-527-9700. Most of the wine is now sold to E/K Direct Club members. This is so Kent can guarantee that all new club members can order up to a half a case of any or all of the wines as part of their pre-release club shipments. There is limited retail distribution. Kent also crafts two outstanding Chardonnays: a Russian River Valley and Sonoma Coast bottling. The Syrahs have been highly praised in the wine press. At the recent Pinot Days event in San Francisco, I tasted the 2007 vintage of the Stiling Vineyard and Windsor Oaks Vineyard Pinot Noirs as well as a new vineyard source, the Carey Vineyard in the Sonoma Coast. All three of these wines are praiseworthy.