Michael Browne: Kosta Browne
Kosta Browne proprietors Michael Browne and Dan Kosta are alumni of a noted Sonoma County restaurant, John Ash and Co. (see PinotFile, Volume 6, Issue 58). In 1997, they decided to launch a wine venture and put all of their tip money into a an envelope for safe keeping. After raising $2,600, they bought a half ton of Pinot Noir grapes, a single barrel, and a used, hand cranked de-stemmer-crusher to produce their first vintage. In 2001, Michael and Dan partnered with Chris Costello and his family and utilizing a fiscally conservative, yet thoughtful business plan, have managed to earn an exalted reputation for creating world-class California Pinot Noir. Current production for the 2006 vintage is 10,500 cases.
Recently Kosta Browne moved into a spacious new winery at the old apple processing plant on Gravenstein Highway in Sebastopol (see photo below). They acquired a long term lease on an 18,000- square-foot warehouse and partitioned the empty space into different sections dedicated to separate winemaking functions. Shane Finley has continued on as Associate Winemaker to assist in production. Some new equipment has been purchased, including large capacity oak barrique fermentors (photo below) to extend the fermentation curve, and a modern basket press. I met up recently with Michael Browne at his new winery to taste through the 2006 lineup of Kosta Browne Pinot Noirs. I sampled a number of barrels from the 2007 vintage as well including wines from the Dutton Manzana Vineyard in the Sonoma Coast, Terra de Promissio Vineyard in Petaluma, and Gap's Crown Vineyard in the Sonoma Coast. Like many 2007 vintage Pinot Noirs I have sampled from barrel, these are showy, precocious wines that should be spectacular upon release. The 2007 Kanzler is ridiculously good right now. Michael told me he is developing new vineyard sources including 10-20 acres on Occidental Road and 28 acres near Annapolis, both in the true Sonoma Coast. The future plans call for production figures of 11,000 to 11,500 cases of Pinot Noir annually. The mailing list is full at this time, but there may be opportunity for some on the waiting list to join as production expands modestly.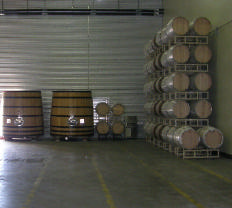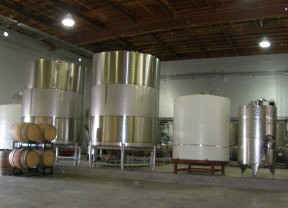 The 2006 vintage produced grapes that ripened early so that alcohol levels have been mildly reduced. The aromatics continue to be a bit tight, and the wines are somewhat reserved at this point. Michael says that "2006 was a beautiful vintage, giving us focused and pure wines with a sense of elegance, precise power and balance." The two appellation Pinot Noirs assembled from multiple single vineyard lots as well as from other vineyards specifically chosen for these blends were released in February, and the remaining wines are scheduled for an October, 2008 release. With the 2006 vintage, Kosta Browne had 430 barrels comprised of 75 different lots, which contained 430 micro lots. No barrels are racked, so every barrel is unique and Michael took six weeks to blend these individual wines into nine distinct Pinot Noirs. Photo on the next page shows Michael (left) and Dan (right).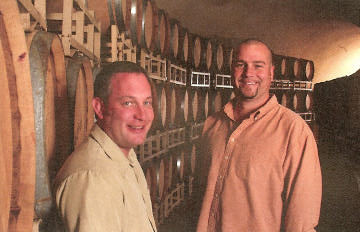 Michael Browne is slowly defining his best vineyard sources and getting familiar with them. His style will always be intensely fruit-driven, but he aims to retain pinotypicity. Michael feels his wines will "taste pretty damn good" for one to five years after release. How long they will age is uncertain. He has gradually lowered his alcohol levels and is shooting to obtain ripeness at between 14.0% and 14.5% alcohol in current and future vintages. He uses Francois Freres and Taransaud French oak barrels exclusively, 20 to 50 percent new depending on the blend. Michael has reached a point of admirable consistency as shown by the lineup of wines above and he is deserving of all of the accolades that he has received in recent years. Join the Wait List at www.kostabrowne.com to obtain future allocations as they become available. The wines are placed on a number of fine restaurant wine lists. Both Michael and Dan participate frequently in charity wine auction events as well as major Pinot Noir festivals. The winery is not open to the public.