Rod Berglund: Joseph Swan Vineyards
There has been a lot written about colorful Joseph Swan (see PinotFile, Volume 5, Issues 25 and 28) and his Pinot Noirs are now legendary. In 1967, at the age of 45, Joe bought a run-down Zinfandel vineyard, barn and house on Laguna Road in the Russian River Valley. The house at one time had been the general store for the tiny town of Trenton which is no longer in existence. The area, called the Laguna Ridges, is only a few miles from the Middle Reach along Westside Road, but the climate is cooler, foggier, and wetter. Andre Tchelistcheff had suggested to Swan that he plant Pinot Noir in this cool area. In 1968, he did exactly that. He retired from his job as a pilot for Western Airlines, and after harvesting the planted Zinfandel that year, began a replanting of the 10-acre vineyard to Pinot Noir, Chardonnay and Cabernet Sauvignon.
The original Pinot Noir clones planted here came from Mt. Eden in the Santa Cruz Mountains (via France, Paul Masson, and then Martin Ray). The Mt. Eden budwood was actually a field selection, not a true clone. Joe's Trenton Estate Vineyard Pinot Noir prospered and cuttings, termed Swan Selections or (incorrectly) Swan Clone, were used by numerous vineyards in California and continue to be planted in various sites today. Over the years, some DRC "suitcase" cuttings were added to the vineyard. Today, there are twelve different clones in the Swan Trenton Estate Vineyard.
Swan's legacy will include his popularization of the old, Burgundian winemaking methods (use of French barrels for aging, manual punch downs), his search for better clones, his experiments with whole cluster fermentation and the age ability of his Pinot Noirs.

Rod Berglund has carried on Swan's legacy admirably. Rod began his winemaking career in 1979. In 1986, he married Lynn Swan, and helped Joe with his last harvest in 1987. Joseph Swan passed away in 1989. Rod has maintained Joe's vision, and continues to produce wine reflective of the style that Joe promulgated. Rod is opposed to the over-the-top, high extract, high alcohol, over-oaked, "tailgate" wines. As he has observed, "There seems to be a growing number of people who are embracing the concept of wines with food, who understand what it takes for wines to age gracefully, and who are looking for elegance and complexity instead of sheer power."
The flagship wine of Joseph Swan Vineyards remains the Trenton Estate Pinot Noir. Rod replanted half of the Trenton Estate Vineyard in the mid-1990s and the young vines have now reached enough maturity so that Rod can assemble an estate Pinot Noir from all of the blocks in the vineyard. The vineyard has a typical character which Rod describes as "spice, earth, and concentrated fruit, with a slight tannic edge that softens with time in the bottle." The wines are in the tradition of Joseph Swan, that is, very age able.
2006 Joseph Swan Vineyards Cuvée de Trois Russian River Valley Pinot Noir
14.1% alc., 1,100 cases, $25.50. This wine is a blend of several lots including wine from Trenton Estate and Saralee's Vineyard in the Russian River Valley. It is meant to be an every day wine and is quite popular on restaurant wine lists. It is not as complex as the Swan vineyard designates. · Fairly light in color. Confected cherry, red licorice, oak, spice and sage scents which build in intensity over time in the glass. Tart red cherry and cranberry fruit with a subtle earthy and wild herbal influence. Soft and light with a cleansing finish. An excellent food wine.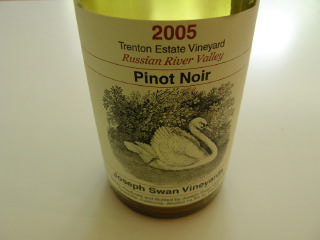 2005 Joseph Swan Vineyards Trenton Estate Vineyard Russian River Valley Pinot Noir
14.3% alc., $47. · Deep, dark ruby color. Terrific rich aromas of black cherry, carnations, and dried roses. Plush black cherry and blackberry fruit that is a bit dusty and herb-tinged. Plenty of joyous fruit, but not jammy or flabby. Good acidity, velvety texture, with some tannin to lose. Thoroughly distinctive and enjoyable. This will only get better with more time in the bottle. One of my All-Americans this year for sure.
Joseph Swan Vineyards is located at 2916 Laguna Rd., Forestville. Tasting and sales are offered on weekends from 11-4:30 as well as by appointment on Mondays and Fridays. The winery is also open many holidays. The website is www.swanwinery.com and the phone is 707-573-3747. Look for Rod in the tasting room most days. Although the winery specializes in Pinot Noir and old vine Zinfandel, a number of other wines such as Chardonnay, Pinot Gris, and Rhones are produced in small quantities. The winery's wine club is called "Joe's Drinking Buddies." The wine label is one of the classiest in the world.