Maurice Wedell: Wedell Cellars
Maurice Wedell worked with French restaurateurs until the late 1980s, all the time developing a passion for Burgundian varietals. In 1988, Maurice and his wife Susan moved to the Central Coast of California. The Wedells were determined to plant their own vineyards and make wine. They enlisted the assistance of noted winemaker, John Alban, of Alban Vineyards fame, who guided them in planting a small experimental vineyard of Chardonnay. Their first vintage, in 1994, consisted of one barrel of wine, twenty-eight cases of Chardonnay, from their own grapes and grapes purchased from John Alban.
In early 1995, four acres of Chardonnay and one acre of Pinot Noir were densely planted on a steep hillside in the southern end of the Edna Valley. The vineyard began to produce Chardonnay in 1999 and Pinot Noir in 2000. The Hillside Vineyard designation came to represent the best of the estate fruit and a watercolor of this vineyard is proudly displayed on the label of all Wedell Cellars Hillside Vineyard wines.
In 2004, the Wedells began to source fruit for a second Pinot Noir from Fiddlestix Vineyard and Ashley's Vineyard in the Ste. Rita Hills appellation. The Wedell Cellars Santa Rita Hills Pinot Noir was first released in 2004 and features a painting of a grape vine by well known artist Joanne Beaule Ruggles on the label.
In 2005, three acres of Chardonnay in the Hillside Vineyard were grafted over to Pinot Noir, increasing the estate Pinot Noir planting to four acres.
I ran into Maurice at the recent Fiddlefest held at Fiddlestix Vineyard and I thought the 2006 Wedell Cellars Ste. Rita Hills Pinot Noir was one of the best wines being poured that day. Maurice sent me two bottles of his Pinot Noir to sample. The wines have received considerable praise in the wine press.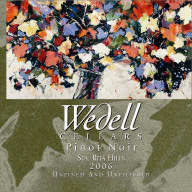 2006 Wedell Cellars Ste. Rita Hills Pinot Noir
14.5% alc., 181 cases, $70. This wine is a blend of Dijon clones 113, 115, 667 and 777 with the majority of the fruit coming from Fiddlestix Vineyard. The harvest in 2006 was extended and delayed, allowing good development of flavors. The grapes were de-stemmed after sorting, with all of the free run juice resulting from the de-stemming discarded. Open top small bin fermenters were employed and indigenous yeasts used. The wine was aged 16 months in 70% new French oak. · Dark reddish-purple robe. Powerful scents of black cherry, sage, and toasty oak. A whiff of alcohol peaks out. There are juicy and succulent dark stone fruits that cascade over the palate and fill the mouth with richness. A citrus note adds interest. The texture is soft and slippery, and there is good grip on the finish. This wine will appeal to fans of fruit-powered, pedal to the metal, Pinot Noir.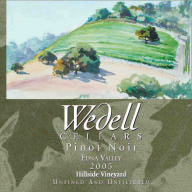 2005 Wedell Cellars Hillside Vineyard Edna Valley Pinot Noir
14.5% alc., 30 cases, $125. Three different Dijon clones - 115, 667, 777 - on low vigor root stock. The goal in planting this clonal/rootstock combination was to delay bud break, increase hang time and acidity, and keep the vineyard's yield extremely low. The vines are crop thinned to one cluster per shoot. Yields in 2005 from more than 2,300 vines was under 2 tons. Winemaking was the same as noted for the wine above. Aged 20 months in 75% new French oak barrels. · Dark reddish-purple color. Complex nose with bright cherry, a hint of strawberry, dried flowers, fresh ocean air, and a slight vegetal note. Super ripe fruit, approaching raisin, with accents of organic matter, smoke, oak and citrus. Soft and smooth in the mouth with powdery tannins.
Wedell Cellars Pinot Noirs and Chardonnay are for sale on the website at www.wedellcellars.com. Magnums of the Ste. Rita Hills bottling are available as well as a vertical offerings of three vintages of Hillside Vineyard Pinot Noir and three vintages of Ste. Rita Hills Pinot Noir in magnum format. Wedell Wine Club members receive discounts on wines and shipping. 805-489-0596.